The Gay Games and the fight for LGBT+ rights in Hong Kong – 11/16/2023 – Sport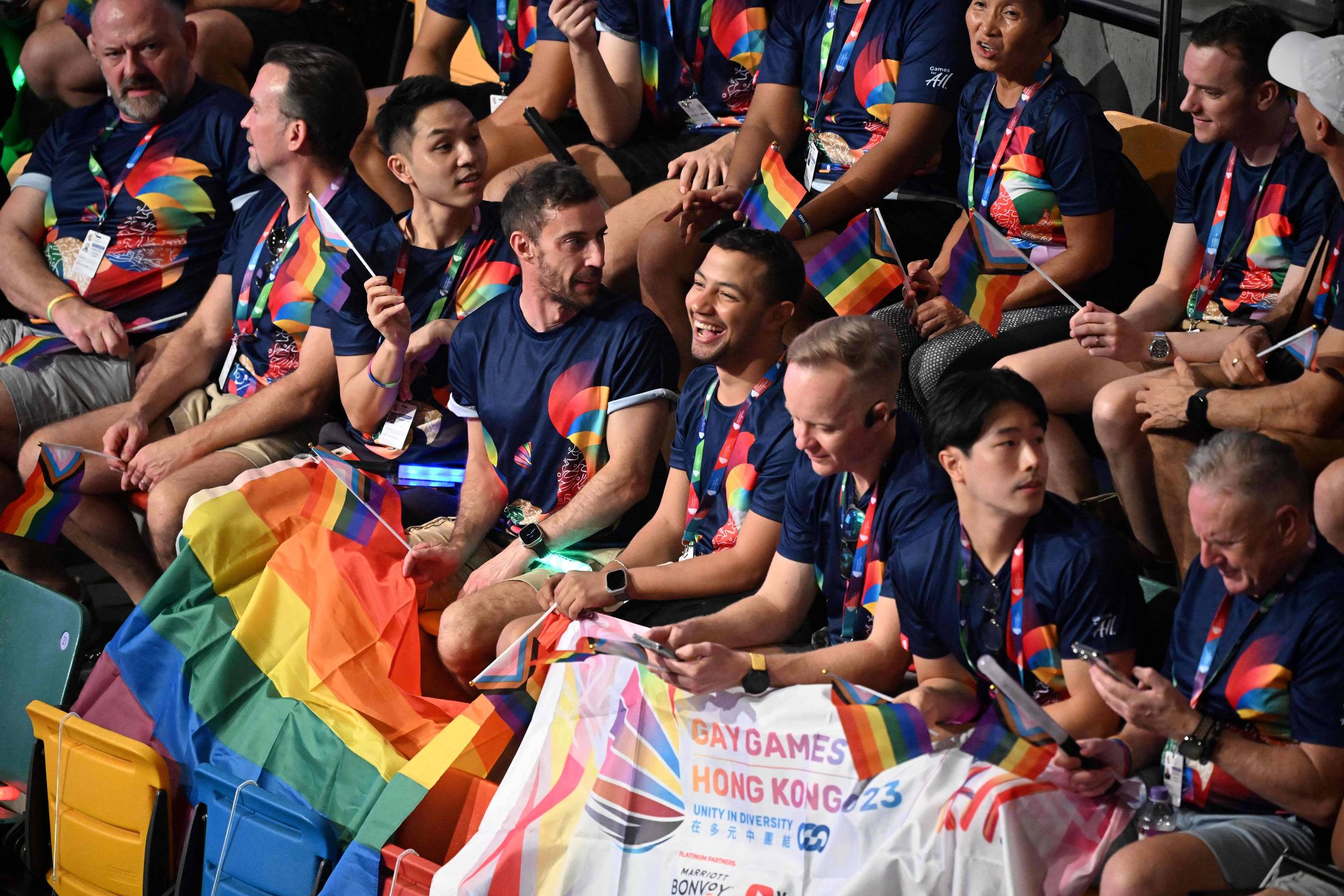 As the Gay Games opened in Hong Kong earlier this month with hundreds of athletes, singers and a traditional lion dance, one of the government's top advisers, Regina Ip, hailed the event's first holding in Asia as a "strong testimony of diversity, inclusion and unity".
But Ip was the only Hong Kong official to attend the games, a quadrennial international sporting festival open to anyone "regardless of sexual orientation, gender identity, ethnicity or even level of training", according to the organization. The event had its first edition in 1982, in San Francisco.
Some on the Chinese mainland have adopted a much less tolerant stance. Junius Ho, a pro-Beijing lawmaker who asked Ip not to attend the opening ceremony, said the Gay Games, which ended last Saturday (11), posed a threat to national security and could "poison" young people's values.
"We can sympathize with the LGBT+ community, but that doesn't mean most of us need to endorse such abnormal behavior," Ho said.
These divergent views highlight the delicate position of Hong Kong, a former British colony, as it seeks to balance improving the rights of LGBT+ residents with the increasing control of the Chinese Communist Party government, which has cracked down on LGBT+ rights groups on the mainland.
With the local administration reluctant to anger conservative politicians, the games attracted little attention. The Hong Kong government has "maintained a low profile to avoid noisy protests" by homophobic politicians or influencers, Ip said.
The controversy surrounding the games, which Hong Kong co-hosted with the Mexican city of Guadalajara, comes as the territory struggles to chart a course on LGBT+ rights following Beijing's crackdown on political dissent, with the introduction of a strict law of national security.
Tens of thousands of people, including Hong Kong residents and foreigners, left the territory following China's response to pro-democracy protests in 2019, the imposition of a sweeping national security law in 2020 and strict Covid-19 rules. during the height of the pandemic.
"Whether or not Hong Kong is an inclusive society has major implications for retaining and attracting talent," said Suen Yiu-tung, associate professor of gender studies at the Chinese University of Hong Kong, adding that a growing number of jurisdictions recognize LGBT+ rights.
Although homosexuality is legal in China, there has been a crackdown on the community, with the Beijing LGBT Center, one of China's most prominent advocacy groups, closing its doors in May due to shrinking space for civil society.
In Hong Kong, ensuring protection for the LGBT+ community is one of the few areas where liberal judges can issue their rulings "relatively freely", said a Hong Kong-based lawyer involved in such cases, as local authorities choose the finger judges for national security trials, ensuring a 100% conviction rate.
Recent months have seen a series of court victories for LGBT+ rights, including a landmark ruling in September by the territory's highest court, which ordered the government to establish within two years a legislative framework for same-sex unions.
Although the Hong Kong government has appealed the decisions, lawyers and defenders of LGBT+ rights believe that Beijing is willing to allow Hong Kong to adopt a more liberal stance than it imposes on mainland China.
"I do not believe that [Pequim] is actually against LGBTQ+ rights in Hong Kong," said Azan Marwah, a Hong Kong-based lawyer and legal advisor to the non-governmental organization Hong Kong Marriage Equality.
"I am not aware of interference from Beijing regarding the Gay Games or LGBTQ rights," Ip said.
But the government's crackdown on dissent and civil society has made life more difficult for activists in Hong Kong, including those who want to build on "a long legacy of protecting LGBT+ rights," said Ryan Thoreson, an academic at the University of Cincinnati who focuses in LGBT+ rights.
Jimmy Sham, LGBT+ rights activist and plaintiff in the same-sex marriage case, and Raymond Chan, Hong Kong's first and only openly gay former lawmaker, are among 47 opposition activists arrested and on trial under the law of national security for his roles in an unofficial primary election in 2020. While his arrests are not related to his work on behalf of LGBT+ rights, his imprisonment means the loss of vocal advocates for the community, activists said.
Henry Li, whose husband died in 2020, is among those fighting for greater LGBT+ rights in Hong Kong. Li, who married in London in 2017, welcomed a court ruling last month that granted same-sex couples equal inheritance rights. He and his husband filed the lawsuit against the Hong Kong government.
"I have met many gay and lesbian professionals from overseas who are grateful for this court ruling," he said, adding that the ruling would make workers more willing to relocate to Hong Kong. "Wanting someone to move to another city without their partner is asking too much."
At the Gay Games, Jinsun Yang, a South Korean football player who identifies as non-binary, said the event showed that Hong Kong can play a pioneering role in Asia in terms of advancing LGBT+ rights. Taiwan is the only country in Asia to have legalized same-sex marriage.
"It's really impressive," Yang said. "I hope the Gay Games in Hong Kong can help bring more positive changes and public awareness, at least in the local community and in Asia."