Vinicius Jr: Group protests at the Spanish consulate – 05/23/2023 – Sport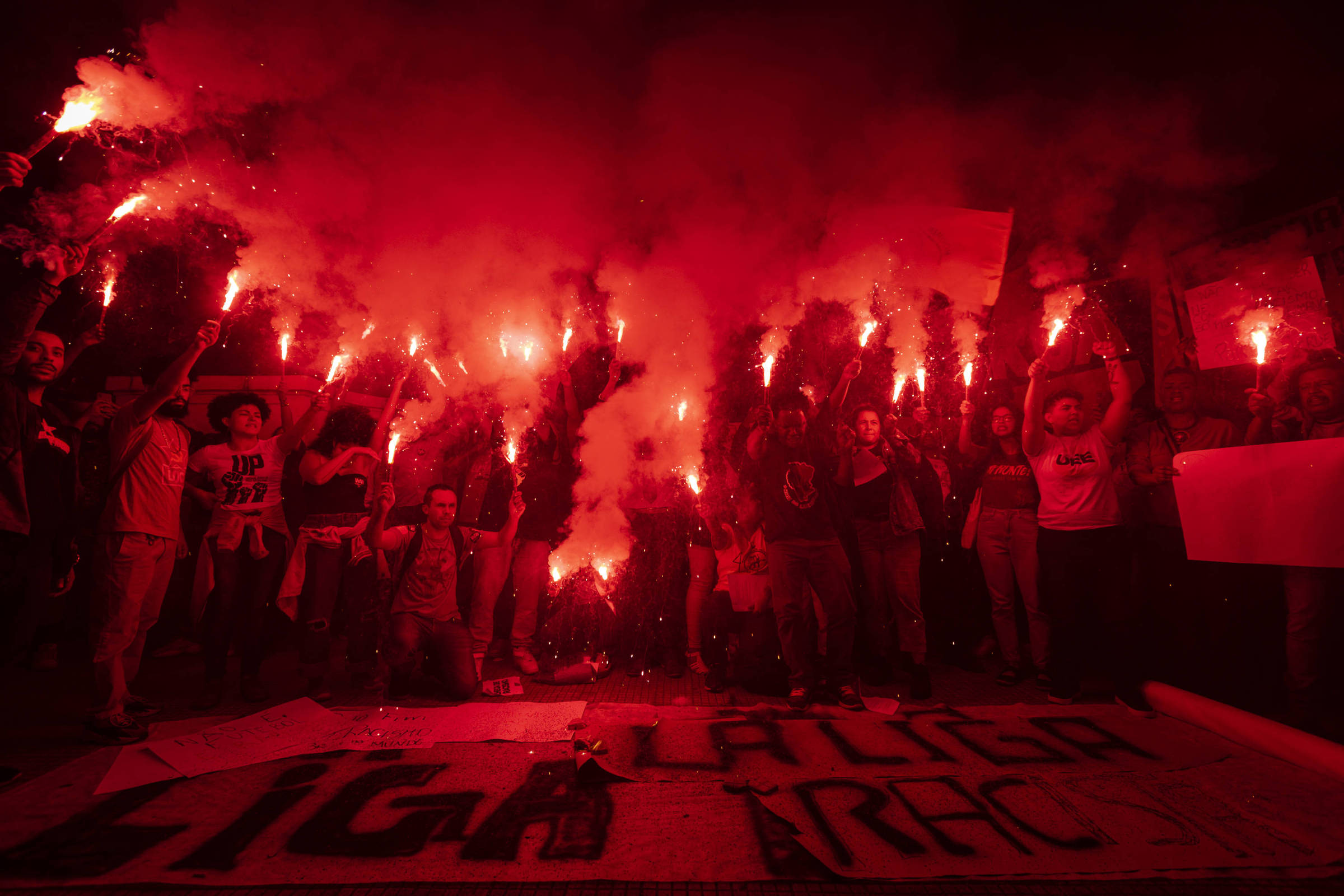 Dozens of protesters gathered in front of the Consulate of Spain, in the south zone of the capital of São Paulo, on the afternoon of this Tuesday (23). The act was organized to show solidarity with striker Vinicius Junior, after the series of racist attacks that the player has been suffering.
With chants of "racist LaLiga" and demands for actions by the Spanish government, the protest featured banners, musical instruments, speakers and flags.
The Military Police even asked the demonstrators to remove the banners from the walls of the consulate, but gave up in the face of complaints from the participants. According to the police, the request for removal came from members of the Spanish Consulate.
In addition to the black movement, the act also had the participation of trade unions, political parties and parliamentarians.
Among the interventions, protesters sang and played samba. In several speeches, the organizers stated that the music at the door of the building was meant to symbolize the aversions that exist in the European country to Brazilian dances.
"We are going to be present at the friendly match of the Brazilian team in Spain, since they didn't want to cancel it", said André Alexandre, president of Unegro in São Paulo.
According to him, the movement is still getting organized and does not know how many members will attend the match.
The CBF maintains the plan to play a friendly, in June, in Spain. The opponent is not yet confirmed.
"We Brazilians bring joy [em referência às danças do jogador após os seus gols]. We have a history of so many famous black people who made football history in Spain. Spanish football is what it is today thanks to black Brazilians," says Alexandre.
He cited players like Romário, Ronaldo Fenômeno, Ronaldinho Gaúcho and Neymar, as examples.
Other protesters spoke of the record of La Liga president Javier Tebas, who has links to a far-right party.
They also recalled that cases of racism frequently occur in Brazil, both in football and outside of it. "It's not just about football", was one of the phrases seen on several posters. "Don't close your eyes to the racism that occurs here," said another.
"We came to this house, which is part of the Spanish State, to hold Spain responsible for what happens. He suffered racist insults, violence, injustice on the field", says São Paulo councilor Elaine Mineiro (PSOL-SP).
"It's absurd to think that, at the end of the game, nothing had happened," he says.
For her, there is an obvious demonstration of the connivance of the Spanish State. "And La Liga itself was in a position to prevent this from continuing to happen."