Meet the 1st gay president of a professional team in Brazil – 03/18/2023 – Sport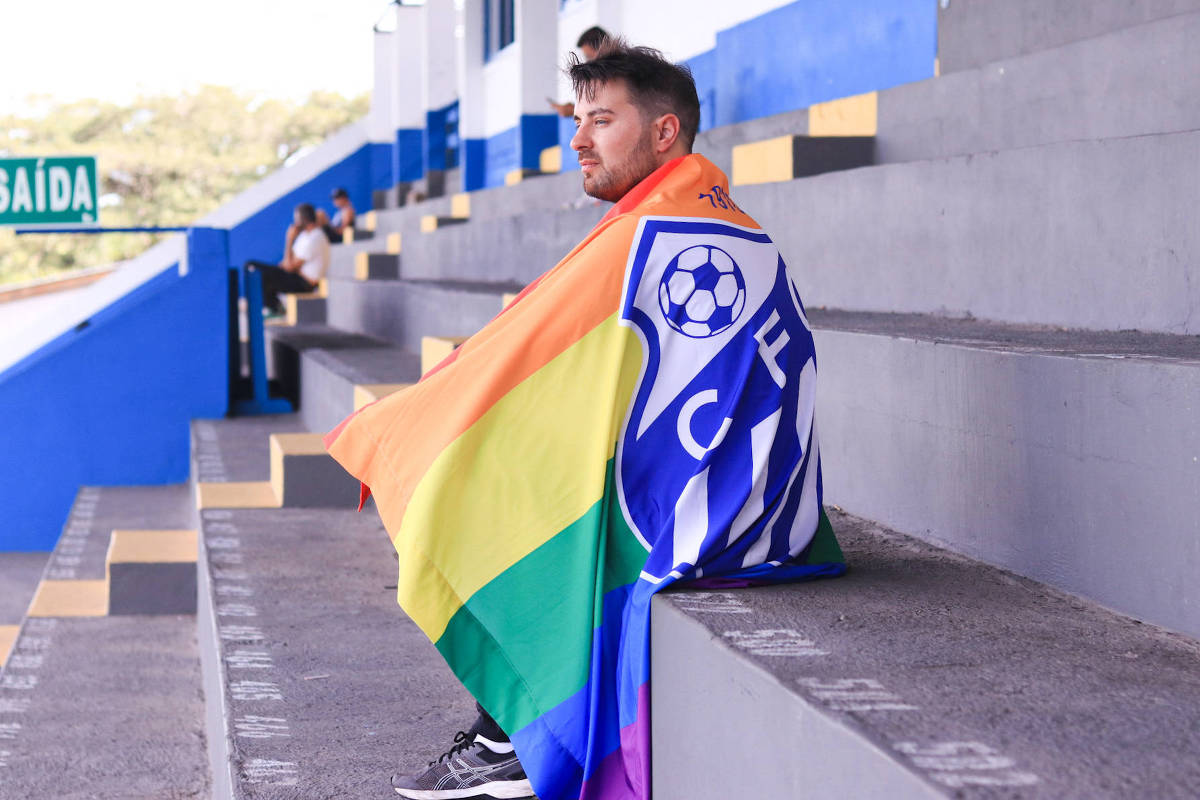 Moises Spilere, 35, saw where the conversation was going but let it go. It wasn't the first time he'd heard something like that. He got irritated when he heard the caller say he wanted to "preserve" the club's image.
Preserve from what?, was what he thought at the time.
"If you think the club should be preserved, it's because you believe that being president is a problem," he replied.
"I noticed a homophobic speech packaged as a concern and I was outraged. I didn't like it and I also said that that was a problem with that person's acceptance", he explained to Sheetremembering the discussion.
His presence as representative of Caravaggio, a small team in the second division of Santa Catarina, should not draw so much attention. He had been a fan since the times when the team won everything in the southern floodplain of the state. An economist trained at the Federal University of Santa Catarina and director of a family-owned metallurgy company, he has a management profile that would suit football well.
The "concern with image" is due to Moisés Spilere being the first openly gay president of a professional soccer club in Brazil.
As vice-president between 2021 and 2022, he was part of the professionalization process at Caravaggio, one of the most successful amateur teams in southern Santa Catarina. In the first year in the third division of the state, he got access. The same group of directors decided that he would be president from January 2023.
His sexual orientation was never an issue, he says. Not for your family or friends. It was not even an issue in the small Nova Veneza, the city of 13,000 inhabitants where the club is located. But when he reached the Presidency, some supporters of the association, possible sponsors, showed concern. Again, the issue of image.
"I always tried to act in an educational way when I heard something. Of course, confrontation happens at some point because nobody has the patience to explain basic things all the time. After I became more known, some famous internet channels talked about me, things have become a little more problematic. I don't want my image to be linked to the club, which is community-based, has no owner", he completes.
Moisés has always been very fond of soccer, despite his opinion that gay boys don't usually have that preference. When he found out, at Caravaggio's own school, that he didn't have the talent to play, he imagined he would be just another fan. Not just from his hometown team, but from neighboring Criciúma, the other team he is a partner of. Not only him, but a good part of Nova Veneza.
When he moved to Florianópolis to attend college, he jokingly swore that one day he would return to be mayor. The consensus was that he could be a good manager of public resources due to his reputation as a cheapskate. This also helps as a sports leader, even more so for a club that dreams big.
"We don't have debt. The first wish is to move up to the Catarinense Series A. We need work on the stadium, increase capacity, solve the lighting and change the pitch. I think that in the next two months we will achieve all of this", he explains.
By the standards of the second state division, Caravaggio is an outlier. The average audience last year was about a thousand people. The number of rivals is around 300 per game. The club has a membership of about 500 paying people.
"Why can't we participate in the future of a Série D do Brasileiro? If we reach the Copa do Brasil, we change the level", he declares, citing the competition that best pays small teams.
Spilere emphasizes the community work that he leads at the head of Caravaggio: the delivery of basic food baskets to the needy community, vacancies in the soccer school. The population can use the physical structure: multi-sports gymnasium, beach soccer and 7-a-side soccer courts. There are also toy collection campaigns on Children's Day and Christmas.
It is a way of giving back because being part of the LGBTQIA+ community does not erase your privileges, he believes.
"This is a region where being white and an entrepreneur helps to occupy the Presidency of a club. I've been told that if I were black and poor, I wouldn't make it. It's true. I recognize that and try to give a little to the community."
With Santa Catarina's second division scheduled to start on May 28, Moisés Spilere is ready to hear homophobic comments. They will be the same ones he has heard before. Sometimes blatantly. In others, disguised as concern for Caravaggio's image.
He says he's ready.
Spilere knows it's not easy to be in the current position, in a club whose name is a tribute to Our Lady of Caravaggio, saint of devotion of the Italians who founded the municipality. A chapel was built to receive the image brought by the immigrants. The place became a sanctuary, today one of the biggest attractions of Nova Veneza. It is next to Estádio da Montanha, home of the club.
Caravaggio's uniform has, next to the shield, an image of the saint.
"This is a very Catholic town," notes Spilere.
And he doesn't even need to be provoked to remember that the team of such a religious municipality has a gay president.
"Look at the irony…"