Tricolor one step away from the unprecedented title – 09/17/2023 – PVC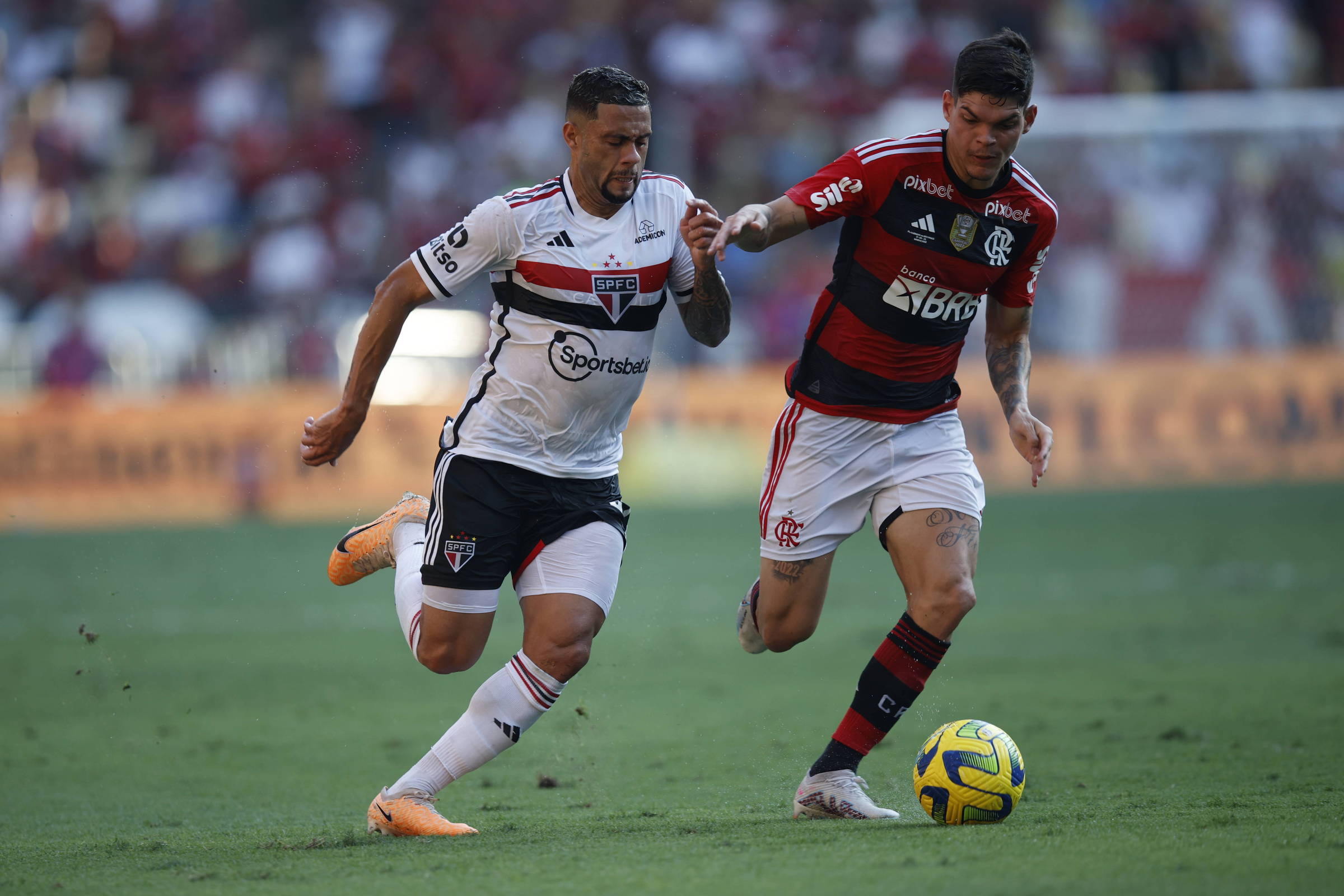 São Paulo spent the weeks before the Copa do Brasil decision with extensive internal debate. Balance talent with Flamengo, the best squad in Brazil, or maintain the tactical structure that brought you here. Join James, Lucas, Calleri and Luciano or fight more with Rodrigo Nestor and Wellington Rato.
It is not popular to say that the best version is with Rat and Nestor.
But is. That's why it was the option to start the match.
That's why it worked so well that São Paulo broke a spell and beat Flamengo for the first time after seven matches.
In both cases, with James and Luciano, or with Nestor and Rato, Dorival Júnior sets up two lines of four to defend himself and plays in a WM attack: 3-2-5.
It's how everyone is playing.
Rodrigo Nestor with Caio Paulista on the left. At 16 minutes, the first concrete chance, Nestor's cross for Calleri to finish. It is said that Flamengo needed to use the corridor between Rafinha, Bruno Henrique's marker, and Arboleda. It turns out that Alisson was trying to reduce the space for Gerson.
Apart from Gerson's pressure on goalkeeper Rafael, in the 25th minute, Flamengo did not threaten at the beginning of the game.
When Jorge Sampaoli is criticized for having placed Thiago Maia as a full-back and David Luiz as a midfielder, against Athletico-PR, and being beaten 3-0, it seems right to criticize for the choice of roles, for players who don't know how to perform them.
The tactical design of the attack was the same against Athletico and São Paulo. The mistakes, similar. It's impressive how Flamengo misses passes these days.
How he can't make his most talented players solve dribbling, finishing or tackling.
But follow your routine.
Sampaoli warned upon arrival that he would attack in a 2-3-5 or 3-2-5 formation. The sin is choosing players who are incapable of performing roles. David Luiz played as a midfielder for Chelsea and Paris Saint-Germain. Haven't done that in years.
Against São Paulo, he played with Ayrton Lucas more confined, Pulgar taking turns leaving three men. Gerson should infiltrate the left half, Bruno Henrique giving width to the field on the left. Bruno Henrique has been the only good thing in Gávea.
In São Paulo, there are more positive points.
Dorival Júnior managed to transform the dressing room environment, compared to Rogério Ceni. He clearly tells his players that they have enough quality to win titles. Instead of pointing out the shortcomings compared to the winningest rivals of recent years, he emphasizes the collective game.
That's why Rodrigo Nestor had the confidence to make the perfect pass for Calleri's goal.
The game is not just about choosing pieces. It has a lot to do with commitments made and the belief in what is possible to achieve. During the last few weeks, Flamengo believed they could beat Athletico and recover in the Brasileirão. When they were defeated 3-0 in the middle of the week, they amplified a crisis that was already huge.
Tricolor was different. Losing to Internacional was not desirable. It was understandable. The ambition has always been the Copa do Brasil. The work is to win it next week, at Morumbi.
Boring
Botafogo did not kick any ball into Atlético-MG's goal. It is not possible to say that arbitration decisions are caused by the fact that the CBF prefers an attractive championship until the end. It's equivalent to Palmeiras' assistant, João Martins, saying that the system doesn't want a second championship. Time to stop. And to play!
Constant errors
A sentence behind the scenes at Vila Belmiro about Diego Aguirre replacing Joaquim after just one mistake: "He didn't follow through." Immediately, I ask: "Are we talking about Diego Aguirre or Andrés Rueda?" Santos changed 8 coaches, 6 directors and hired 25 players in 30 months!!!

LINK PRESENT: Did you like this text? Subscribers can access five free accesses from any link per day. Just click the blue F below.