See where to eat desserts with ice cream in the heat of SP – 11/14/2023 – Restaurants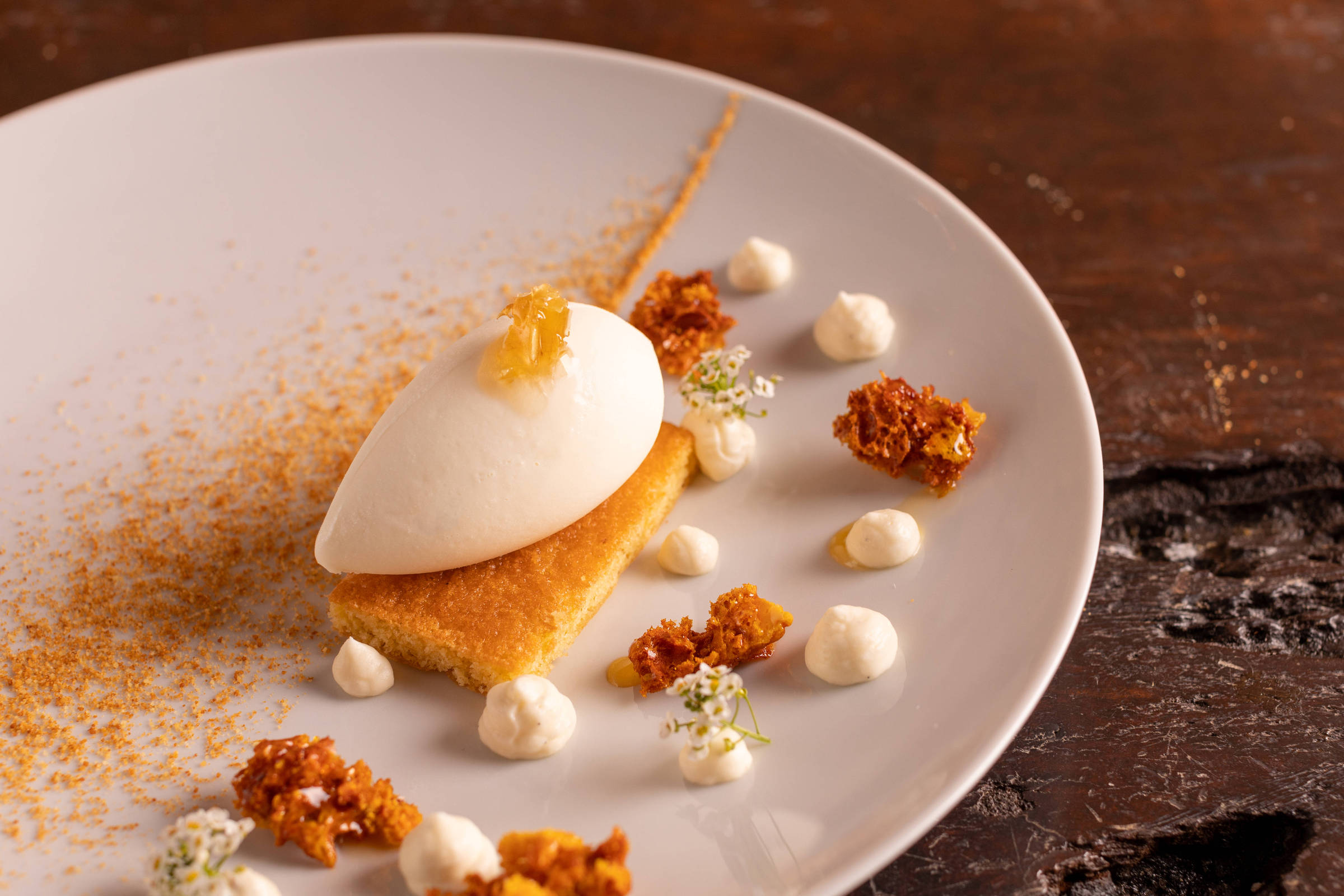 The capital of São Paulo recorded the record temperature of the year this weekend, reaching 37.1°C – and the heat is expected to remain for the next few days.
To cope with the hot weather, ice cream is an option to cool off. Restaurants in São Paulo create different desserts that use the frozen ingredient to avoid the obvious. Discover 15 options below.
Puddle
The milk and honey dessert (R$36) combines smoked milk ice cream, jataí bee honey, almond cake, brandy and honeycomb.
R. Mourato Coelho, 1.447, Vila Madalena, western region, tel. (11) 94450-1631, @charcorestaurante
---
Confeitaria Dama
The carolinas made at the bakery are served with Davvero gelato, in fior di latte or chocolate flavors, plus warmed brigadeiro syrup and almonds. It costs R$28.
R. Ferreira de Araújo, 376, Pinheiros, west region, @confeitariadama
---
Elea Forneria
Chef Enrico Villela's Italian-inspired menu features desserts such as the 70% chocolate tart accompanied by raspberry sorbet. The option costs R$37.
R. Florinéia, 270, Água Fria, northern region, tel. (11) 2667-2368, @eleaforneria
---
Dickey's Barbecue Pit
The barbecue chain offers, in the dessert section, the browndae (R$ 14), which combines brownie with sundae. The ice cream can be vanilla, hazelnut cream or mixed and comes with strawberry, chocolate or caramel sauce.
Al. Santos, 843, Jardim Paulista, west region, @dickeysbarbecuepit
---
Gelato Boutique
Chef Márcia Garbin teamed up with Diego Lozano, chef at Levena confectionery, to create a dessert that is served in stores of both brands. It's a croissant cone, with a crunchy crust, filled with ice cream. There are four flavor options: pistachio, vanilla, strawberry and dulce de leche with cumaru. It costs R$29.
Gelato Boutique – r. dos Pinheiros, 444, Pinheiros, tel. (11) 3541-1532, @gelatoboutique
Levena – r. Artur de Azevedo, 495, Pinheiros, western region, @levena_sp
---
La Peruana
Chef Marisabel Woodman runs this Andean food restaurant. One of the desserts she prepares is baked Alaska, a dulce de leche gelato covered in Italian meringue on a sponge cake base. The candy costs R$40.
Al. Campinas, 1.357, Jardins, western region, tel. (11) 5990-0623, @laperuanabr
---
calf's foot jelly
The country food restaurant serves a creamy, intense chocolate cake with cupuaçu and Brazil nuts, served warm with homemade cumaru ice cream. The dessert, prepared by pastry chef Ale Sotero, costs R$29.90.
Av. Nossa Senhora do Loreto, 1.100, Vila Medeiros, northern region, @mocotorestaurante
---
Quincho
The vegetarian restaurant offers an unusual dessert: cucumber and dill sorbet, boursin mousse with vanilla, mandaçaia and absinthe bee gel, honey and dill vinaigrette and, to finish, yogurt crumble (R$ 36).
R. Mourato Coelho, 1.140, Pinheiros, western region, tel. (11) 2597-6048, @quincho.sp
---
Shihoma Pasta Fresca
Voted the best Italian restaurant in particular Sheet, there's a new dessert on the menu that matches the heat. It's coconut zabaglione, with Artisano brand mango sorbet, mango, passion fruit curd and licuri crunch. It costs R$40.
R. Medeiros de Albuquerque, 431, Vila Madalena, @pastashihoma
---
Tartuferia San Paolo
On the menu, ice cream appears in desserts such as chocolamour (R$ 29), a semi-sweet Belgian chocolate brigadeiro with black truffles, mascarpone ice cream and sweet farofa, in cannoli with ricotta cream, pistachio ice cream and almond crumble ( R$ 42) and strawberry meringue with whipped cream and yogurt ice cream (R$ 32).
R. Ferreira de Araújo, 302, Pinheiros, western region, tel. (11) 97486-2644, @tartuferiaoficial
---
Tuy Cucina
Offering Iberian cuisine, it offers cocoa cake with hot chocolate syrup, sweet farofa, yogurt and hazelnut ice cream, for R$ 34, and pain perdu, a brioche bread with dulce de leche, mascarpone ice cream and almond crumble, for R$33.
R. Padre João Manuel, 1.156, Jardins, west region, tel. (11) 91641-1309 or (11) 3167-7774, @tuycocina
---
Virô Bistro
The French restaurant offers desserts such as profiterole (R$44), choux pastry with vanilla ice cream, served with hot chocolate sauce, and apple pie (R$36), with caramelized apple on a crispy pastry, served hot with vanilla ice cream and sweet crumble.
R. Haddock Lobo, 74, Cerqueira César, western region, tel. (11) 3129-4930, @virobistro
---
View
At the Jardins unit, the menu suggestion is the Floresta Negra (R$39), a chocolate mousse served over cocoa, herb cake, red fruits in syrup and red fruit sorbet.
Shop Jardins – r. Haddock Lobo, 1,626, Jardins, west region, tel. (11) 5196-4022, @vistajardins
---
Yü
Among the desserts that feature ice cream —in flavors such as dulce leche and cream—, the Japanese restaurant offers apple crepe (R$28), flambéed banana (R$28) and chocolate or dulce de leche petit gateau (R$ 33).
R. Jerônimo da Veiga, 121, Itaim Bibi, western region, tel. (11) 99445-6106, @yu.restaurant
---
Dalva and Dito
Creative, the house's dessert suggestion is the chocolate cake made without flour, accompanied by jambu ice cream drizzled with olive oil and nori powder. Chef José Guerra's recipe costs R$35.
R. Padre João Manuel, 1.115, Cerqueira César, tel. (11) 3068-4444, @dalvaedito