New high school: students ask for the revocation of the model – 03/15/2023 – Education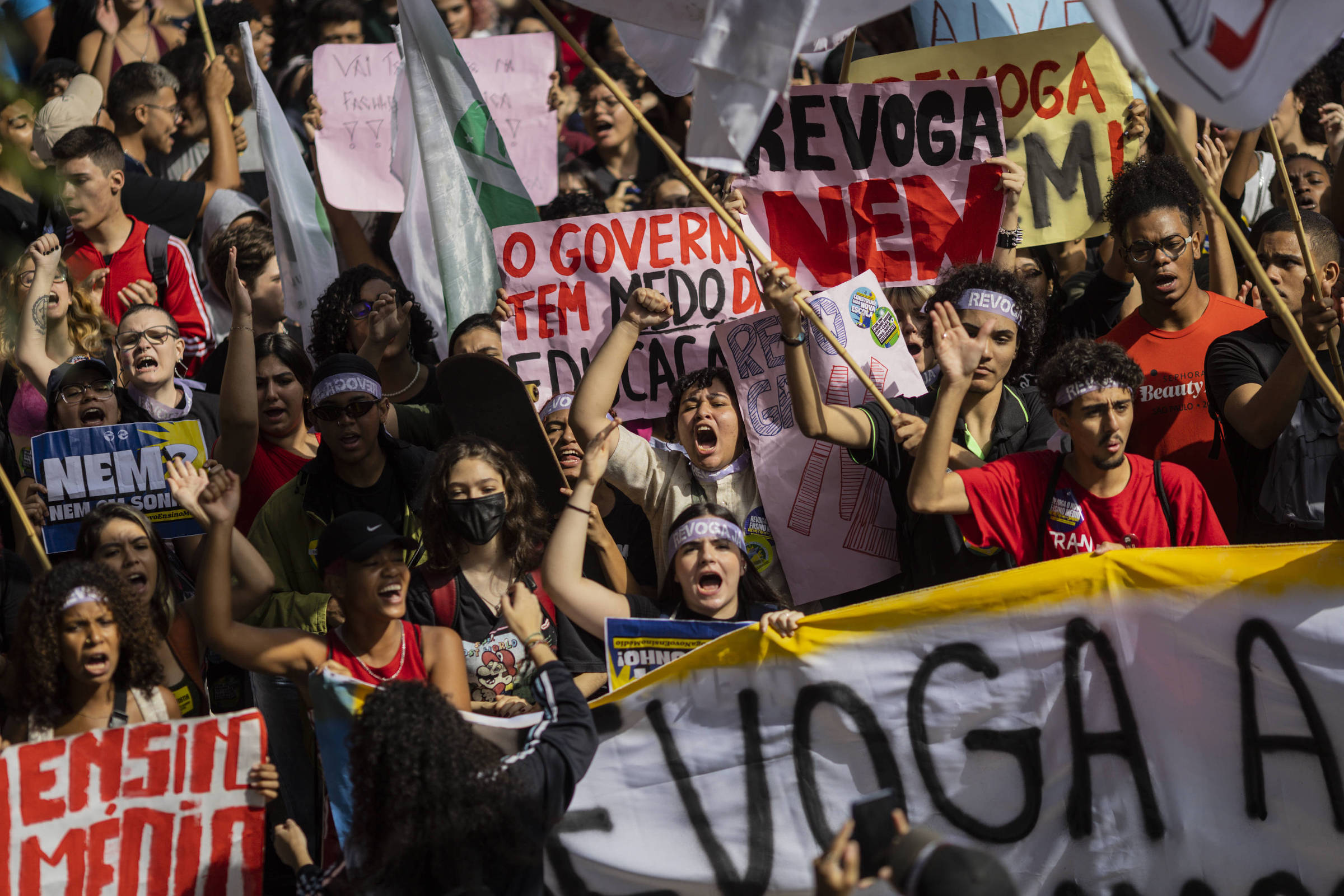 Opposed to the new high school, students from São Paulo demonstrated this Wednesday morning (15) on Avenida Paulista, in the central region of São Paulo, to demand that the government of Luiz Inácio Lula da Silva (PT) repeal the current model .
The students gathered from 8am in front of Masp. At around 10:00 am, the protesters headed to Brigadeiro Luís Antônio Avenue towards Alesp (São Paulo Legislative Assembly), where the act will end. Protests for the repeal of the new high school were also scheduled for this Wednesday in at least 55 other cities in Brazil.
The implementation of the new format became mandatory last year and registered a series of problems across the country. Students mainly complain about having lost class time in traditional subjects.
Since the beginning of this year, students, professors and specialists in the field have been demanding the Lula government for the model to be revoked. This Wednesday's protest is the first clash between student organizations and the PT administration.
Despite having accepted the students' main demands, such as the readjustment of research scholarships and the increase in transfers for school lunches, the Lula government has resisted the pressure for the repeal of the new secondary education.
The Minister of Education, Camilo Santana, only admits that it is necessary to make "adjustments" to the current model.
"We are not going to settle down until the federal government understands that we are not going to accept this exclusionary and precarious model of education. There is no adjustment that will save this model, it needs to be revoked now", said Luca Gidra, president of Umes (Municipal Union of Secondary Students). .
Since 2017, when the secondary education reform was approved by the government of former President Michel Temer, students have been opposing the changes. That year, students took to the streets and occupied hundreds of schools across the country to prevent the passage of the law.
The model predicts that secondary education will be organized in two parts. Thus, 60% of the workload of the three years is common to all students, with regular subjects. The other 40% are allocated to optional subjects within large areas of knowledge, the so-called training itineraries.
Students say that the reduction in regular subject classes has made teaching even more precarious.
"I'm in the 3rd year of high school, I should be getting ready to take the entrance exam at the end of the year. But I only have two Portuguese classes a week. And only two math classes. There's no time to learn anything", says João Pedro Costa , 17, student at a state school in Osasco (Grande SP).
In place of regular subjects, João Pedro says that he has classes, for example, in "social media slang" and "character creation".
"These are classes that don't teach anything, they don't add anything. They just take time away from what I should and wanted to be learning."