Metaverse: what is it and where is the trillionaire market going – 03/17/2023 – Tech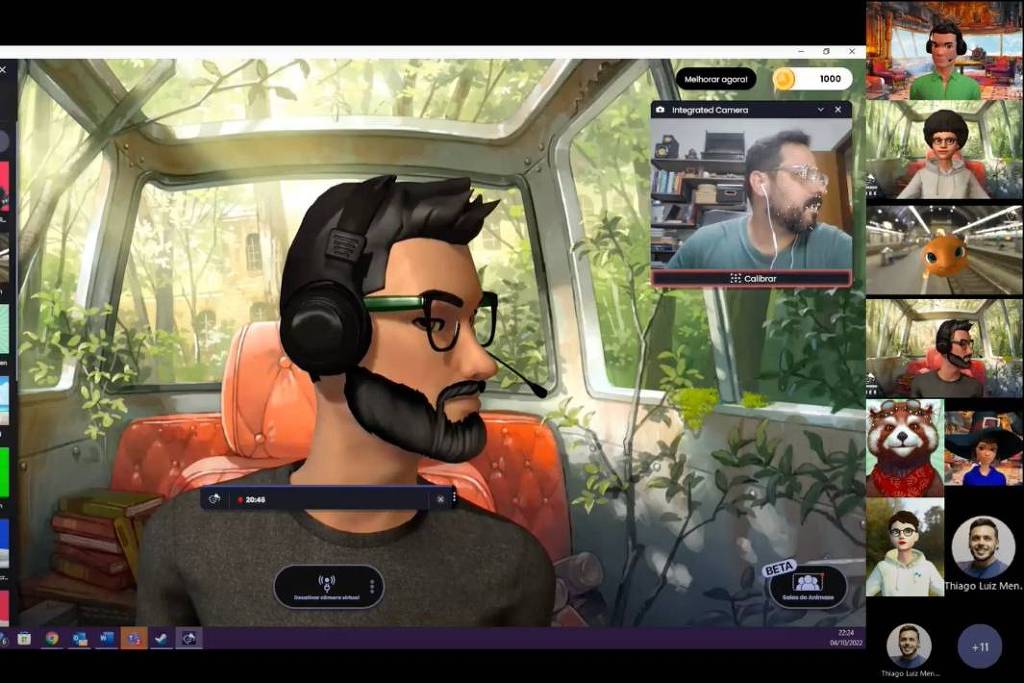 With ChatGPT appearing at the end of last year, artificial intelligence (AI) has stolen some of the spotlight dedicated to the metaverse. The themes dominated the talks and panels at the Mobile World Congress (MWC), one of the main technology events in the world, held between 2/27 and 3/2/23 in Barcelona.
There is an intertwining between the two. AI is one of the key technologies for metaverse applications to exist. For a pair of glasses to be able to read the environment and generate a visualization of a virtual object as if it were in the room, for example, it needs to analyze the space. Logic resembles filters on Instagram recognizing a face to put on dog ears.
There is also a fundamental difference. Artificial intelligence appears in various practical applications such as chatbots, image recognition, fraud prevention, etc. Meanwhile, the metaverse has yet to show what it came to and become more intimate with the public, a confusion that makes even experts on the MWC stages not have much clarity and uniformity in a definition.
A more consensual point is that the metaverse will move a lot of money. Even if it is still seen as something for the future, no one could say for sure when it will arrive, nor what face it will have.
In general, the definitions go through a more immersive version of consuming online content, with characteristics such as the creation of virtual worlds, sometimes interacting with the real one.
The idea is broad enough to include those extremely immersive applications, such as playing using glasses and special mats to "enter" the game's universe, those that can be accessed through the cell phone screen, such as a mockup-style virtual store model.
In the middle of the cake, there are also the interactions between real and digital, when a virtual object starts to "appear" in the image of cameras in the physical world.
"It's a 3D version of the internet", simplifies Thomas Dexmier, responsible for the arm of HTC Vive in Australia and New Zealand. The company, which stood out with smartphones in the past decade, is dedicated to producing virtual reality products, such as glasses. "The metaverse is better with these devices, but it doesn't necessarily need them."
For Nicole Lazzaro, CEO of Xeodesign, which creates games and products with immersive experiences, it's about replacing ideas that are already rooted like windows, mice and icons for a more natural exploration, when using avatars, and even hand gestures, to interact with virtual objects.
"Is it more fun to scroll down on a social network or have a whole world to explore?", asks Lazzaro, pointing to sympathize with the second option.
The difficulty, however, lies precisely in having these worlds to explore. Practical examples and the users to create them are lacking.
In this regard, the cases described at the 2022 MWC and those of 2023 differ little, with games that create their own universe, such as Fortnite and Roblox, being frequently cited. Others include brands that made digital versions of their products, or marketing actions on digital platforms with companies creating their own worlds to interact with very specific audiences.
"If a company enters the metaverse now hoping to make money, maybe it's too early. I would suggest rethinking the strategy and focusing on this niche marketing to create a community and, in the future, be able to sell something to them", said Sebastien Borget, founder of Sandbox , a platform with virtual spaces for users (and brands) to build their own 3D worlds with games.
"Until everything becomes accessible with enough content to justify use, mass adoption will be tricky," Borget said.
To reach that level, evaluates Tilo Bonow, an investor specializing in technology startups, he needs to improve the quality of products such as virtual reality glasses. "They're horrible to use," he says. In addition, he points out that technology is lacking to show consumers what it came to. "It has to answer the question 'What's in it for me?'
Another challenge is interoperability between platforms. If the idea is to create avatars to represent people in virtual worlds, it would be necessary to create the paths for their digital properties to be transported from one system to another. Otherwise, an accessory purchased in one universe would be restricted to that universe and would need to be purchased again to appear elsewhere.
"Today, they function as disconnected islands", says Markus Peuler, CEO of Nexr Technologies, specialized in creating virtual environments.
The difficulty in adoption appears in the numbers. One of the main platforms in the field, Horizon Worlds from Meta (which owns Facebook) reached 300,000 users in February last year, three months after its launch, but then slipped. In its most recent public test, in August of last year, the Sandbox registered 360,000.
For comparison, ChatGPT hit 100 million users about two months after its launch.
Even with the uncertainty, the expectation is for growth in both usage and finance. Forecast by consultancy Gartner estimates that, by 2026, 25% of people will spend at least one hour a day in the metaverse.
The PWC consultancy puts this market at a value of US$ 8 to 13 trillion (R$ 41 to 67 trillion) until 2030. McKinsey suggests a more conservative figure of US$ 5 trillion (R$ 26 trillion) in the same period, citing that more than US$ 120 billion (R$ 615 billion) were poured into the sector in 2022 — of these, about US$ 100 billion (R$ 515 billion) in mergers and acquisitions of companies.
This growth is associated with Web 3.0 ideas, which include the use of cryptocurrencies for transactions on metaverse platforms and NFTs, a kind of digital token that marks the ownership of some good.
The NFTs category has gained prominence in recent years by indicating the ownership of virtual images, but specialists defend other applications for them, mainly in interactions between physical and digital environments. It can serve to guarantee the authenticity of a product, or else to make something that was actually purchased also exist in the metaverse (for example, a character to use a sneaker equal to the human who controls it).
With few practical applications, limited audience, and a concept that spans many different applications, it's difficult to predict what will come to the metaverse. There is also a great perception of enthusiasm —called "hype"—with the area.
"We need a 'winter' so that the best companies can emerge. There is a lot of noise in between", says Erik Huberman, CEO of Hawke Media, a marketing consultancy that advises brands on strategies involving this digitization.
In technology, "winters" refer to low times. Artificial intelligence, conceived in the middle of the last century, went through two of these periods before the 2000s. After breaches of expectations regarding what the technology could deliver, investments in the area dwindled. It came back to prominence only in the last decade.
Experts often cite a presentation by the Gartner consultancy called the "hype cycle". In it, after a technology appears, it goes through a peak of inflated expectations, followed by a low caused by disillusionment. After that period, it grows back as it matures, until it can be really useful. The metaverse appears to be nearing the peak of the second stage.
Journalist traveled at the invitation of Huawei