Foz do Iguaçu with children: when to go and what's worth it – 11/20/2023 – Tourism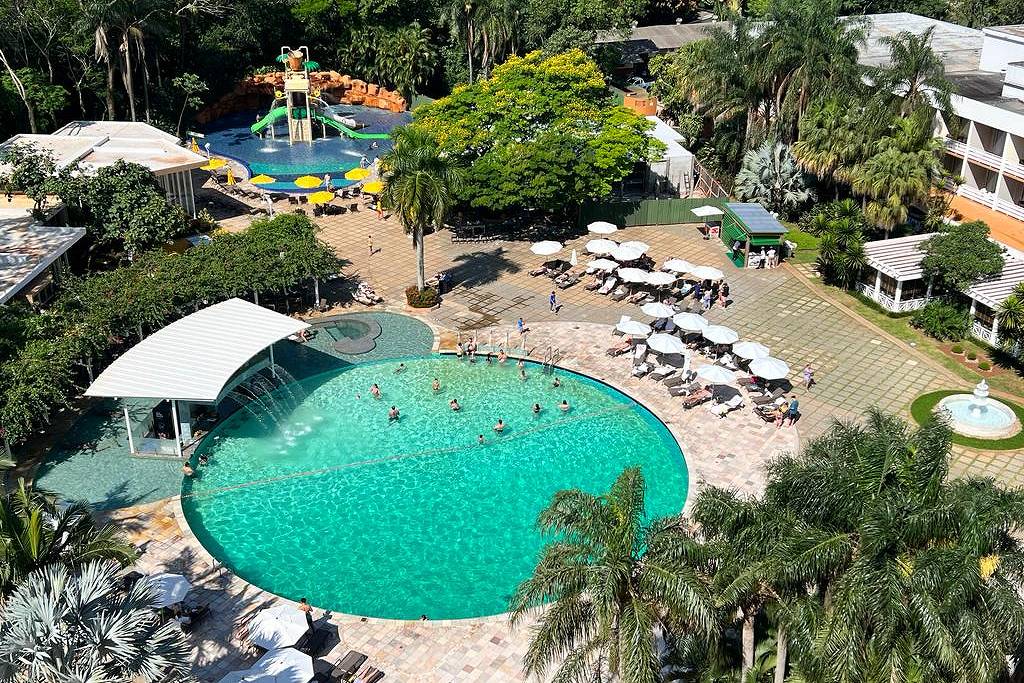 Those arriving in Foz do Iguaçu come across the BR-469, known as the Cataratas highway, which is in the process of being duplicated. In addition to the widening of the road that leads to the Iguaçu National Park, there is also the construction of the Integração bridge, another option for connecting with Paraguay.
The expansions, however, do not just happen on asphalt. The nature-based tourist region has diversified its range of attractions in recent years, especially for those traveling as a family.
The falls, obviously, are the main reason for those who go to the region. Due to the rains in Paraná, the water flow reached 16 times greater than the average, changing the local scenario. The water flow took on shades of brown and an impressive current.
As a safety measure, the walkway that gives access to the Garganta do Diabo viewpoint was closed in mid-October, but has now reopened. Macuco Safári, a boat trip on the river and waterfalls, also resumed operations. On the Argentine side, a section of a walkway was destroyed, but other areas of the park are available.
In times of high water, the impression is that there is a constant drizzle, but it is splashes from the immense waterfalls. From the viewpoints, even on cloudy days, it is possible to see rainbows between one waterfall and another. Coatis, birds and other animals from the Atlantic forest roam freely.
Outside the park, the South American neighbors are just around the corner. In addition to the falls, Puerto Iguazú, in Argentina, attracts Brazilians with parrilla and empanadas, while the shops at the local market pile up alfajores and dark-colored, dense-textured milk sweets. Casinos and houses that sell wine at reasonable prices also please tourists and are not difficult to find.
Those who want to do some shopping and don't have time to cross to Ciudad del Leste can go to the Argentine Duty Free and also to the Catuaí shopping mall, in Foz, which houses two famous Paraguayan department stores, Paris and Cellshop. Drinks, toys and cosmetic products are highlighted.
MORE FROM FOZ DO IGUAÇU WITH CHILDREN
Shopping, wine and casinos keep those 18+ happy, but the region has exclusive attractions for children and others where they can have fun and learn alongside adults.
BIRD PARK
Since 2016, the park has changed the focus of its work to become a refuge for Atlantic forest birds. Years ago, more foreign animals lived there and visitors could take photos with macaws, toucans and snakes on their shoulders. Today that no longer exists. Some outside animals remain there, but contact occurs inside immersive aviaries, where touching is not permitted.
The stars are those at home, such as jacutingas, Alagoas curassows, toucans and the dozens of macaws and parrots that make everyone look up and admire the flyovers very close to their heads.
Where: av. das Cataratas, 12450. When: daily, from 8:30 am to 4:30 pm. Ticket: R$80 in full, children up to 8 years old are free. There is half price for students, teachers, military personnel, people with disabilities, blood donors and the elderly.
MONICA'S GANG
The experience is exclusive to those staying at Bourbon Eco Resort. In September, the complex opened a 400 m spacetwo with a themed ball pool, indoor tree climbing with slides and houses for Mônica, Magali, Cebolinha and Cascão, among other toys. There is also another smaller area aimed at young children, as well as a dance floor featuring young version characters.
Just like the Atibaia (SP) resort, its Paraná sister offers Mônica and Cebolinha suites and character encounters on weekends and holidays. On October 12th, the hotel accommodated 325 children, a record number of young guests.
In addition to the attractions dedicated to the work of Maurício de Sousa, there is a children's pool with toys, recreation with monitors divided by age group, games space, tree house, picnics and shows.
The place is also a refuge for rescued animals, such as macaws, marmosets and endangered deer.
For the end of the year, the hotel will have extended programming aimed at children, with more character visits, the presence of Santa Claus and a carousel, as well as parties and banquets for adults.
Works give spoilers about a new pool bar, while a water park with a lazy river of thermal waters and an artificial lake with a sand floor are coming to fruition.
Where: av. das Cataratas, 2345, Vila Yolanda. Reservation Center: (45) 99116-4977 / reservations via the website.
LANDMARK OF THREE FRONTIERS
Each of the three countries has a landmark, from where it is possible to see the others. On the Brazilian side, there is a restaurant and you pay entry to see the obelisk, a scenic village and typical dance shows. One of the main attractions, however, is natural: the meeting of the Iguaçu and Paraná rivers, with waters of different colors.
Where: B.C. Três Fronteiras, S/N, Parque das Três Fronteiras. When: Tuesday to Sunday, from 2pm to 9pm. Ticket: R$49. Children under 6 years old are free.
ITAIPU
One of the largest hydroelectric plants in the world has a varied tourist program. Some options are only for those over 14 years old, but the most popular tours, such as Itaipu Panorâmica, in which visitors travel around the space in windowless buses and stop at viewpoints to observe the spillway and dam, are for all ages. Children are also welcome at the biological refuge, which has a zoo and a trail through reforestation forests.
Where: Av. Tancredo Neves, 6702, Jardim Itaipu. To see the complete agenda, with times, age classification and price for each tour, visit the location's website.
FERRIS WHEEL
The approximately 20-minute ride on the 88-meter-high Yup Star (same company as the Rio de Janeiro wheel) allows you to see stretches of Atlantic forest, rivers and a good part of the city of Foz do Iguaçu.
Where:r. Quixada, 127, close to Marco das Três Fronteiras. When: from Mon. to Thurs., from 12pm to 8pm and from Fri. to Sun., from 11.30am to 8.30pm. Ticket: R$59 (website). Children from 4 years old: R$39.
DREAM PARK SHOW
The complex present in other cities in the country has six attractions in Foz: dinosaur valley, ice bar, museum with miniatures of the world's main tourist attractions, wax museum, restaurant with a rocker-biker theme and a park with animals.
Children who like dinosaurs enjoy the route with well-made replicas of the reptiles, but it is not a cheap trip, mainly because you have to pay extra to ride a stroller inside, do tree climbing and take photos in certain settings. The issue is repeated in other houses in the chain: it is prohibited to use cell phones or their own cameras in some environments, and employees approach tourists, including children, to take photos. A combo of three images can exceed R$100.
Where: av. das Cataratas, 8.100, Vila Yolanda. When: check the opening times for each location here. Ticket: R$250 for all attractions or R$99 each (R$49 half price).
WONDER PARK SHOW
Close to the national park, Movie Cars has more than 50 cars that permeate the imagination of pop culture. From the replica of the Mamonas Assassinas' yellow Brasilia to Ayrton Senna's Formula 1 car, including models used in films and TV shows.
In addition to the automotive sector, the place features the Show das Águas, with fountains up to 12 meters high, accompanied by lights and 3D projections. At Christmas time, there will be themed programming.
Where: Cataratas highway, 11547 (BR 469, km 20), Iguaçu National Park. When: Movie Cars, from 9am to 10pm. Show das Águas, from 8pm. The park is closed on Tuesdays. Ticket: R$80 for each attraction or R$100 for a combo (R$40 for half price).
PROGRAM YOURSELF
When is the best time to go to Foz do Iguaçu?
When you can. Foz is a year-round destination and temperatures tend to follow the seasons. In January, February and March it is very hot and rainy. In the winter months, the days are colder and drier.
How many days to stay?
To visit the main attractions calmly, 4 days are enough.
How to get to Foz do Iguaçu?
The city is home to the Foz do Iguaçu – Cataratas International Airport (IGU), which is 13 kilometers from the center and receives direct flights from São Paulo and Curitiba, among other Brazilian cities. Buses leave for the city from different capitals and municipalities in the country. By car, the main access is BR-277.
Is renting a car a good idea?
It depends. It may be convenient to rent a vehicle to give more flexibility to your trip in Foz, but, if neighboring countries are part of the itinerary, you need to issue a green card, a certificate for anyone traveling by car across Mercosur borders, in addition to checking if the rental company allows you to cross borders. If you have your own car, you must also carry the document.
Transfers are advantageous for going to Argentina. On long holidays, for example, the queue of cars to enter and leave the country takes up to three hours. However, cars from tourist agencies hardly face any hassles at customs, and the crossing takes just a few minutes.
Is it worth going to Foz at the end of the year?
Yes, it's hot and the region has several resorts, hotels and attractions with programs dedicated to Christmas and New Year's Eve festivities.
The journalist traveled at the invitation of Bourbon Cataratas do Iguaçu Thermas Eco Resort