Children learn sustainability with their hands on the earth – 09/13/2023 – Education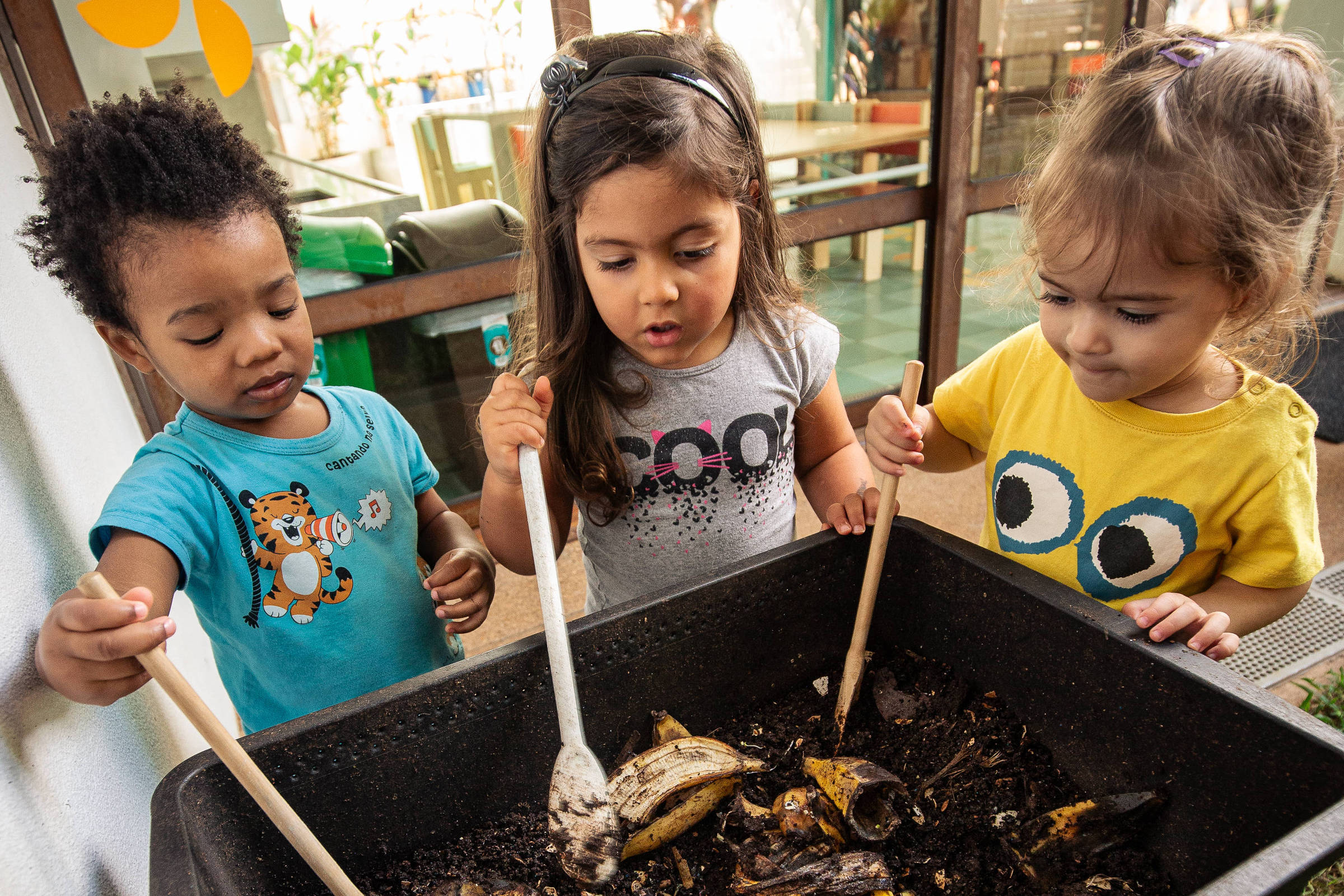 Putting your hands in the soil of the organic garden and taking classes in a courtyard surrounded by trees is the daily routine of some elementary school children in São Paulo. Over the years, these students learn to recycle school materials and uniforms and, closer to graduation, study circular economy.
With pedagogical projects anchored in a commitment to climate issues, schools like Espaço Ekoa (village, in Guarani) have sustainable initiatives inside and outside the classroom.
"My son's clothes are stained with dirt and this is extremely positive", says architect Esther Zanquetta, mother of Augusto, 6, a student at Ekoa, located in Butantã (west zone of SP). She credits the contact her son has with nature with improving his sleep and reducing his anxiety.
According to the institution's curriculum consultant, Edson Grandisoli, introducing activities that involve a feeling of care and responsibility, in addition to generating environmental awareness, gives new meaning to relationships. "What students need is experiences that effectively lead them to understand why it is so important to dispose of garbage correctly or why resources common to everyone, such as water, should be used appropriately."
A biologist by training, Edson is one of the directors of the Reconectta project, a consultancy company for sustainable initiatives in schools. In addition to Ekoa, the initiative serves 24 schools, 10 public and 14 private. The program includes the formation of committees in schools with representatives from staff, administration, teachers and students.
The entity also created the Schools for the Climate Movement, which offers training in climate education to 650 schools in Brazil.
Director of the Itaim Bibi unit of Escola Bilíngue Pueri Domus, Ana Cristina Gonzaga decided to adopt sustainable attitudes at home almost 30 years ago, on the initiative of Mariana de Paula, her daughter, who was three years old at the time, who was beginning to learn about conscious disposal at home. school.
"Our children educate us", says Ana Cristina. "At my school, I didn't have that. Now, more and more, students bring this type of concern home."
Pueri Domus is associated with UNESCO through the Associated Schools Network Project, the PEA, which brings together more than 12 thousand institutions around the world, committed to introducing humanitarian values ​​and ideals into education, which includes sustainability.
At the São Paulo school, for example, students learn circular economic models in a subject called "excesses".
The director highlights the recycling of backpacks, pencils and notebooks left over at the end of the school year, as well as uniforms.
According to the school's extracurricular activities assistant, Lígia Batistel, some of the clothes that no longer fit go to a swap fair, and other students take those in better condition. Others are customized by children with pieces of cloth, ribbons and scraps, targeting socially vulnerable people.
"There is no other way to educate young people other than with this perspective", says Lígia.
It was this look that student Juliana, 16, brought back from a trip to Kenya. Part of the From Pueri to the World program, the visit took place in July this year. The students carried out a type of fieldwork on sustainable development in local communities.
According to the school director, each year the trip has a purpose, chosen by the pedagogical team. Ana Cristina states that the purpose of the trip to the African country was to learn about the work of food producers, such as spirulina.
"I was able to be inspired by practices that are not technological and very possible to carry out", says Juliana, who is in her second year of high school. "I came back from there understanding that, if everyone does a little, we can save the planet and stop a cycle of self-destruction in society."