Vitória celebrates winning the Brazilian Series B – 11/15/2023 – Sport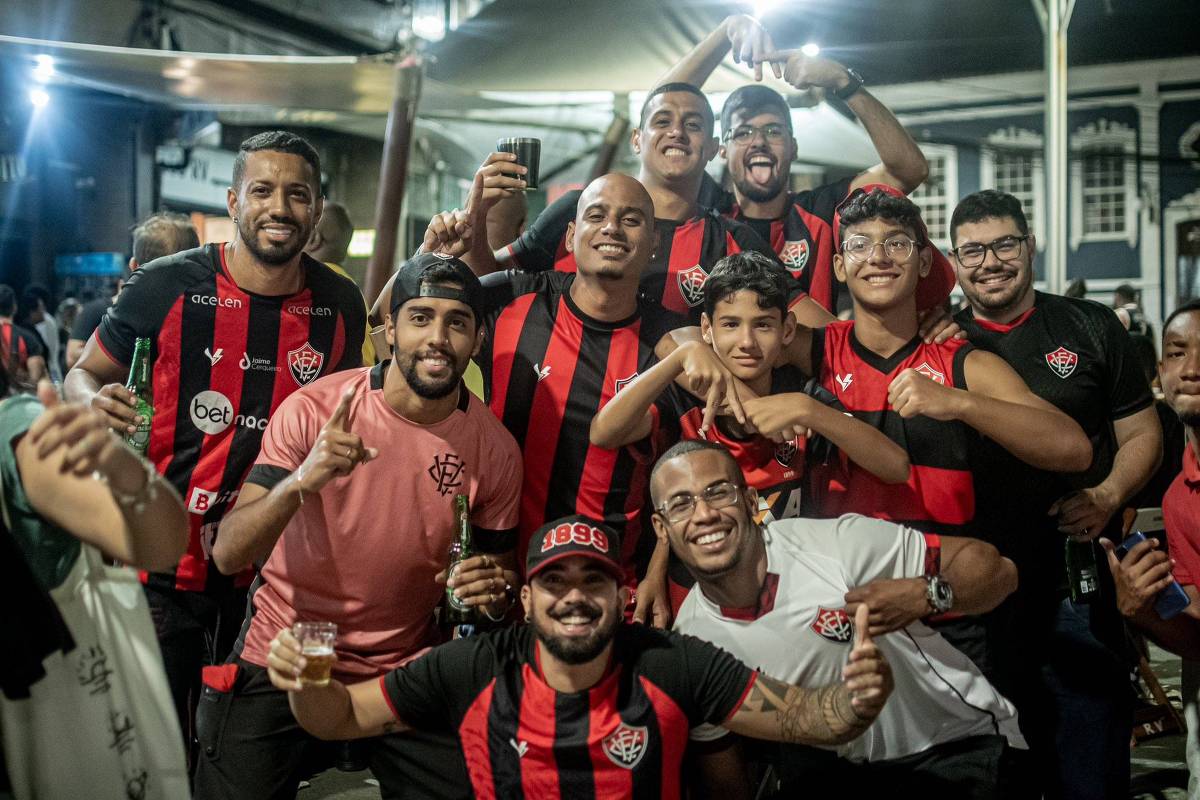 The 1-1 draw between Guarani and Criciúma, on Tuesday night (14), in Campinas, defined the Brazilian champion of Series B. The result took away Criciúma's title chances, which was the only team mathematically capable of reach Vitória.
The red and black team thus secured the trophy two rounds in advance and celebrated their first national victory. The celebration of players and fans invaded the early hours of the morning in Salvador, something made easier by the national holiday of the Proclamation of the Republic on Wednesday.
The athletes, the technical committee and directors were gathered at one of the club's headquarters before the possibility of the title being confirmed. They followed the game on a big screen and dived into the pool – even President Fábio Mota, in his clothes – at the final whistle.
There were also celebrations by fans in various parts of the city, such as the bohemian Rio Vermelho neighborhood. A joy that seemed unlikely at the beginning of the year, when Vitória had a terrible Bahia Championship and fell in the first phase.
The team also did not go beyond the initial stage in the Copa do Nordeste, but ended up finding its footing throughout Series B. It achieved 69 points until the 36th round, with a success rate of 63.9%. The achievement resulted in a place in the next Copa do Brasil and a prize of R$2.5 million.
"It's a great feeling of satisfaction, of duty accomplished", said coach Léo Condé. "We had a very complicated, very turbulent start, but we managed to organize ourselves to run a consistent campaign."
The other three places up for grabs in the first division remain open, with plenty of balance. Criciúma is the runner-up, with 61 points, an advantage of just four over Guarani, ninth placed, with 57. All teams in this range – which also have Juventude (61), Atlético-GO (61), Sport ( 60), Vila Nova (58), Novorizontino (57) and Mirassol (57) – still have a chance.
At the bottom, ABC (22) and Londrina (28) are already condemned to Series C. Sampaio Corrêa (36) and Chapecoense (36) are also in the relegation zone. Tombense (37), Ponte Preta (38) and Ituano (40) are still at risk. Two rounds left.
Celebrating, Vitória fans are also keeping an eye on the Série A table, which could bring them new joy in 2023. In the fight against relegation, arch-rival Bahia is fighting to avoid going the opposite way to that followed by the Red and Blacks.
At this moment, the tricolor association is the first outside the relegation zone to Series B, in 16th place, with 38 points. But 17th, Cruzeiro, has 37 with two games in hand and will have the opportunity to overtake it.