Rosane Borges will perform live on black resistance – 11/20/2023 – Mônica Bergamo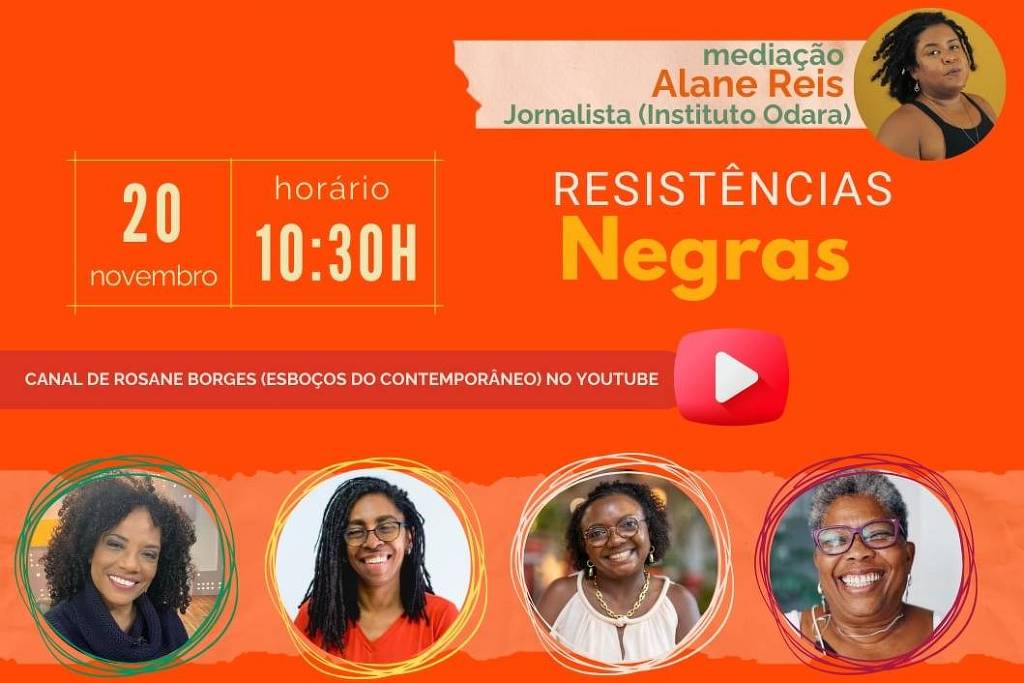 Professor, writer and journalist Rosane Borges, the director of Amnesty International, Jurema Werneck, historian Valdecir Nascimento and journalist Flávia Oliveira will meet this Monday (20) for a live with the theme "Black Resistance".
Held on the same date as Black Awareness Day, the debate aims to recover the memory of Zumbi dos Palmares and the legacy of the struggles of the Brazilian black movement.
Topics such as cultural appropriation, anti-racist struggle, institutionalized political participation and psychological suffering and racism will be addressed.
The live can be watched from 10:30 am through Rosane Borges' YouTube channel, who heads the initiative. The conversation will be mediated by journalist Alane Reis, from the Odara Institute, and will have space for public participation.
with BIANKA VIEIRA, KARINA MATIAS It is MANOELLA SMITH

LINK PRESENT: Did you like this text? Subscribers can access five free accesses from any link per day. Just click the blue F below.
your subscription could be worth even more
Do you already know the advantages of being a Folha subscriber? In addition to having access to reports and columns, you have exclusive newsletters (find out here). You can also download our free app from the Apple Store or Google Play to receive alerts for the day's top news. Your subscription helps us provide independent, quality journalism. Thanks!
your subscription is worth a lot
More than 180 reports and analyzes published every day. A team with more than 200 columnists and bloggers. Professional journalism that monitors public authorities, conveys useful and inspiring news, counteracts the intolerance of social media and draws a clear line between truth and lies. How much does it cost to help produce this content?
SUBSCRIBE FOR R$ 1.90 IN THE 1ST MONTH