Posts use video of criminal police fights in Cuiabá to satirize the 7th of September parade – 09/14/2023 – Politics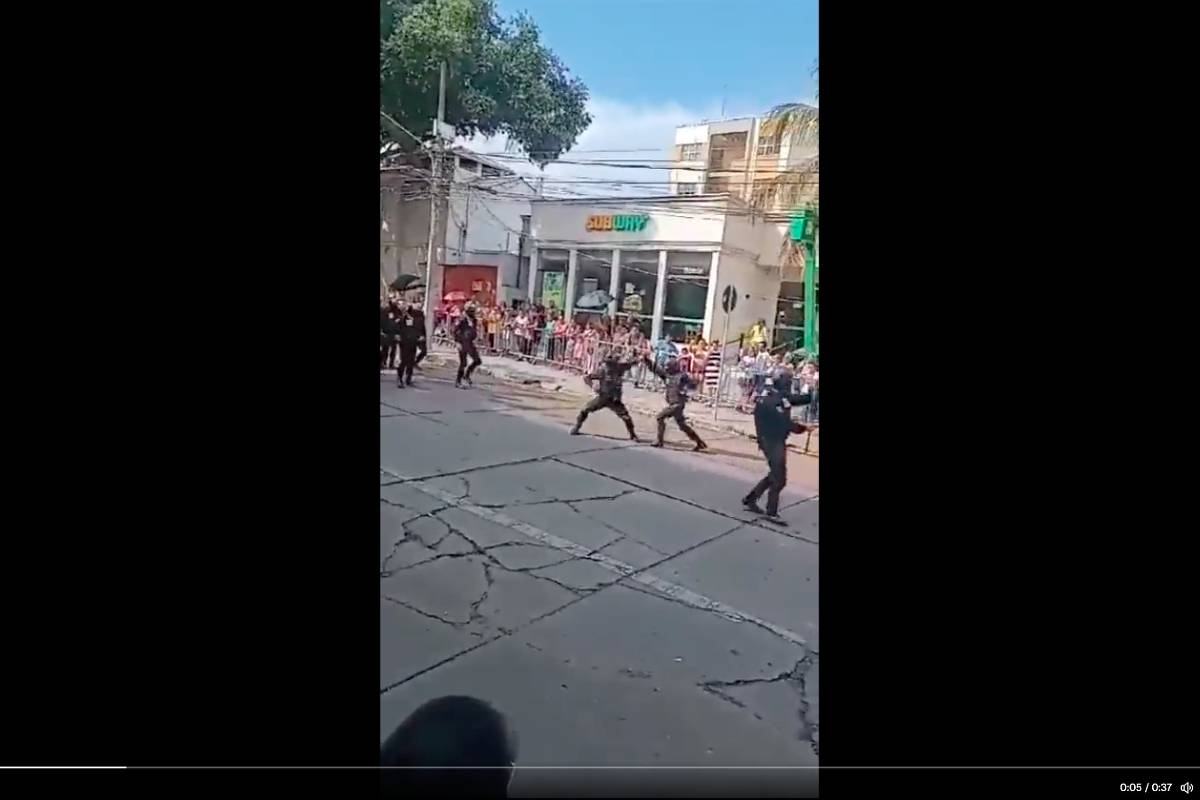 Publications that show the scene of two people in military clothing simulating a fight during a public parade are satire. One of the posts, verified by Projeto Comprova, was shared by a profile that describes itself as a parodist and has already been the subject of previous checking. Responses to the content indicate that there are people who believe they are members of the Armed Forces.
The video was, in fact, recorded during the parade celebrating Brazilian Independence Day, on September 7th this year, in Cuiabá. However, according to the State Secretariat of Public Security of Mato Grosso, the employees who appear in the video are criminal police officers who attend a tactical tonfa operator course, personal defense equipment used in various forms of martial arts and also in security and surveillance activities. During the parade, the students demonstrated some techniques learned in training.
Both posts investigated here feature the edited video, with music superimposed on the images. It is a song used in the Japanese series Kyojuu Tokusou Juspion, produced between 1985 and 1986 and which in Brazil was called "O Fantástico Jaspion".
Satires are memes, parodies and imitations published with the intention of creating humor. Comprova checks satirical content when it notices that there are people taking it as true.
What the publications say
The video began to be shared by profiles associated with the right on social media shortly after the September 7th parades. The publications refer to the number of people, which was lower than last year's celebrations, during the government of former president Jair Bolsonaro (PL). This is the case of one of the verified posts, which states that the agents' performance was "their way of trying to attract the public".
The other post investigated, despite not making direct mention of the Armed Forces or the parades, satirizes the demonstration made by the police, using the caption "look at the level…".
In the responses to the publications, it is possible to see that some users associated the video with an action by the Armed Forces and directed criticism at the military.
Why we investigate
Comprova monitors suspicious content published on social networks and messaging applications about public policies and elections at the federal level and opens investigations into those publications that have greater reach and engagement. You can also suggest checks via WhatsApp +55 11 97045-4984. Suggestions and questions related to questionable content can also be sent to Sheet via WhatsApp 11 99486-0293.
Read the full verification on the Projeto Comprova website.
The investigation of this content was carried out by Metrópoles and GZH and published on September 13 by Projeto Comprova, a coalition that brings together 41 vehicles to check viral content. It was verified by Folha, O Povo, Nexo, Estadão, Jornal do Commercio, A Gazeta and Plural.