Porsche and Armani have luxury properties for the super-rich – 09/18/2023 – Market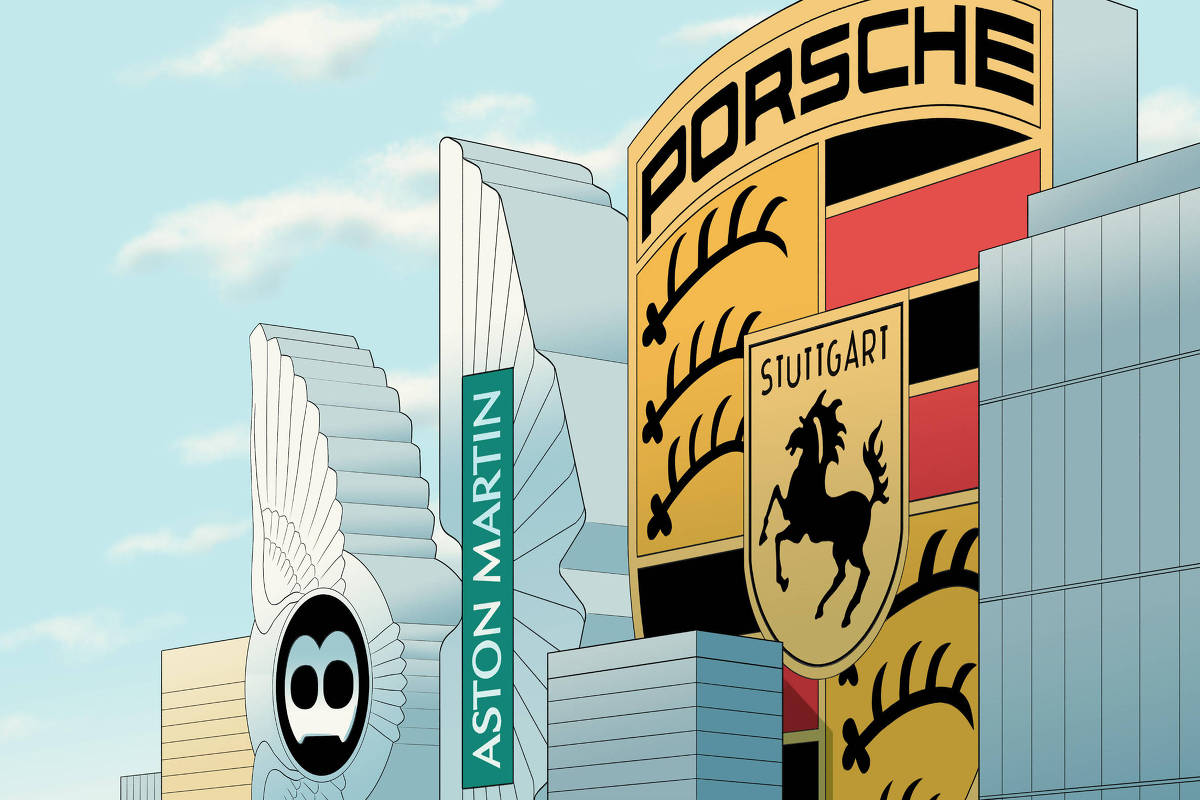 Trace a 10-mile path along Miami's coastline, and the options for luxury shopping are endless. But from Fendi to Missoni, Porsche to Bentley, the branded products that many shoppers have been purchasing are not items you can take home. They buy houses.
The luxury real estate market with brands is on the rise: according to a report from global real estate consultancy Knight Frank, the market for luxury condominium units with famous brands is expected to grow 12% per year until 2026.
Like jeans makers and handbag designers, builders have long understood the power of a brand, and today, in almost every major city, homeowners can choose homes from well-known hospitality brands, such as Four Seasons, Aman and Ritz-Carlton.
Now, more surprising brands are joining this trend, with luxury car and haute couture manufacturers looking for condominiums as a new area of ​​activity.
In Sunny Isles Beach, a quiet, resort-filled city in Miami-Dade County, towers with famous names include a Porsche Design Tower, Residences by Armani Casa and the upcoming Bentley Residences, which by 2026 will stretch skyward with a glass facade embedded in Bentley's signature checkerboard design, instantly recognizable to admirers of the British automaker.
They were all the brainchild of the same man, Gil Dezer, who has been quietly banking on this moment for more than a decade, expanding his brand partnerships as Miami real estate values ​​have risen.
"Today's car brands want to be not just car brands but also lifestyle brands," said Dezer, who teamed up with Porsche in 2012. "The same goes for everything from golf clubs to sunglasses. . And we were fortunate to be able to get into that in real estate."
Dezer knew he would have to think outside the box for the project to be a success.
"Porsche doesn't exactly have anything to do with real estate," Dezer said.
The building, which began construction in 2014 and opened in 2017, has the same sleek, turbocharged masculine energy as the car shows Dezer attended as a child with his father.
There is no dedicated pedestrian access. Visitors arrive beneath a graphite-colored arch bearing the words "Porsche Design" in the style of the car manufacturer's trademark 911 Porsche font. They can park and enter the airy lobby decorated in the same bronze, red and black colors as the Porsche logo, or continue in their vehicles to the building's patented car elevator, called Dezervator, which takes cars and drivers to units with overhead garages. from the sky.
This elevator — which leaves cars behind a glass wall in front of each unit — is "a highlight" of the building, said Stefan Buescher, CEO of Porsche Lifestyle Group, in a statement. "It was a natural continuation to transfer our unique design principles to the world of real estate," he said.
Dezer spent US$480 million (around R$2.34 billion) to build the Porsche Design Tower, where 132 units range from US$4 million to US$32 million (between R$19 million and R$156 million). He estimates that 10% of his investment was spent on Dezervator production alone. He considers it was money well spent.
"At first, I did it because I thought, 'How cool would it be to have your Porsche, Lamborghini or Bugatti in your living room?'" he said. "But what really happened is people started buying the units for the privacy. Because if you live in a condo, especially if it's famous, the most annoying thing is going through the main entrance or dealing with the valet. We avoid that. "
Brand recognition sealed the deal for Juan Pablo Verdiquio, a 46-year-old Miami-based real estate developer who moved into a three-bedroom unit in the Porsche Design Tower in 2017. He now has Lionel Messi in addition to Alicia Keys and Swizz Beatz, like your neighbors. As someone who owns a few Porsche cars — he drives a Taycan; his wife prefers a Panamera Turbo—, he felt this condo purchase came with a pre-approved seal of quality in the crowded Miami market.
"Thousands of new apartments are built here every year, so choosing a brand I was familiar with seemed like a way to preserve long-term value," Verdiquio said. "From a financial point of view, I really liked that it was a Porsche brand."
Carlos Rosso, a luxury developer in Miami, said homebuyers are increasingly adopting logic like Verdiquio's when buying properties, elevating the power of big-name brands that extend into the residential sector.
"We're all in the same buyer's market and we're all trying to differentiate our products," he said. "Every residential building needs to tell a story, and branding is a way to not have to explain what a building is about. You're associating yourself with a brand that's already familiar."
As a manager at developer Rosso Development, Rosso is currently focused on The Standard Residences, Midtown Miami, a 12-story condominium tower that seeks to attract buyers by taking advantage of the unashamedly cool air of the Standard hotels, perhaps best known for their version in West Hollywood, where slender, tanned models lounged in an acrylic box behind the reception desk.
In 2014, Rosso also partnered with Dezer on Residences by Armani Casa, a 56-story condominium tower just steps from the Porsche Design Tower. The building opened in December 2019. Giorgio Armani personally designed the carpets, fabrics and selected the furniture, and the result is an extreme yin to Porsche's yang.
While the Porsche Design Tower has a millionaires' "man cave" vibe, with sharp edges and bold primary colors, Residences by Armani Casa is feminine and luxurious, with soft floral wallpaper and curved furniture in shades of beige and gold.
Now, Dezer is turning his attention to Bentley Residences Miami, with construction expected to begin later this year on the site of Miami's Thunderbird Motel, which was built in the 1950s and demolished in June.
The 62-story oceanfront building, he said, will take the amenities offered in the Porsche Design Tower and enhance them: there will be four Dezervator elevators, garages that can house three or four cars and private outdoor pools attached to each one. of 216 units. Homes with ocean views will also have outdoor showers. Common spaces will include a Macallan Whiskey Bar, a Todd English restaurant and a cigar lounge. The units have prices between US$5.5 million and US$35 million (between R$27 million and R$170 million).
"People are looking for something unique," ​​said Ian Reisner, vice president of Dezer Development. "There aren't a million Porsches on the street — there's only one. Now we're going to do even better with Bentley."
For serious car collectors looking to translate horsepower into housing, Miami offers other options. In downtown Miami, the Aston Martin Residences, with 391 units, currently under construction and scheduled for completion by the end of this year, are almost sold out.
The 66-story tower is shaped like a shiny curved sail, with units starting at US$6.5 million (R$32 million) and going up to US$59 million (R$287 million) for the triplex penthouse, which comes with his own Aston Martin Vulcan, a rare US$2.3 million (R$11 million) hypercar.
The building, which calls itself "A car turned into a skyscraper" on its website, aims to embody a timeless, James Bond-approved zeitgeist. When it opens, said the developer, German Coto, "it will be enjoyed by those who value a unique luxury lifestyle."
Miami is the current epicenter of this partnership between the luxury real estate market and brands; In addition to Porsche, Bentley, Armani and Aston Martin, there's a 58-unit Fendi Chateau building hidden between Miami Beach and Sunny Isles in Surfside; the Missoni Baia Residences, offering 249 one- to five-bedroom units, opened this year on a colorful, resort-like campus overlooking Biscayne Bay.
But the movement is global. Overlooking the Persian Gulf on Jumeira Bay Island in Dubai, United Arab Emirates, the Bulgari Lighthouse — a 27-story white tower with a branching, undulating façade that imitates coral — is under development by the luxury watch brand.
Lamborghini, whose first attempt at branded residential property in Dubai didn't get off the ground, is now in the construction fast lane, with projects planned in Egypt, Brazil, China and Spain.
Lebanese designer Elie Saab, known for his sensual, ethereal evening gowns, has left his mark on homes in London and Dubai, and the house of Karl Lagerfeld, who single-handedly defined some of 20th century fashion's most recognizable iconography, is translating his look at design in five Spanish towns, from Marbella to the Golden Mile.
All of these developments, said Clelia Warburg Peters, managing partner at Era Ventures, a technology-based real estate investment fund, are branded amusement parks for the wealthy, and we should expect to see more of them as the housing market remains tight.
"We're living in a new Gilded Age, and there are a lot of rich people," she said. "In the past, the main way to differentiate high-end assets was with location. But there are only a few truly prime locations."