More than 50 social projects receive new sports kits in Manaus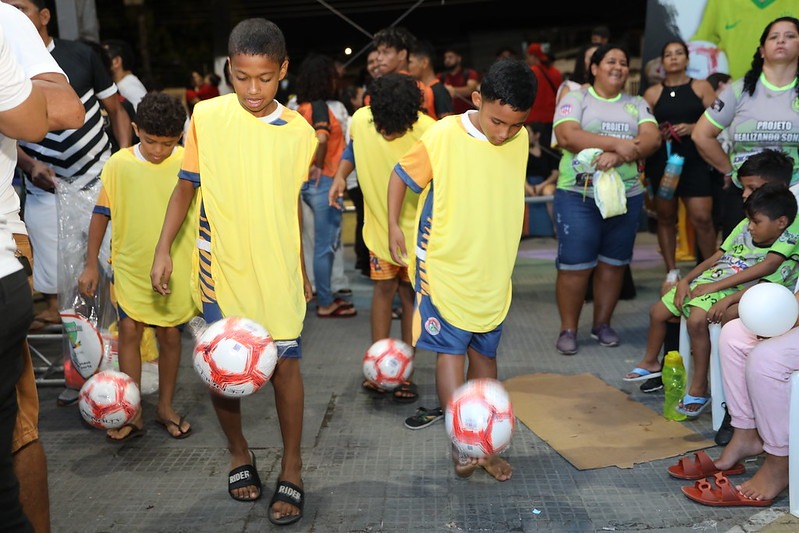 Incentive
Adding up the entire program since the beginning, more than 200 projects have benefited
Last Saturday (16), in a ceremony at the Food Court in the Dom Pedro neighborhood, Central-West Zone, 51 social projects in the capital of Amazonas were awarded new sports kits by the "Sport na Comunidade" program, run by the City of Manaus.
Among the modalities supported are futsal, martial arts, volleyball and football projects. Children and young people will be able to use sports equipment such as balls, nets, cones, vests, among other items that will help with daily classes. Adding up the entire program since the beginning, more than 200 projects have benefited.
"Sense of achievement. There are several projects being supported, today we have reached the mark of 251 projects since the beginning of the program. Mayor David Almeida has this affection and attention for the project, for sport in Manaus. My mission, and that of the entire Manaus Sport Foundation, is to spread sport in the city of Manaus. In December it's again, this is 'Sport in the Community'", highlighted Alexandre Maciel, CEO of FME.
With this Saturday's delivery, "Sport in the Community" provided direct benefits to more than 22 thousand children and young people from the four zones of Manaus, highlighting the city hall's investment and attention to community sports, in addition to encouraging the practice of physical activities for better quality of life.
"Today is the celebration of community sports. We have more than 22 thousand young people benefiting in all four areas of Manaus. This is the determination of our mayor David Almeida, of our CEO, to transform Manaus into a more sporting city to live in", highlighted the coordinator of "Sport in the Community", Roberto Dinamite.
*With information from consultancy
read more
Social project 'Revealing for the future' returns to classes in Alvorada
Ifam students develop a social project to help children from NGOs in Manaus
Manaus Social Project brings food to those in need and has already benefited 5 thousand people in one month