For a change from rice and beans, make American food: beans and rice – 09/18/2023 – Marcão's Recipes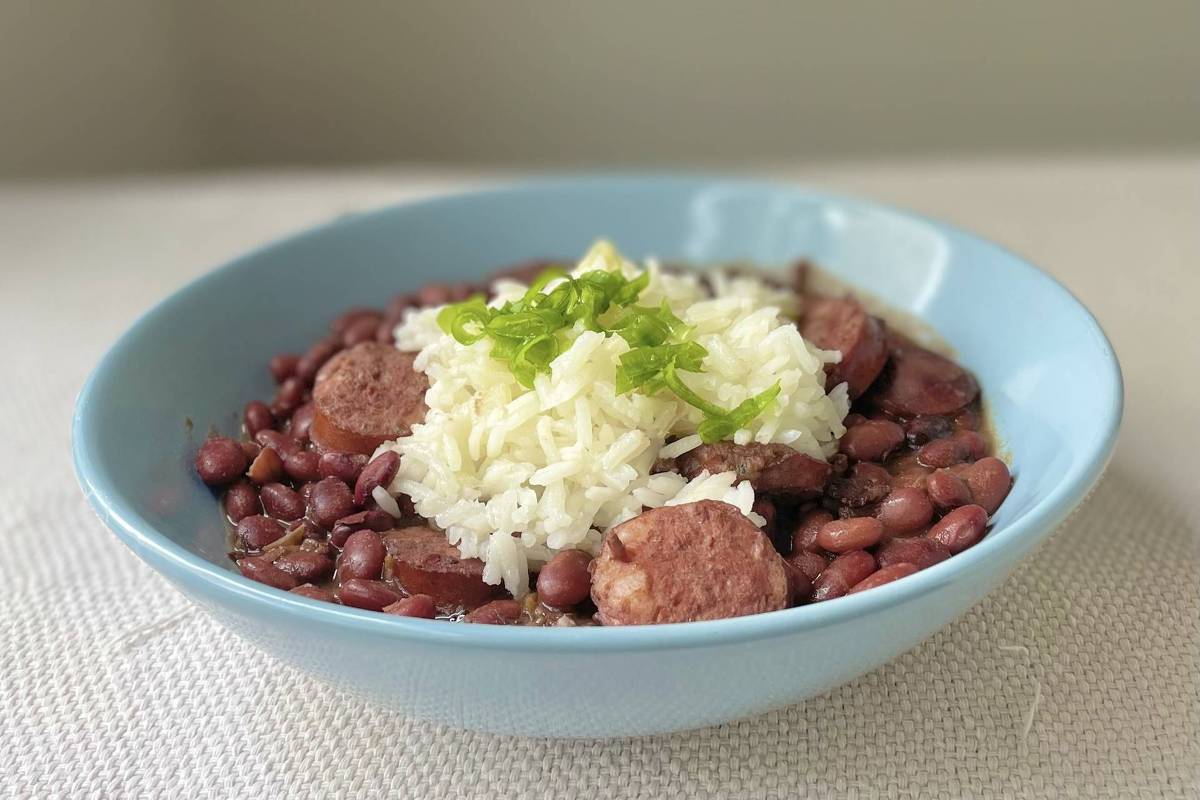 I'm already writing under the gray sky of London, but I prepared the recipe before leaving Brazil.
Every cook, professional or skilled (like me), needs to know at least the kitchen in which they are going to work before committing to making food for others.
In my case, there are two aggravating factors.
First, I'm in another country. I need to research the ingredients available on the market and, in some cases, learn how to use them.
Secondly, I live in a student residence, with a student residence kitchen – I came to help my daughter move, who is studying for a master's degree in England. That means an electric stove and almost no utensils.
In a few days, I already made a mental map of the purchases and equipped almost all of our modest kitchen. In the coming weeks, look forward to recipes made in England.
For now, let's go with a food that reminds us of Brazil, despite being foreign: beans and rice.
Pardon me: "red beans and rice", a typical recipe from Louisiana, in the south of the United States. It's a little different, but not that much, from our rice and beans.
For starters, it's beans and rice, not the other way around. You can see from the photo that there is an islet of white rice in a lake of red beans. That's how I like it, with the beans taking center stage.
The other things that vary are the seasoning and the sausage. American beans contain dehydrated garlic and onion, celery, peppers, herbs and andouille – a smoked pork sausage, typical of the French tradition of Louisiana (which was once a colony of France).
The seasonings are common in Brazil, while andouille is difficult to find outside of Louisiana. Even American recipes come with the note that it is possible to substitute it for any other smoked sausage.
Let's go with Calabrian or Portuguese sausage, therefore.
When serving the beans, it is customary to season them at the table with a little apple cider vinegar and pepper sauce.
The flavor is different from that of the beans we are used to. Different, but not much. After all, food is eaten anywhere.
---
RED BEANS AND RICE
Performance: 4 servings
Difficulty: easy
Ingredients:
500 g of red beans
100 g of bacon
1 large chopped onion
1 green pepper, seedless, chopped
1 jalapeño pepper, seeded, chopped (optional)
1 stalk of chopped celery
4 cloves of garlic, chopped
3 bay leaves
1 tablespoon of onion powder
1 tablespoon garlic powder
1 tablespoon smoked paprika
1 teaspoon dried thyme
1 teaspoon of dried parsley
1 teaspoon dried sage
350 g smoked Calabrian sausage, in slices
Salt and black pepper to taste
White rice to accompany
Apple cider vinegar and chili sauce to serve
Way of doing
Leave the beans to soak the day before, in the refrigerator.

In a pan, fry the bacon until the fat melts. Sauté the onion, pepper, jalapeño and celery.

Discard the water from the sauce and add the beans. Cover with water (three fingers above the grains).

Add the remaining ingredients. Cook over medium heat, with the pan covered, until the beans are soft and full of juice. Stir frequently and add more water if necessary.

Season with salt and pepper. Serve with white rice, apple cider vinegar and pepper sauce.

LINK PRESENT: Did you like this text? Subscribers can access five free accesses from any link per day. Just click the blue F below.