Fans disappear from shelves in stores in SP – 11/15/2023 – Market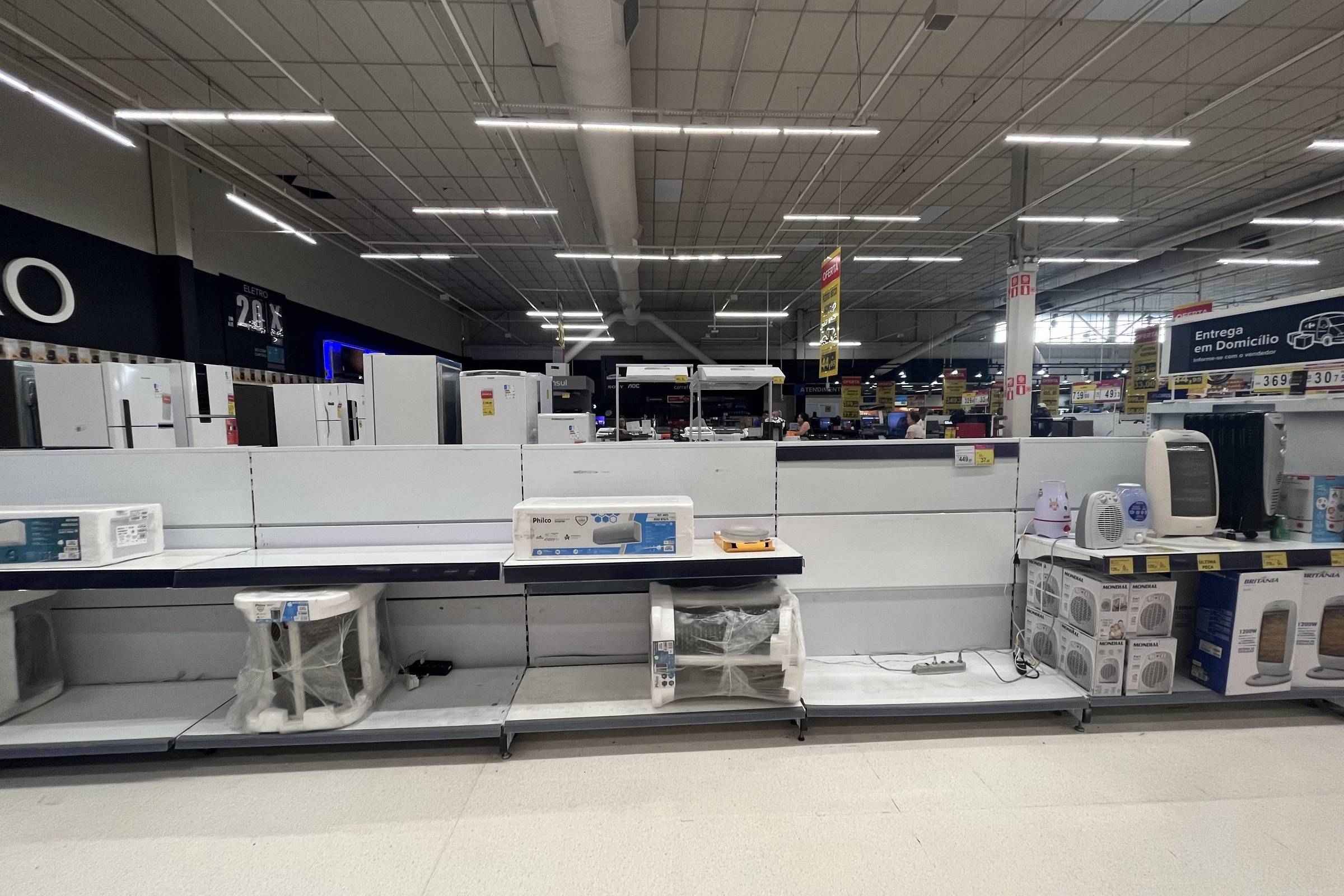 With her forehead wet with sweat, telemarketing attendant Josi Monteiro, 43, lets out an expletive followed by "but it's not possible" when she hears from the attendant at a Lojas Americanas unit in the center of São Paulo that there is no more fan to sell .
"I've already been to three stores this moon," she says, pointing towards the sun that made São Paulo burn at 36 degrees on the afternoon of this Wednesday (15). Joana says that she was calm in the company's air conditioning at the beginning of the week, but that the holiday at home made her run in search of a more powerful device to cool down during her break. Unsuccessfully.
"It's this ten times a day. Everyone's looking for it, but it's nowhere else in the region", summarizes salesman Lucas Barros.
The heat made people from São Paulo run to the stores and run out of fan stocks, which were in short supply in businesses in different regions of the city visited by the report this Wednesday.
The eighteen devices that the Americanas unit near Praça da República had were sold on Monday (13) and no replacements arrived. Other Americanas units in the center are also out of stock, he said. "There's only one heater left here that has the function of ventilating, but it's very different. And how am I going to sell a heater in this heat?", jokes the attendant.
In fact, units with a base to place on the table or on the floor were missing, because there were even two ceiling fans for sale, which were of no interest to customers as installation requires a small amount of work.
It was the same case as Leroy Merlin on Avenida Castelo Branco, in front of the Tietê waterfront. There were some ceiling and wall appliances, but none to use immediately. There, even the supply of air conditioning was reduced.
Nearby, in a Carrefour hypermarket in the Limão neighborhood, north zone, there were no longer even wall-mounted ones. Signs advertised promotions that no longer exist, just on empty shelves.
In Brás, a Casas Bahia attendant warned: only online. For immediate delivery, no chain store would have it. "Today it was really sad. There were a lot of people behind. But there aren't any. It's over, it's over. We're also waiting," said the saleswoman.
Anyone purchasing online must assume the risk of receiving the device after the heat wave has passed. In the same-day or next-day delivery options on Market Livre or Amazon, the offer was also reduced. On Amazon, for example, there was only one 30-centimeter Mondial model, two small desktop ones, which the user connects to a computer with a USB cable; and the rest of the ceiling.
In the Rappi and iFood apps, it was possible to find one or another store that delivered the device on the same day.
At Magazine Luiza, however, the offer was greater. The Sé unit, which is emptier on public holidays, had a series of models from different brands.
In a chain store in a mall on the west side it was also possible to find some — if the customer was quick. When the report arrived at the scene, there were two models available. In six minutes, one of them was sold out, leaving only the display. In Vila Guilherme, in the north zone, an employee said by phone that there were no more.
The exception was a Multicoisas store on Avenida Angélica, full of appliances, where the salesperson told the reporter that they anticipated the heat wave and filled their stocks. It wasn't the rule, however. By phone, the attendant at a store belonging to the same chain in Santana Parque Shopping, in the north zone, advised the reporter that it wasn't even worth going to the location. "You won't find it here or in any store in the mall."