Brazil takes on Colombia with the expectation of Endrick's debut – 11/15/2023 – Sport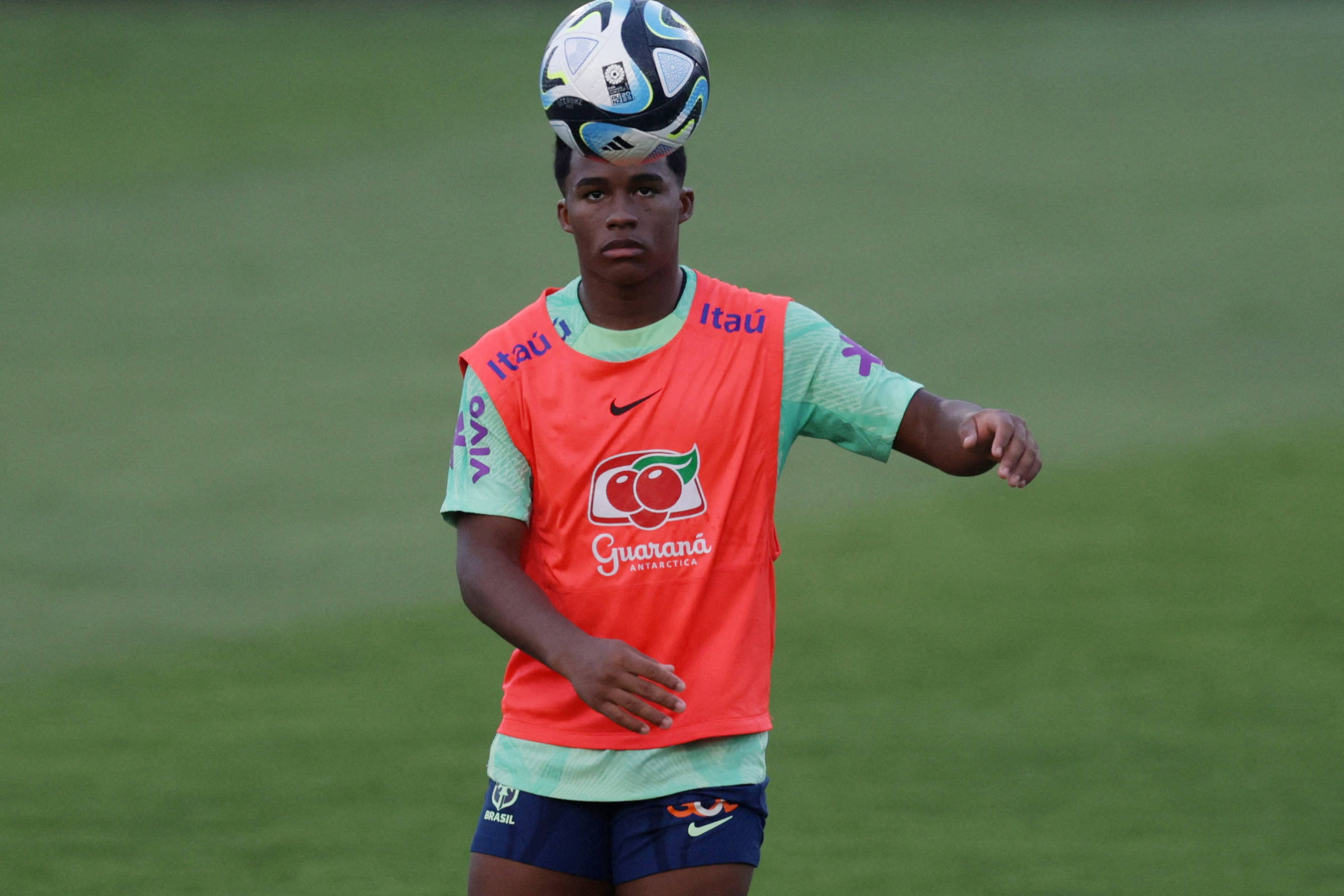 Mom would like to see him in a suit and tie. The agency that looks after his career recommended a shirt with the image of Ronaldo Fenômeno. But Endrick chose to wear a polo and white sneakers, navy blue pants, all with green and red stripes, in a retro look, from the Italian brand Gucci.
The clothes, including the two suitcases he was carrying, are valued at just over R$50,000. In this way, the 17-year-old presented himself to the Brazilian team at Granja Comary, last Monday (13), after being called up for the games against Colombia, this Thursday (16), and Argentina, next Tuesday (21), for the World Cup Qualifiers.
As soon as the image was released, fans on social media quickly drew attention to the similarity of the outfits to those worn by Pelé during his national team days.
The King of Football was also remembered when coach Fernando Diniz announced Endrick's first call-up, making him the third youngest player called up to the national team, aged 17 years, 3 months and 15 days. Only Pelé and Edu arrived on the team earlier, called up at the age of 16.
The Palmeiras striker took the place on the podium that had been Ronaldo's since 1993, when the Phenomenon was 17 years, 8 months and 29 days old.
If he manages to score in the next three months for the national team, the young man will also achieve a rare combination of achievements for a player under 18: national and international titles on his CV, goals in finals and goals with the yellow shirt, something that Neymar and Vinicius Junior didn't make it. Ronaldo came close. Pelé recorded all these feats.
Each comparison involving Endrick's name only increases expectations for his possible debut in the team led by Fernando Diniz. Brazil faces Colombia at 9pm this Thursday, in Barranquilla — TV Globo and SporTV broadcast it.
"He is a player who has the potential to be one of those great talents. We don't know if he will be confirmed or not. The call-up is not a pressure, but a prize and also a vision of the future of what this boy can be", he said Diniz. "He is at his best playing against great teams here in Brazil, managing to stand out."
It took some time for this moment to arrive, in an irregular season. Endrick started as a starter, but did not have good performances in the Campeonato Paulista and ended up being removed from the Palmeiras team, amid criticism from fans and the press.
He started the Brazilian Championship on a low note, but recovered space in the final stretch of Palmeiras' participation in the Copa Libertadores and in the Nacional itself. With Dudu's injury, he established himself in the team and had his best performance in the great victory over Botafogo, 4-3, scoring two goals.
His call-up was highlighted in several media outlets in Europe, especially in Spain. It has been like this since his rise at Palmeiras, in the past, and it only increased after he was traded to Real Madrid, in December, for 72 million euros (R$381 million).
Endrick will arrive at Real in July 2024, but will only be able to train with the team at the end of the month, after the 21st, when he turns 18.
Before that, every step off the field has been strategically thought out by two agencies to enhance the athlete's image before he is incorporated into the Madrid squad.
Sponsorship contracts are managed by the Wolff Sports agency. The player's career is managed by Roc Nation Sports Brazil, a North American entertainment company, led by rapper Jay-Z, who also works with players such as Vinicius Junior, Paquetá and Gabriel Martinelli.
Responsible for the player's commercial interests, Fábio Wolff, founding partner of Wolff Sports, stated that the call-up is the culmination of the athlete's career to date. And this will be fundamental to the plan to make him a national idol.
"He is a boy who is well-educated, well-mannered, born to be a football player. He is not an athlete from a club, he is an athlete from a nation. He is someone who likes football, who likes to see his career of a boy," he told Sheet.
According to the professional, the strategy outlined to build the boy's image is inspired by the work done with three international sports stars: Cristiano Ronaldo, Roger Federer and Rafael Nadal.
"These are athletes who have been building [suas carreiras] with a lot of strategy and planning from the brands' perspective. In most partnerships, there is an organic relationship, a natural storytelling relationship that makes the brand identify with the athlete."
Therefore, the ideal, according to Wolff, is not to have a large number of brands associated with the athlete, but a restricted number of companies with which he actually has some identification.
"By creating a limited number of brands, you generate a natural icon for these brands. Because, for example, if the athlete has 30 brands, no matter how cool he has brands, the market will not be able to identify with him", stated the professional, who defined a limit of eight partnerships for the young star.