André sees evolution in the selection with Diniz and admits pressure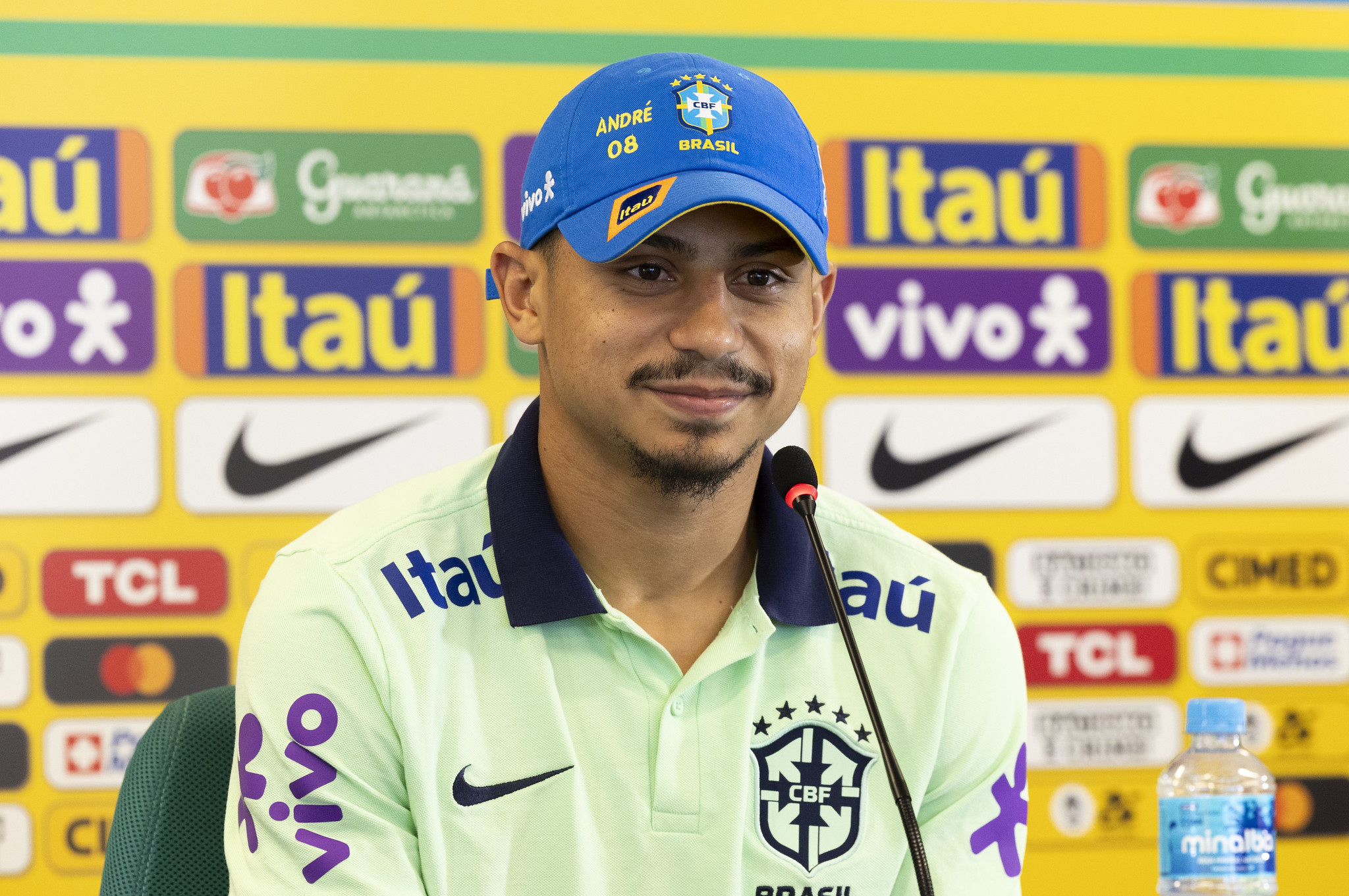 One of the pillars of coach Fernando Diniz at Fluminense and in this last call-up for the Brazilian team, midfielder André ruled out talking about a crisis and, like the coach, ensured that the team evolved despite the defeat to Colombia, 2-1, in the last Thursday, in the World Cup Qualifiers.
"Our evolution with the ball is clear, we were able to create more, have more opportunities. Because their selection was open and gave us chances, when our team attacked it was exposed for them to counterattack. We were unable to kill the match and that Here's a lesson, take advantage of opportunities. In football today, you no longer play with your shirt on, there's no such thing as the big team winning. It's about taking advantage of the chances and killing the game", he stated.
André has been starting in place of Casemiro, who is injured. Against Argentina, this Tuesday, at 9:30 pm, at Maracanã, the midfielder will have the mission to mark Lionel Messi, voted the best player in the world for the eighth time in his career.
"Neymar, Messi, Cristiano Ronaldo are the three guys that I grew up watching, when I was at the academy, close to transitioning to the professional ranks. They are the guys that we see on television and are enchanted with. Being able to compete against Messi will be a game to be remembered, not only for that, but for the whole team, Brazil and Argentina, two top teams in the world. It will certainly be a very special day, which will be remembered for me, God willing, we will come away with this victory in the classic ", he said.
The midfielder will even return to the stage where he was recently champion of the Copa Libertadores with Fluminense. "It's a place where we were recently champions, a special place. I still don't know who will play, but I'm sure it will be a very special game, returning to Maracanã, where I feel at home, and playing Brazil x Argentina becomes even more special. It's been a different month of November for me, making dreams come true, I believe there's everything for our team to arrive and play a historic match."
André admitted, however, that the team enters the duel with Argentina under pressure, but does not see any type of favoritism. "I think that not only here in the Seleção, but in general, the team at the bottom will naturally play under more pressure because they need to win, they need to score, it's a historic game, it's a super classic, a game in which there is no favorite. Our We're going to come into the game to compete a lot, that's the main thing, and come in to play too. We have to do what we've been training, put things into practice even more, improve our marking, improve our attack, evolve. From what I know about Diniz , our team will come in to press, score high, regardless of the opponent, our team will play our game."
The Brazilian team enters the match in fifth place, with seven points, behind Argentina (12), Uruguay (10), Colombia (9) and Venezuela (eight).
"It's a game, because it's the superclassic, that has a greater weight. As I said before, our team is in the process, we're going to compete, play on equal terms. Our team has the best players in the world, there's no reason We have to bring all this weight to us. It's a game at Maracanã, where the fans can attend, support us, be on our side for 90 minutes, that will be important. We know it's a time of adaptation, results aren't coming, fans stay upset. In the last game, against Colombia, everyone was very sad about winning and conceding a goal at 75 and another at 78, from a cross. Our team was upset, but there's no way around it, it's about working hard, competing and bringing the supporter for our side", he said.
Don't miss anything
Receive news from UmDois directly on your WhatsApp!
Stay in
Subscribe to the UmDois Esportes YouTube channel!
See too:
Gallardo accepts offer to coach Al-Ittihad, from Saudi Arabia, until 2025
André sees evolution in the team with Diniz, admits pressure and does not believe in Argentina's favoritism
Rodrygo takes pressure off Diniz and takes on the role of team leader against Argentina
Brazil x Argentina: Check out the team's probable lineup