Alberto Neto, Nikolas Ferreira and Eduardo Bolsonaro discuss Brazilian democracy in the USA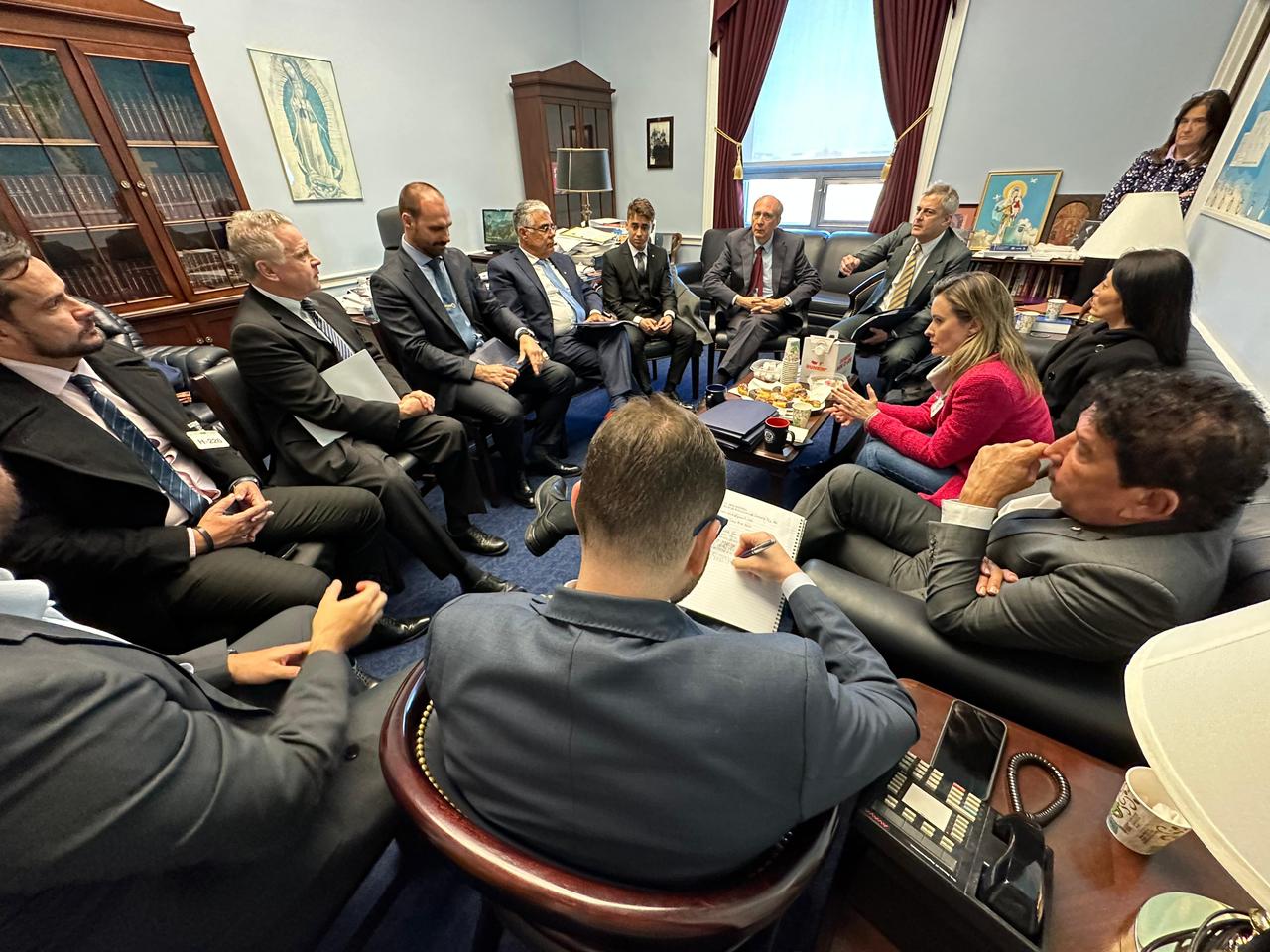 Committee
The parliamentarians exposed to the American authorities situations, which according to them, are controversial and do not comply with the democratic rule of law
Washington (USA) – Federal deputy Captain Alberto Neto, together with the delegation of Brazilian parliamentarians, were received, this Wednesday (15), at the United States Congress, in Washington, for meetings where they presented a complaint about the situation of democracy in Brazil.
"We are here, with a delegation of federal deputies and senators, to show some of the problems in our country. We are deeply concerned about freedom of expression and foreign policy. Furthermore, the current president has embarrassed our country with statements that go against the principles of our democracy."

he said.
The visit has the defined purpose of strengthening diplomatic ties between Brazil and the United States. The main mission was to deliver a letter addressed to the US Congress, signed by around 100 Brazilian legislators, which articulates an urgent call for the reestablishment of bilateral relations between the two nations.
The parliamentarians exposed situations to the American authorities that, according to them, are controversial and not consistent with the democratic rule of law. The delegation appealed to American colleagues to recognize and investigate possible interference in Brazil's democratic processes and help redirect the country back to its traditional course of alliance with Western democracies.
"Our objective is to alert peers abroad about the internal threats to Brazilian liberal democracy, which cannot be minimized. Situations of censorship, arrests and arbitrary processes promoted by the STF, in addition to relationships with dictatorships. And also the current government's sympathy for terrorist groups such as the Colombian FARC and the Palestinian Hamas",

explained the parliamentarian.
The delegation was received by influential members of the American Congress and teams from the Foreign Relations Committee of the House of Representatives, sharing perspectives and alarms about the Brazilian reality.
"This is not a request for American interference, we want to open a dialogue between the congress of the two democracies. And representatives elected by the people, part of our role is, among other duties, supervision, especially with regard to compliance with the Federal Constitution, the defense of freedom of expression and Brazilian democracy",

said Captain Alberto Neto.
The agenda continues this Thursday (16) with important commitments, including visits to the OAS Inter-American Commission on Human Rights and the renowned Think Tank Heritage Foundation, where they will continue to expose Brazil's situation and seek international support for their causes and concerns. The meetings are crucial steps to awaken international attention and action in the face of the challenges that Brazil currently faces.
*With information from consultancy
Read more:
Alberto Neto wants to reduce bureaucracy when granting benefits to PCDs
Alberto Neto says that Amazonas needs help and appeals for BR-319
Alberto Neto asks the Ministry of Mines and Energy for attention due to the risk of power outages in AM