Pastor Sergeant Isidório experienced torture and contradiction – 11/12/2023 – Power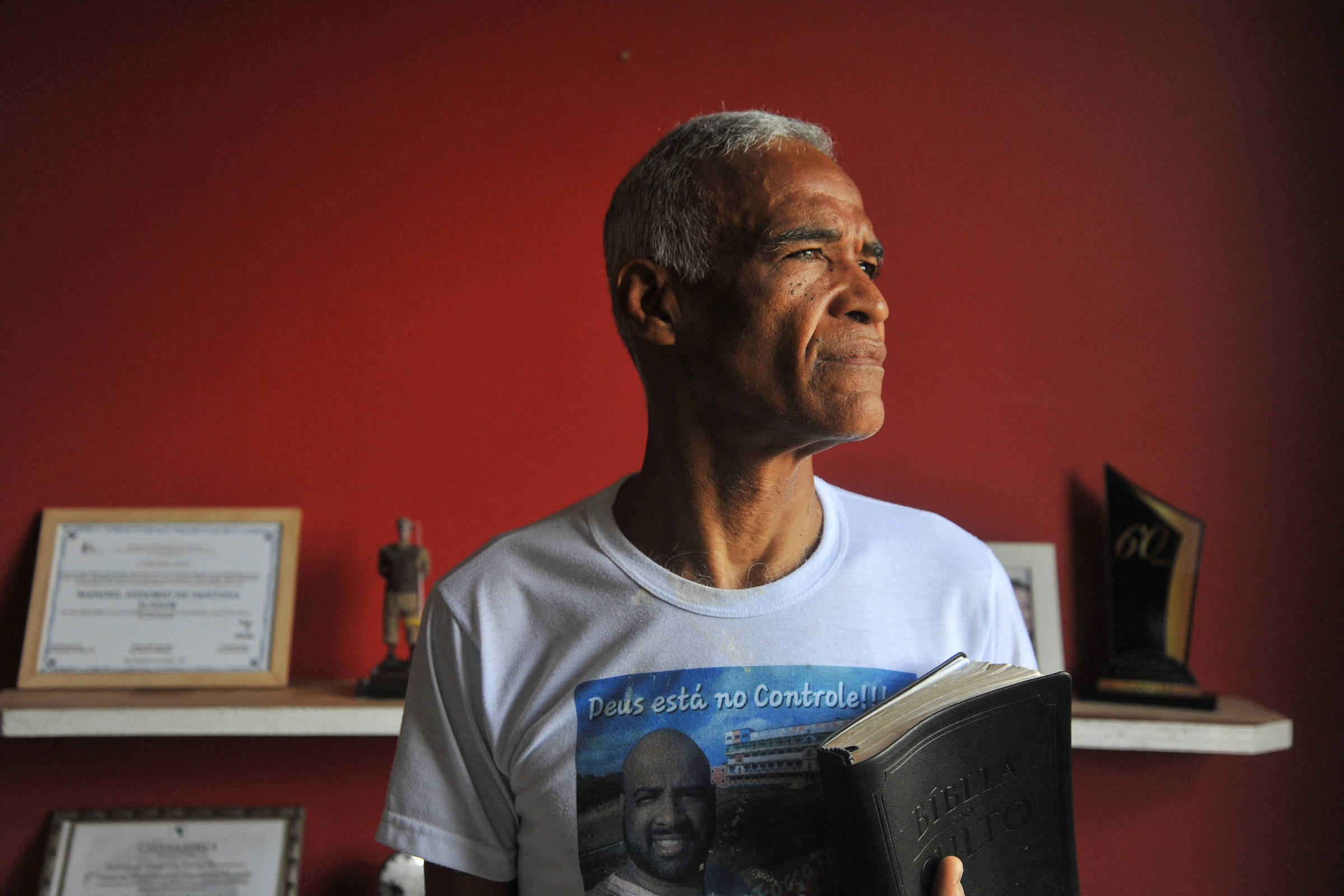 On a routine flight between Salvador and Brasília, a black man in a formal shirt and tie raises a Bible with his right hand and prays loudly inside the plane. He lies back in the armchair and sleeps until the landing procedure, when he repeats the ritual.
In the federal capital, he is 1 of the 513 federal deputies in the country, 1 of the 27 who declared themselves black in this legislature. He is a military police officer, an evangelical pastor, but he stayed away from Bolsonarism and stood on the platform of President Lula (PT) in the presidential elections.
Federal deputy for Avante da Bahia, Manoel Isidório de Santana Júnior, Pastor Sergeant Isidório, 61, has a political trajectory marked by personal dramas, changes of path and series of controversies.
His public persona is associated with his military uniform, Bible in hand and replica gas cylinder on his shoulder, acrobatic jumps and the nickname of crazy. But the folkloric figure is on the surface of the politician who pulsates contradictions and hides his wounds in laughter.
Isidório is a nursing technician, a military police officer since 1984 and rose through the ranks to reach the rank of sergeant. In 2001, he participated in a police mutiny during the César Borges government, then in the PFL.
Arrested during the strike, he was taken to a military unit in the city of Simões Filho, neighboring Salvador, and detained in a warehouse without a bed, light or bathroom and full of chemicals. In the early hours of the morning, he was psychologically tortured by a Military Police colonel.
Due to contact with chemicals, he was found unconscious in prison and taken to a hospital with a seizure disorder. After being discharged, he was transferred to the Juliano Moreira hospital, specializing in psychiatry and mental health.
"When my family looked for me, they said I was dead. I was tortured, it's a sad memory of my past", recalls the current federal deputy in conversation with Sheet. In 2009, the colonel involved in the episode was convicted of torture.
Participation in the riot and subsequent removal from the police was Isidório's catapult into politics. He ran for state deputy in 2002 for the PT and was elected with 44,559 votes, being the party's second most voted candidate.
The expressive vote was a result not only of the electoral base of military police officers. Since 1991, Sergeant Isidório also commanded a therapeutic community for the treatment of drug addicts in Candeias, a city in the metropolitan region of Salvador.
Fundação Doutor Jesus signed agreements with the state government under the PT's management in 2007, expanded the structure to five buildings and currently houses around 1,300 inmates. With transfers reaching R$24 million per year, the entity has received R$122 million from the Government of Bahia since 2015.
The entity is the target of an investigation by the Public Ministry of the State of Bahia after inmates reported a routine of punishments in a report by Fantástico, on TV Globo, last year. Isidório denies irregularities and says that the foundation is open to any investigation.
The deputy's relationship with politics is old. Isidório contested all elections between 1988 and 2000, being defeated in three races for councilor and one for mayor in Candeias, in addition to elections for state and federal deputy.
He always had a relationship with the left and a history of clashes with the group of senator Antônio Carlos Magalhães (1927-2007). In 1986, he helped in the victorious campaign of Waldir Pires (1926-1018), from MDB, for the Government of Bahia. During the presidential campaigns, he held banners in support of Lula at the Fundação Doutor Jesus and participated in events led by the CUT (Central Única dos Trabalhadores).
After becoming a state deputy in 2003, he clashed with the PT due to his conservative positions and left the party, but maintained good relations with the Bahian left.
He passed through PSC, Pros, PSB and PDT until arriving at Avante in 2018, when he was the most voted deputy in Bahia with 323 thousand votes. In the last elections, he incorporated Pastor into his political name and turned to customs, criticizing same-sex relationships and proposing "straight pride day".
Four years ago, he was sued by Daniela Mercury after calling the singer, an activist for the LGBTQIA+ cause, a "slave of Satan". Now, he is being investigated by the Attorney General's Office on suspicion of gender-based political violence and homotransphobia committed against congresswoman Erika Hilton (PSOL-SP).
"These are things that we say without thinking. I'm against intolerance", minimizes Isidório. He says he is not opposed to civil unions between people of the same sex, but recently voted in favor of a project that aims to ban same-sex marriage.
In 2021, Isidório faced his toughest blow: one of his seven children, state deputy João Isidório, drowned at the age of 29 on a beach on Ilha dos Frades, an island region of Salvador. He had debuted at the polls in 2018, reaching the highest vote in the state, with 110 thousand votes.
"After I lost my son, I became depressed. Nobody is Superman, right? I ask God to keep the enemies from losing a child until one day. Father and mother were not made to bury children", he laments.
The personal drama coincided with a near-debacle at the polls. In 2022, his vote dropped to 77,000 votes, a sharp drop that he credits to his support for Lula amid what he calls Bolsonarism's disinformation campaign among evangelical voters.
Even though he declared himself black, the racial issue was never in his parliamentary focus. Still, Isidório recognizes racism as a wound and an obstacle for black politicians in Brazil.
"We black people have always experienced more difficulties in accessing spaces of power, mainly because of a veiled racism that exists everywhere," he states.
Before ending the conversation, he proposes a reflection: "Imagine, if Jesus was our color, black guy? I'm going to say 'you see, you guys were worrying about our color?'. That doesn't exist, we all look the same. Jesus."
---
X-RAY | PASTOR SERGEANT ISIDÓRIO, 61
Born in Salvador, he is a nursing technician, military police officer, evangelical pastor and has led a therapeutic community in Candeias (BA) since 1991. He participated in a Military Police mutiny in 2001 and, the following year, was elected state deputy for the PT at 44 .5 thousand votes. Since 2019, he has been a federal deputy for Avante