NASA finds wreckage of Japanese spacecraft on the Moon – 05/25/2023 – Science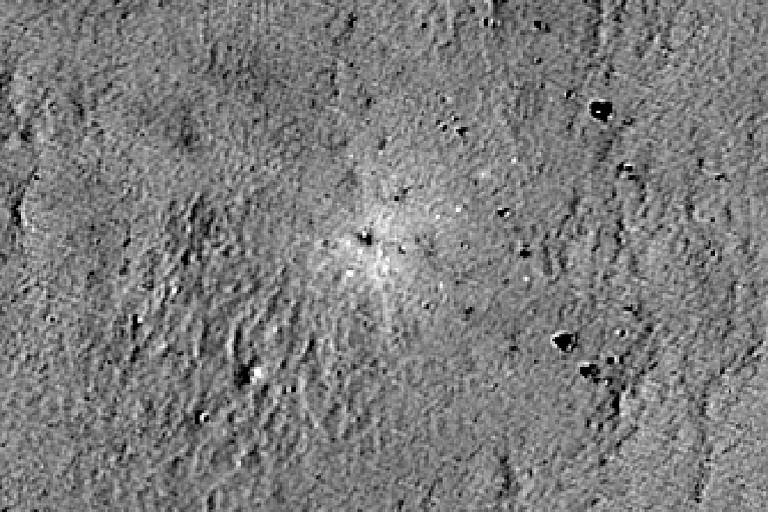 NASA released on Tuesday (23) images that the LRO probe (Lunar Reconnaissance Orbiter, in free translation) made of the place where the Japanese module Hakuto-R crashed into the Moon.
The Japanese spacecraft, manufactured by the company ispace, had been on a mission since December 2022 and should have landed on lunar soil at the end of April.
The operation of delicately placing the Hakuto-R on the Moon, however, did not work out. Seconds before the scheduled time for the procedure, ispace lost contact with the module and admitted that there was probably a problem, so that the soft landing did not happen as planned. One of the hypotheses raised by the company was a fuel problem.
To decipher the mystery, they turned to the LRO probe. Attached to it are cameras that constantly record the lunar surface in images with a resolution considered high for this type of equipment. Due to this quality, NASA's equipment would be the most suitable in an attempt to verify what happened to Hakuto-R.
NASA claims that new spots on the Moon have been verified by the images. They differ from what was already visible in photos taken before the impact and, therefore, could be craters caused by the collision of the spacecraft with the Moon or even parts of the Japanese module.
According to experts, the shock must indeed have left traces on the lunar surface – and that is what appears to have happened, as can be seen from the LRO photos. The images used by NASA were taken on April 26, the day after the fateful impact of the Japanese module against the Moon, exactly where the ispace spacecraft would land.
NASA experts analyzed ten images and verified a different surface in the lunar region where the landing would have taken place. In addition, in one of these photographs "at least four prominent pieces of debris and several small alterations" can be seen, NASA said in a note.
For the future, NASA hopes to record more of the region. "The site will be analyzed further in the coming months as the LRO will have the opportunity to make additional observations under various lighting conditions and viewing angles," the space agency added.