Law regulating the sanitation profession is sanctioned by Lula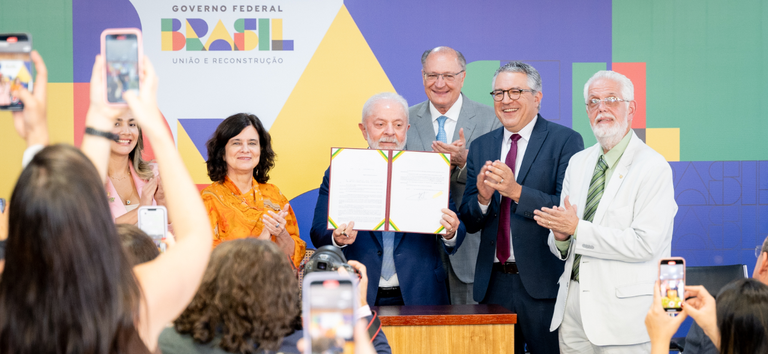 Regulation
The Unified Health System will be responsible for professional registration
In a ceremony at Palácio do Planalto, President Luís Inácio Lula da Silva (PT) sanctioned Bill 1,821/23, which regulates the profession of public health professional, this Thursday (16). These professionals, when carrying out their activity, must respect the ethics of the profession and the guidelines of the Unified Health System (SUS).
Approved by the National Congress in October, the text establishes the type of training required for professional registration and the responsibilities of the public health professional, such as: planning, evaluating and monitoring public policies, health risks and health surveillance.
"Health professionals work in the collective dimension of health, whether in the elaboration and implementation of public policies, in planning, management, monitoring of health actions, in addition to evaluating collective sanitary and epidemiological risks, which proved to be visible, of course. , palpable, during the covid-19 pandemic", highlighted the Minister of Health, Nísia Trindade.
Furthermore, according to the new law, graduates from public health courses can practice as a public health professional. If the training diploma was issued abroad, validation must be carried out in Brazil.
A SUS body will be responsible for registering the practice of the profession, in addition to being responsible for professional supervision, as there was no creation of a council for the category.
Recognition
Federal deputy Jorge Solla (PT-BA), who is a public health doctor and was one of the rapporteurs on the matter in the Chamber of Deputies, stated that the regulation strengthens the SUS and gives due recognition to a centuries-old profession in the country.
"Despite the present, as incredible as it may seem, since the beginning of the last century, we will remember Oswaldo Cruz, Carlos Chagas, and other health leaders in our country, public health workers, only in 2017 [a profissão] came to appear on the list of the Brazilian classification of occupations by the Ministry of Labor. And only now regulated by specific legislation", he recalled.
Also according to Solla, the law does not create any type of corporatism in the job market for the category of sanitation workers. "This regulation does not aim to create any market reserve, I would like to highlight this, as it avoids establishing exclusive competencies for this professional category", he added.
Read more:
Women's Health Units have new service locations in Manaus
Understand how LGPD can protect patient data in healthcare
Saúde do AM reinforces essential care to protect yourself amid smoke