Find out what it's like to fly in business class on United Airlines – 11/18/2023 – Tourism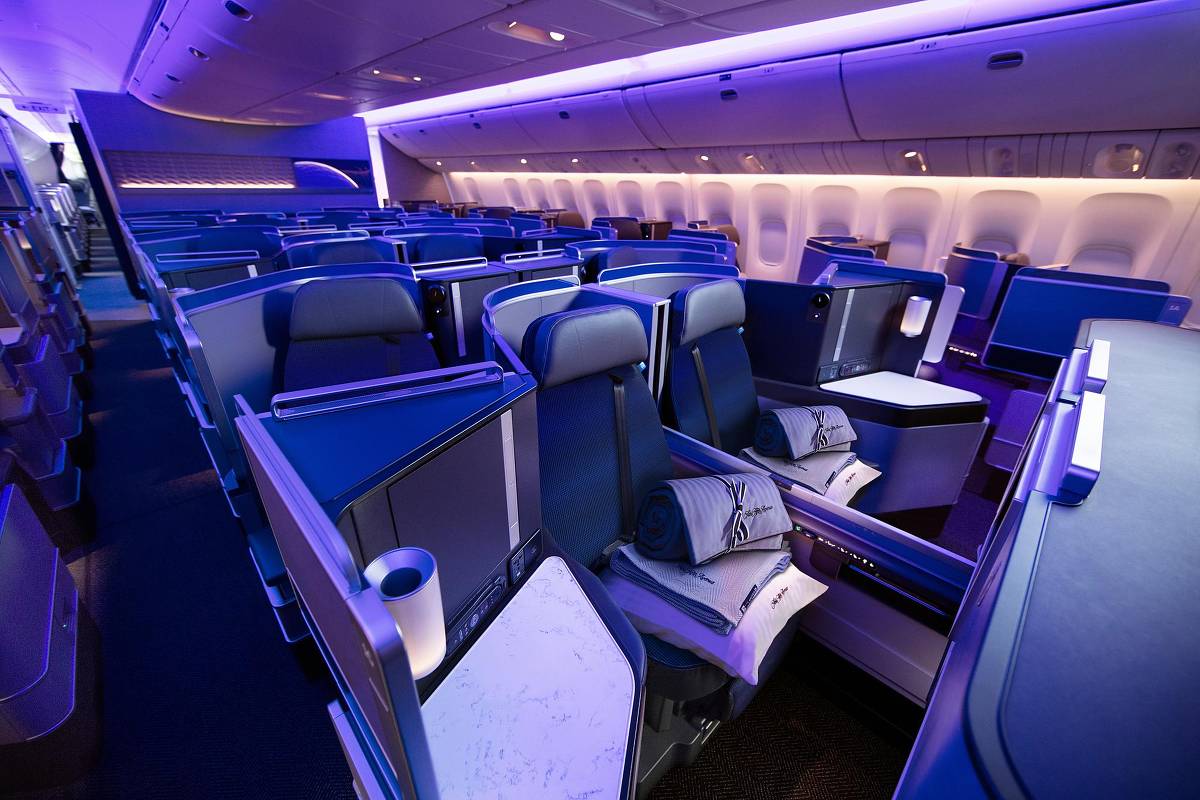 Investment in increasingly luxurious business classes has been one of the main fronts in the battle between airlines to compete for passengers in the post-Covid period. It's no surprise. The aviation consultancy company AeroDynamic estimates that this share is worth around US$2.6 billion (or R$13 billion) worldwide, which represents almost half of the entire air ticket sales market.
With an eye on this chunk, the three American giants — United, Delta and American Airlines — are in a race to win over this type of passenger. We are talking about someone who can pay up to ten times the price of an economy class ticket to have, among other benefits, a shorter queue at the airport security control, preferential boarding, a fully reclining seat with more privacy, an exquisite menu, in addition to the called amenity kits, such as toiletry bags with beauty products.
Because of this, a series of reports from Sheet will show what it's like to fly in the executive classes of some airlines, helping consumers consider whether it's worth shelling out extra dollars — and it's no small feat — to buy this type of ticket. In September, the report already showed what it was like to fly to the USA in Delta Airlines business class.
In the case of United Airlines, we are on the ground of Polaris, which is what this airline's business class is called, available on all daily flights departing from Guarulhos to the American airports of New York/Newark, Washington DC, Houston and Chicago . It is also available on flights departing from Galeão, in Rio de Janeiro, to Houston.
The report used these services on the São Paulo-Chicago-São Paulo route, in October, on a company Boeing 787.
The benefits offered start at Guarulhos Airport. There is a separate queue for check-in, separate from that for economy class, and the possibility of using the VIP lounge at Espaço Banco Safra, which has a good range of drinks and a food buffet.
Those departing from Chicago have access to a large VIP lounge at the airport where they can watch flight movements while eating to their hearts' content at the buffet or à la carte restaurant — all included in the price of the ticket. There are also armchairs for resting and showers for those who want to change before boarding.
Inside the aircraft, the business class seats are arranged in a 1-2-1 layout, with dividers that provide good privacy for the occupants. Buttons next to the seat adjust the recline of the armchair, which can go up to 180º, as if it were a real bed. And the side control configures preferences on individual screens, with very generous entertainment options: a vast menu of films, series and music, including works that premiered shortly before.
Next to the seat, close to a kind of small table, there is a small cabinet, ideal for storing your wallet, cell phone and other items. They already come equipped with a bottle of mineral water and a headphone, these headphones with earmuffs, different from the earphones available in economy class.
The so-called amenities kit is one of the highlights of Polaris. They have socks, eye patches, a toothbrush and toothpaste, as well as wet wipes and products such as lip balm for dry lips, moisturizing mist and anti-dark circles serum, all from the Therabody brand. They come in a fanny pack with two dividers, which makes it easier when using the plane's bathroom, as the passenger can attach it to their body, and it can be reused later.
Still on the subject of amenities, United business passengers have a standard size pillow at their disposal, that is, like that of a normal bed, and not like the smaller ones distributed in economy class. Blankets, made from recyclable material, are designed by the American department store Saks Fifth Avenue.
On night flights between São Paulo and Chicago, dinner, breakfast and a snack were served in between, all with vegetarian options.
Dinner was preceded by a salad made with kale, edamame and carrots, as well as burrata and beef strips with ginger and arugula. There were four main course options: short rib in bordelaise sauce with tomato and polenta; chicken fricassee with béchamel sauce and potatoes; grilled cod with soy sauce and cherry tomatoes; plus roasted cauliflower with balsamic butter. For dessert, cream sundae or apple pie.
On the red wine list, California Cabernet Sauvignon and French Pinot Noir; in the case of Californian whites, chardonnay and sauvignon or a rosé from Provence.
Such stewardship has a price, of course. The United Polaris business class fare for the direct flight from Guarulhos to Chicago costs around R$53,192, including boarding fees. The price, subject to change, is valid for purchases made 14 days in advance of the travel date and staying on a Sunday or at least 24 hours at the destination. More information can be found on the airline's website.
The journalist traveled at the invitation of United Airlines