Climate change and inequality are main global challenges, says Lula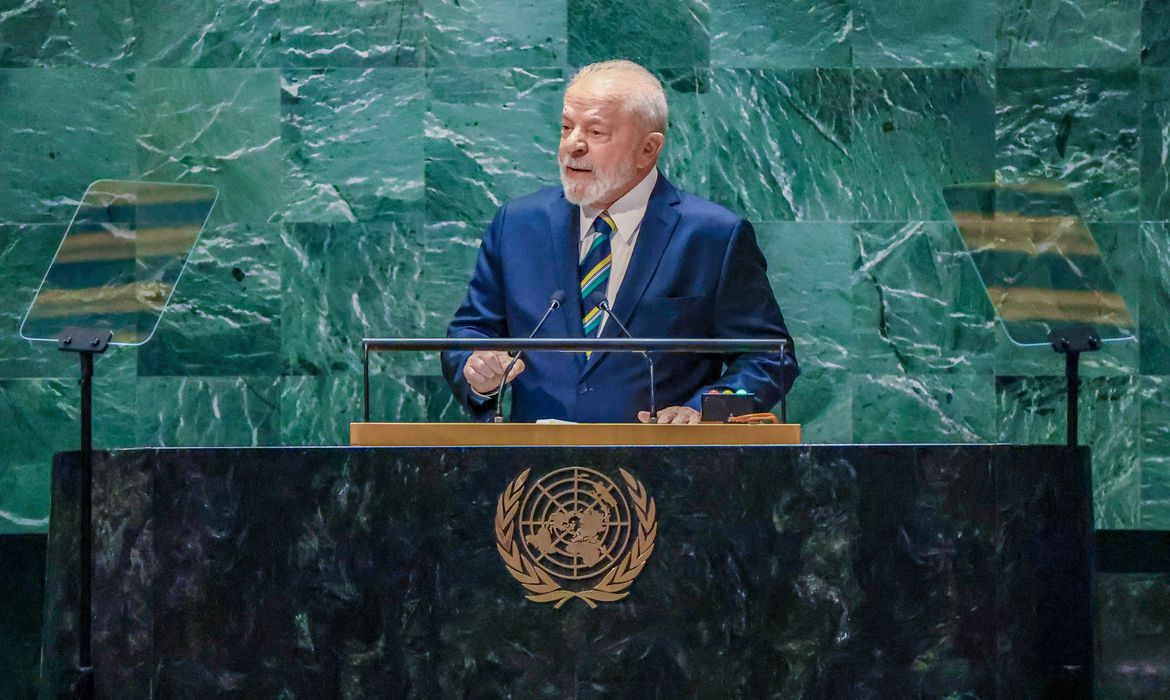 Foreign relations
He recalled, at the UN, that hunger affects 735 million people today
President Luiz Inácio Lula da Silva stated, this Tuesday (19), that combating climate change and inequality are the main challenges to be overcome by world leaders. When opening the debate for heads of state at the 78th General Assembly of the United Nations (UN), in New York, he recalled the first time he participated in the event, in 2003.
"I return today to say that I maintain my unshakable trust in humanity. At that time, the world had not yet realized the severity of the climate crisis. Today, it knocks on our doors, destroys our homes, our cities, our countries, kills and imposes loss and suffering on our brothers, especially the poorest",

said Lula.
He expressed condolences to the victims of the earthquake in Morocco and the storms that hit Libya and the state of Rio Grande do Sul in Brazil.
According to the president, to overcome inequalities, it is necessary to overcome resignation and the lack of political will of those who govern the world.
"Hunger, the central theme of my speech in this world Parliament 20 years ago, today affects 735 million human beings who go to sleep tonight without knowing if they will have anything to eat tomorrow. The world is increasingly unequal. The ten biggest billionaires have more wealth than the poorest 40% of humanity,"

he added.
This year, the theme of the general debate is "Rebuilding trust and rekindling global solidarity: accelerating action towards the 2030 Agenda and its Sustainable Development Goals towards peace, prosperity, progress and sustainability for all". In the general debate, the heads of UN member states are invited to speak on an opportunity to highlight their views and concerns regarding the multilateral system.
It is up to the Brazilian government to deliver the first speech to the United Nations General Assembly, followed by the president of the United States. This tradition dates back to the beginnings of the organization, in the late 1940s.
This is the eighth time that President Lula has opened the heads of state debate. Throughout his two previous terms, he participated in the event every year between 2003 and 2009. In 2010, he was represented by the then Minister of Foreign Affairs and current special advisor to the Presidency, Celso Amorim.
The president arrived in New York last Saturday night (16), where he participated in meetings with businesspeople and foreign authorities. Tomorrow (20), he will meet with the President of Ukraine, Volodimir Zelensky. Lula will also be received by the President of the United States, Joe Biden, with whom he will launch a global initiative to promote decent work.
*With information from Agência Brasil
Read more:
Lula criticizes the business model of technology companies
Lula sanctions law confirming 9% salary adjustment for federal employees
Planalto says that Zelensky agreed to meet with Lula in New York