Black chefs advance, but have to fight against stereotypes – 11/20/2023 – Food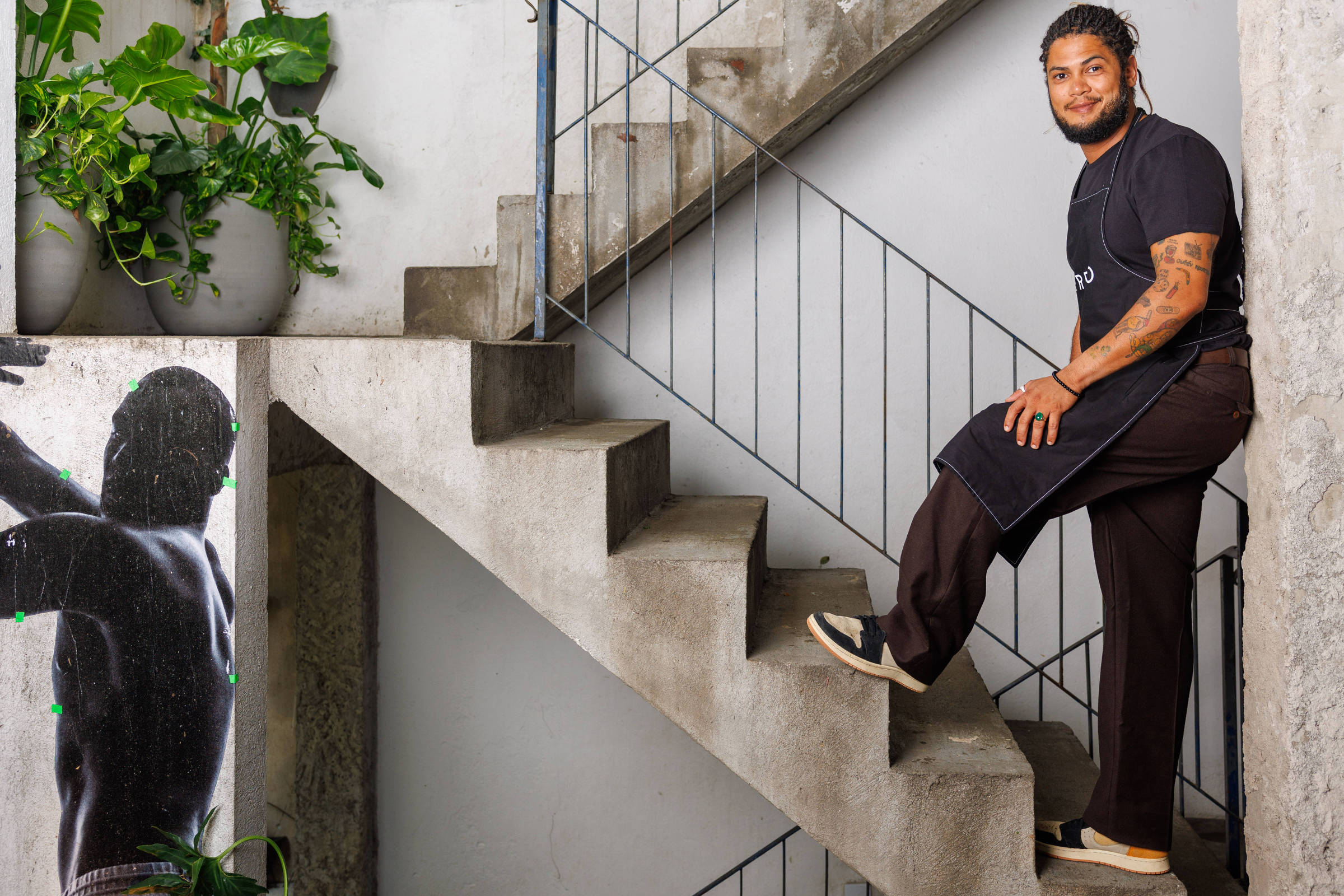 With representatives such as Jiló, in Salvador, Preto Cozinha and Organica Rango, in São Paulo, black chefs and entrepreneurs have been standing out in the market, still led by white people. Despite progress, they experience prejudice and face resistance to gain recognition and escape stereotypes.
In the often full mansion of Preto Cozinha, in Pinheiros, west of the capital of São Paulo, there are no elements that refer to Bahia, such as ribbons from Senhor de Bonfim and vibrant colors. The room has white exposed brick walls and sculptures on the walls — it now has a speakeasy on the upper floor, Nada.
Chef and owner, Rodrigo Freire, from Salvador, makes it clear that he values ​​ancestry and black culture, but he thinks it's important that people don't fit into stereotypes.
"I wouldn't have an acarajé woman from Bahia with a turban in my salon. Not because I think it's bad, but because we need to occupy other spaces. It seems that if I'm black, I can only eat olive oil food, be from Candomblé. Whiteness has got it into my head that we are this allegory. And it's not up to us to be anything more than that", he explains.
When he opened Preto Cozinha, in April last year, the chef decided to use his childhood nickname as the name to name the house."It's natural for people to be called preto [na Bahia]. When the impact of the name being black sunk in, we were already open," he says, who left his career as a lawyer to open the address.
About a year and a half after opening, Rodrigo says that the name of the restaurant has already led to racist situations, such as customers asking if the restaurant owner was black or if he had partners. "I paid for every chair that is here, I have no investor. We started with 40 seats."
To compose the menu, he started from memories of his aunts' and mother's kitchens and added them to extensive research on Bahian cuisine. The result are personal interpretations of traditional recipes, such as the grilled fish of the day with plantain farofa, mini vegetables and moqueca cream (R$ 107).
Patty Durães, a food culture researcher, states that there is a lack of space for black people to lead their own narrative in the gastronomic scene.
"There needs to be this place of right to cook whatever we want, even if it's on Eurocentric, Asian foundations. But we need to be there, having the same opportunities", she says.
Often, talking about sensitive topics for the black population, such as racism, ends up being the gateway to visibility, says Patty.
"And we talk about why we need to break bubbles, we need to take these opportunities and turn them into another construction. But we also want to talk about the wealth and intellectual property that we have been generating. This is the place where we lack space."
Owner of Jiló in Itacaré, Bahia, for eight years, Rio de Janeiro native Ícaro Rosa opened a new restaurant with the same name in Salvador last year. Both serve contemporary recipes, created both by memories of food at home and by experience in other restaurants — among them, Irajá Gastrô, Térèze and the extinct Asia (a restaurant with food from that continent led by Malaysian chefs).
Among the dishes served at the Salvador location are shrimp tempurá with vatapá (R$55), sea carbonara, with octopus and grilled shrimp with paprika sauce and bread crumbs (R$120), and frozen honey of cocoa (R$ 34).
"I try to do what you don't expect from a black kitchen to shake it up. Jiló is a somewhat elegant restaurant. There are people who think I should have [apenas] a bar that plays pagoda", says Ícaro.
The chef remembers, however, that his work is the result of building an ancestral kitchen. "Several black women paved the way for me to be what I am. But it's important to show that we can be thousands of things."
Sociologist Taís de Sant'Anna Machado recognizes the prominence of black chefs, but states that the field is structured in such a way that these people are not recognized. She wrote the book "Um Pé na Cozinha" (ed. Fósforo, 400 pages), which was born from her doctoral thesis on the work of black cooks in Brazil.
In it, he argues that for three and a half centuries, black cooks were the majority group feeding the country. The researcher refers to slavery, but also argues that domestic work, street and restaurant culinary work continues to result in the economic exploitation of poorly paid women.
In a certain way, Thiago Vinícius de Paula da Silva, at the helm of the Organica Rango restaurant, in Campo Limpo, in the extreme south of São Paulo, helped to subvert logic linked to the gastronomic scene. He is a partner with his mother, Cleunice Maria de Paula, in two businesses. Known as Aunt Nice, she was a cleaner and maid before the houses were opened.
"It's a bit of a slap in the face when we see a mother from the outskirts traveling the world, giving lectures, working as a chef", says Thiago.
The story began in 2017, when he, who had a cultural agency, started buying organic food directly from producers and selling it in the neighborhood.
Today, he still misses being present in the business model of big brands. "For a company to put its refrigerator here took five years." Even so, the restaurant is doing well and attracts not only the neighborhood public, but also visitors from other areas of the capital.
"We have the opportunity to reflect on our place in society. We cook for our own, so that we can strengthen food security mechanisms, build bridges and make people come to the neighborhood," he says.
Scarlet eggplant
Al. Salerno, 49, Pituba, Salvador. @jilosalvador
Organically Rango
R. Batista Crespo, 105, Campo Limpo, São Paulo. @organicarango
Black Kitchen
R. Fradique Coutinho, 276, Pinheiros, São Paulo. @preto.cozinha