Taylor Swift: friendship bracelet is a hit on the 25th and internet – 11/18/2023 – Market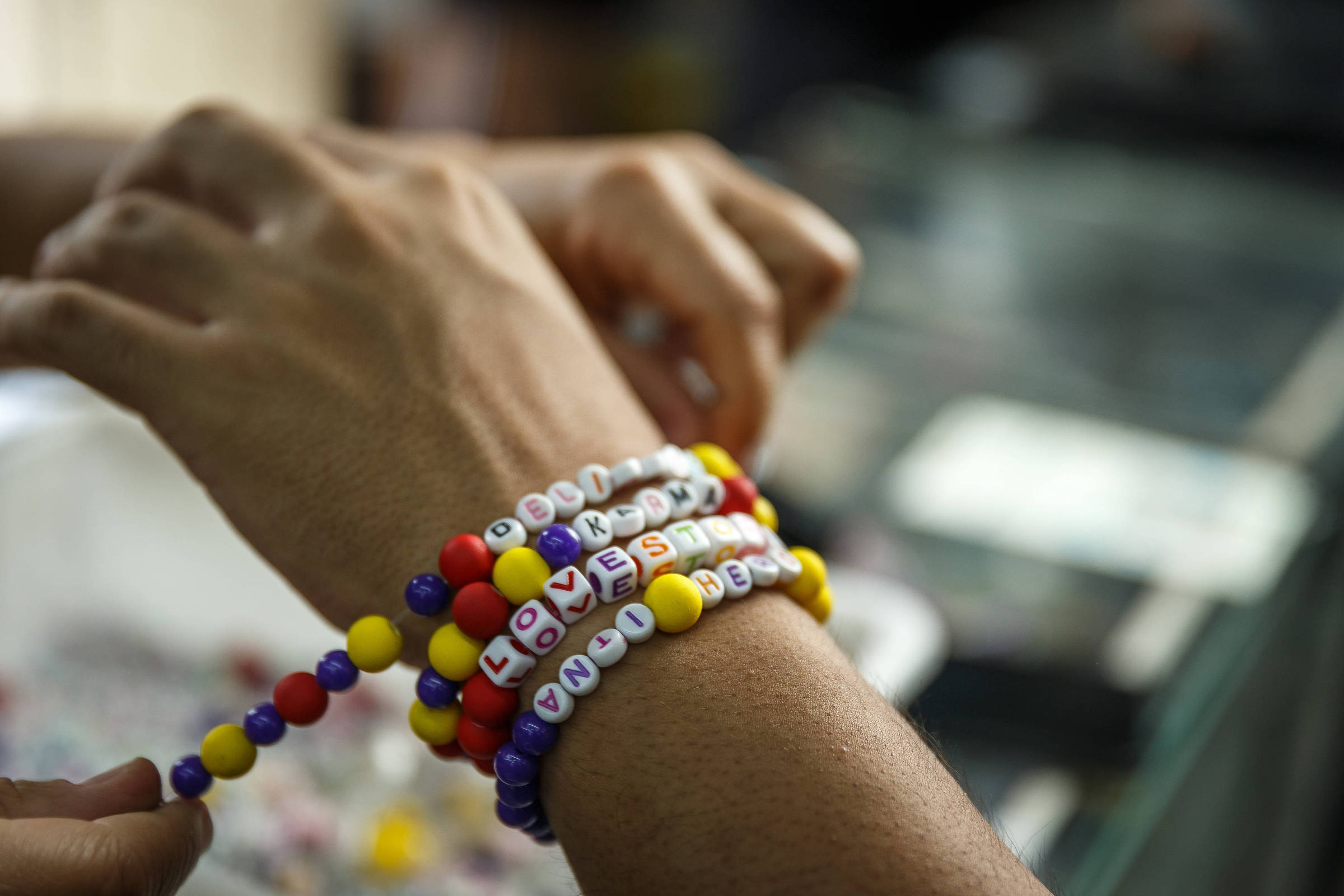 "I don't know who Taylor Swift is, I just know that we are selling," says Francisca Otília, an employee at a jewelry store on Rua 25 de Março, in the central region of São Paulo.
Since the announcement of the American singer's show, demand has increased in physical and online stores for parts to make friendship bracelets, which are exchanged between fans during the shows, with references to the artist's songs and albums. .
Jewelry stores in the 25 de Março region have identified an increase in sales since November of items such as smooth beads, rhinestones with letters and 0.8 mm silicone threads. The Charme store, for example, separated a shelf of these items just for this audience.
Maria Cláudia, 26, began her preparations a week earlier for the singer's performance in São Paulo, next Friday (24), and says she is eager to exchange bracelets with other fans.
"It's a cool experience, it makes the show different from others and ends up bringing people together, because it's more than a bracelet. It's not just you and your friends, it's you and everyone there", he said.
The fashion for the blonde's bracelets, an affectionate nickname given by Taylor Swift's fans, began in 2009, during the "Fearless" album tour and caught the attention of the singer herself, who referenced the phenomenon in the song "You're On Your Own, Kid " from 2022.
Maniago Bijoux saleswoman Francineide Batista says that, last week, many fans went to the store with their arms covered in bracelets.
"They come and talk about the show and how each color of stone represents a different album by the girl [Taylor Swift]but in the end we still don't understand anything", she said, jokingly.
Demand also increased in ecommerce. Amazon recorded a 60% increase in sales of beads with letters, plain beads and kits in November compared to October this year.
On Shopee, the increase was around 120% for beads and 190% for friendship bracelets that are already sold ready-made.
Market Livre reported that there was 74% growth in searches for "beads" in October and November 2023 compared to the same months in 2022.
Rio de Janeiro is the first stop of The Eras Tour in Brazil, with shows between this Friday (17th) and Sunday (19th) at the Engenhão stadium. The artist's stay is expected to generate R$158 million for the capital of Rio de Janeiro between ticket sales and fan spending, according to the Municipal Secretariat for Urban and Economic Development.