Nina Horta wins memorial at Le Cordon Bleu in São Paulo – 09/18/2023 – Food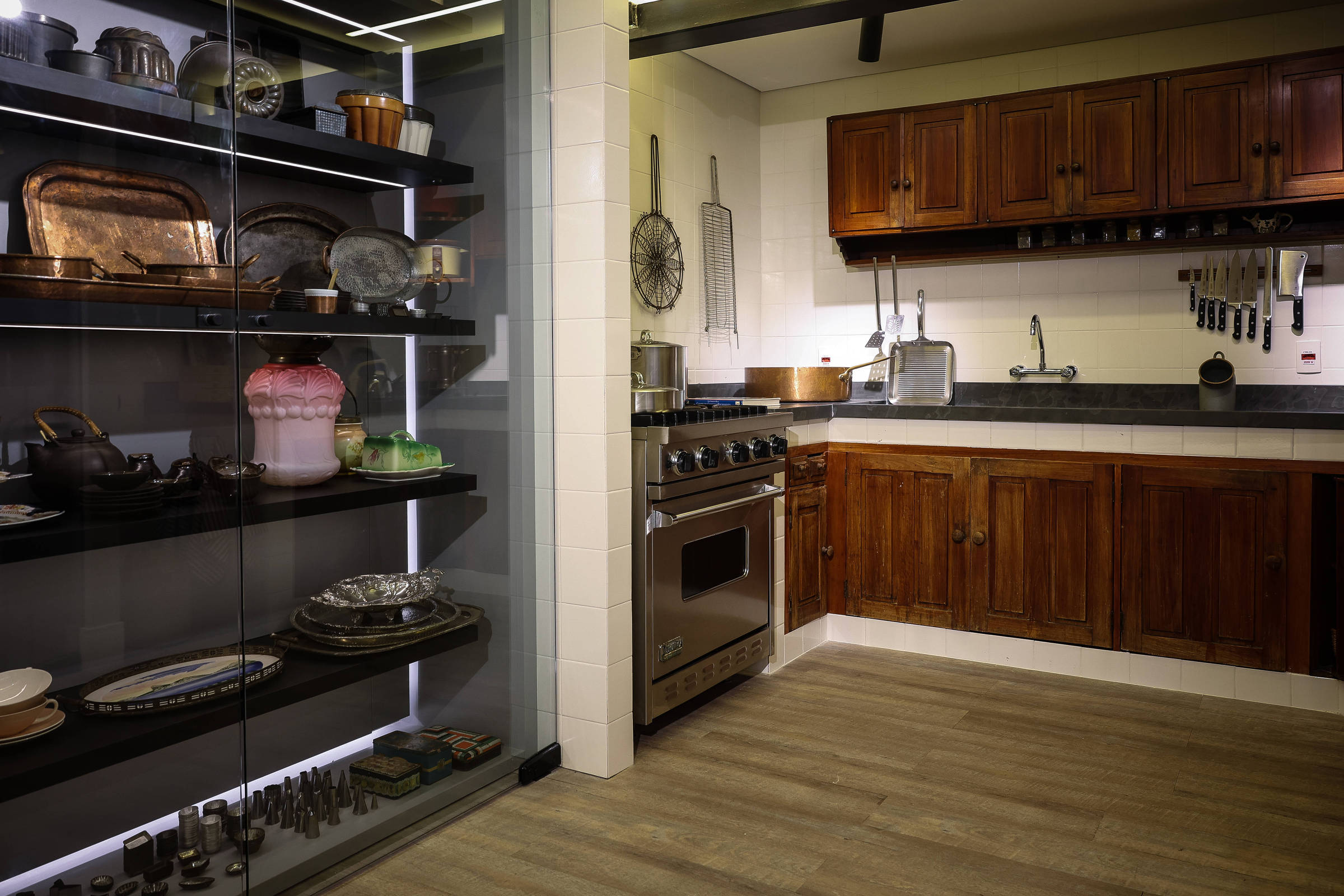 In a room full of cookbooks, a handwritten text on the first page of one of them has a dedication: "Nina, dear, how can I thank you?" At the end, the signature says: "with love, Ritinha".
The 2008 edition of "A Conversa Chegou à Cozinha" (ed. Ediouro, 224 pages), with a message from chef and presenter Rita Lobo, is part of a collection of around 2,500 titles that belonged to Nina Horta (1939- 2019), cook, chronicler and columnist for Sheetand which from October 2nd will be open to the public in a space dedicated to the writer at the Le Cordon Bleu de São Paulo gastronomy school, in Vila Madalena.
Called Memorial Nina Horta, it will also display utensils and a part of the original kitchen used almost daily for more than five decades by her. This environment is part of a new complex that includes a café, experimental kitchen and a Le Cordon Bleu coworking space, the Culinary Village, in the same building where the French education network already operates.
"My mother's wish was that her collection could be consulted and studied", says Dulce Horta, her daughter. The person in charge of this, at Nina's request, was Rosa Moraes, who has worked in the area of ​​gastronomy teaching for 25 years and is a hospitality ambassador for Ânima Educação, a partner of Le Cordon Bleu in São Paulo. To put the idea into practice, the works were sent to a company specializing in cataloging, allowing consultation by theme and author, explains Moraes. Anyone can access the material in the space, but withdrawals are not permitted.
In the modern room full of windows, periodicals, theses and books in several languages ​​deal with gastronomy from different perspectives. There are volumes on history (of French and Italian dishes in the Middle Ages, for example), on the cuisine of a region (like New Orleans, in the USA) and a country (Malaysia is one of many). They complete the ever-present titles of cooks and restaurants.
Of course, an abundance of recipes are also part of the collection, some of them highlighted by markings written by Nina on post-its still preserved. "Curried meatballs" says one of these reminders in her handwriting on a page of Good Housekeeping, an American magazine whose first edition was published in 1885. These recipes were tested by Nina in meals she prepared at home or could serve as a reference for Ginger , a buffet he ran for 30 years.
A mix of Brazilian authors such as Câmara Cascudo (1898-1986), Bela Gil, Carla Pernambuco and Luiz Américo Camargo are part of the library. But the collection also stands out for foreign books, some of which are already out of print, generally accessible only to those who can bring them on a trip or buy them online.
Some works are by famous writers, such as the American James Beard (1903-1985), also a cook and presenter, who was one of the main authorities on his country's cuisine. Among other treasures is the book on the Middle Eastern table by Claudia Roden, an Egyptian-born author who has dedicated herself to gastronomy for over 50 years; and publications by Madhur Jaffrey, an Indian actress who also wrote about the cuisine of her homeland.
In addition to knowledge about food, the library offers an opportunity to observe closely the tireless appetite that Nina Horta had for gastronomy, always present in her columns. Sheet. His text influenced generations with a direct, simple, sometimes comical and also erudite style, when talking about food that is not limited to kitchens.
She received the Jabuti Gastronomy award in 2016 with the book "O Frango Ensopado da Minha Mãe" (ed. Companhia das Letras, 288 pages), which brings together some of her chronicles. She began writing about gastronomy for the newspaper in 1987.
Alongside the books, the memorial installed at the Culinary Village will also display the hearty Viking stove, described in a 2015 column in Sheet, next to the somewhat worn wood cabinets in Nina's 55-year-old kitchen. Pieces such as a ceramic rooster, a copper pan and many crockery, from places such as France, Germany, Japan and England, will also be displayed and renewed every three months.
The idea of ​​relocating Nina's kitchen there came from French chef Patrick Martin, who helped establish Le Cordon Bleu in Brazil in 2018, when he went to see the chronicler's collection of works in person, which he never met in person. "When I went there, I saw books everywhere and the kitchen of the house. I understood that this heritage was the opportunity of a lifetime", says Martin.
The opening of the complex marks a moment of growth for Le Cordon Bleu in Brazil, according to Martin. The Culinary Village includes coworking, a cafe that will serve meals and also a kitchen that can be rented by companies for dynamics or used for product development in conjunction with the French education network. An example of this work is a partnership with Ofner, implemented in a line of desserts, chocolates and a panettone, which will be launched in the coming months.
The institution is expanding its higher education gastronomy course, currently only available in São Paulo, to Curitiba, Belo Horizonte, Porto Alegre, Rio de Janeiro and Recife. In November, she will publish a book about Brazilian cuisine – one of those new developments that would probably be on Nina's curious radar.
---
Nina Horta Memorial
R. Natingui, 862, 1st floor, Vila Madalena, west region. Monday to Friday, from 8am to 6pm.