Lona Aberta Festival starts this Wednesday with free performances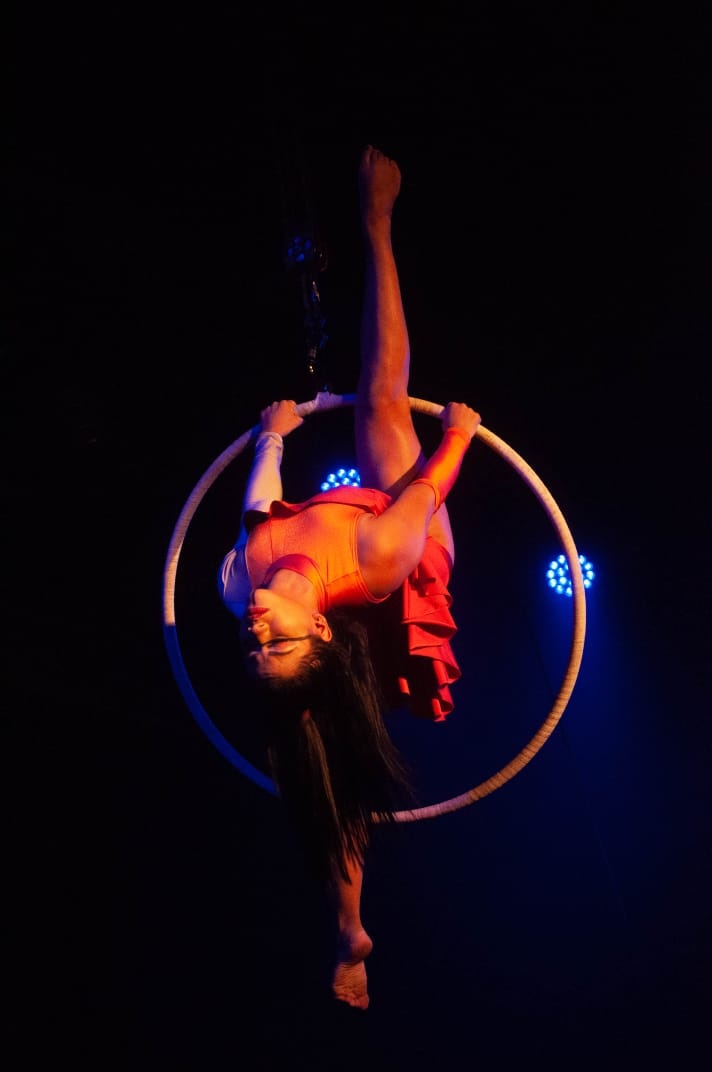 presentation
The public can check out a diverse program that includes acrobatics workshops among other activities
Manaus (AM) – The II Lona Aberta Festival is about to start and anticipation is in the air. The festival, which has free entry, starts this Wednesday (27th) and ends next Saturday (30th), at Centro Cultural Barravento, is the result of a lot of work and dedication, and will be marked by the meeting of talented artists from different states, a united team with the desire to spread circus art in Amazonas.
"We are looking forward to Barravento having an audience interested in the circus and being enchanted by the various performances that will take place. The butterflies in your stomach are certainly a collective feeling,"

emphasized the festival's creator, Jean Palladino, a theater graduate who, in addition to being a director and cultural producer, works as a clown, actor and manager of the Centro Cultural Barravento.
The event will be attended by great talents of circus art from Brazil, which includes two artists from Brasília and Ceará, who are already in the capital of Amazonas, in addition to the Clown Salsicha from Paraíba. This Tuesday (26), at 6:30 pm, the three artists will give a special presentation, a 'warm-up' for the Prosamim community in the Praça 14 de Janeiro neighborhood, close to the Leonardo Malcher Avenue bridge.
During four days of presentations, the public will be able to enjoy a diverse program that includes gala nights, acrobatics and object manipulation workshops, as well as a variety of shows that promise to delight everyone. It's time to dive into the magical world of the circus at the Lona Aberta 2023 Festival.
Schedule of the "Festival Lona Aberta 2023":
September 27th
8pm – Opening
8:15 pm – Variety show: Gororoba Clown, Sausage Clown, Troupe Laboratory – A festa dos Caminhos, Iogan Montefusco – Grilo no Conserto, Allain Vasquez – Mr. Volcano Man and Magician Davis – A Night of Illusions.
September 28
10am – Juggling workshop
8pm – Selma Bustamante Show: Circo Travessia – Superela in: Destroying the Patriarchy, Maruska Ribeiro – Ludomira Silva in: "I can't take any more soup!", Aline Cassiano – Palhaça Coração and Circo Travessia – Memory Coaching.
September 29th
10am – Fabric workshop
8pm – Acrobatics Night: Ayla Taynã – One place, Laisa Silva – Sensations, José Arenas – Resilience and Jean Winder – Solstice.
September 30th
10am – My North is the Circus Workshop
8pm – Gala Night: Laisa Silva – Hula Hoop Show, Clown Feupuudo – Bubbles, Cleomar Galvão – Corda Tamba and Saltimbancos – Abracadabra.
Closing.
*With information from consultancy
Read more:
SSP-AM holds planning meeting for Operation Virtue
Store and shopping mall are ordered to compensate customers for not providing chairs for obese people
Diego Alemão is admitted to a rehabilitation clinic