IEL Amazonas opens 30 internship vacancies with vacancies in Manaus, Tefé and Coari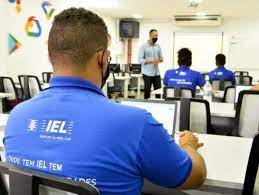 opportunity
Scholarships range from R$740.00 to R$1,320.00, plus transportation assistance
Manaus (AM) – The Euvaldo Lodi Institute (IEL Amazonas) offers 30 internship vacancies this fortnight, with face-to-face work, for higher education students in the capital, municipalities of Tefé and Coari, and high school students, with scholarships ranging from R$740 .00 to R$ 1,320.00, plus transportation assistance.
The vacancies for higher education are for courses in Administration (seven), Logistics (one), Pedagogy (one), Accounting (four), Journalism (one), Marketing (two), Social Communication (one), Advertising and Propaganda ( one), Process Engineering (one), Production Engineering (two), Mechanical Engineering (one), Civil Engineering (one), Social Service (one), System Analysis and Development (one). For higher education in the municipality of Tefé, they are for Pedagogy (one) and Administration (one). For the municipality of Coari, they are for Pedagogy (two) and High School (one).
To participate in the process, candidates must register on the IEL Amazonas website and keep all personal, educational and general knowledge data up to date, including telephone number and email. More information on the IEL website and social networks (Facebook and Instagram) and on Whatsapp (92) 98134-0259.
IEL does not receive CVs by email, nor in person. Participation will be via the system through registration. Vacancies will remain available until the maximum number of candidates to be forwarded according to the demand of the client company is reached.
*With information from consultancy
Read more:
Nilton Lins offers dental care to the community in Manaus
Teenager suspected of trying to kill two people in AM is apprehended
VIDEO: Police arrest man for groping reporter's butt on live broadcast