Delta Airlines: what it's like to fly in the new business class – 09/12/2023 – Tourism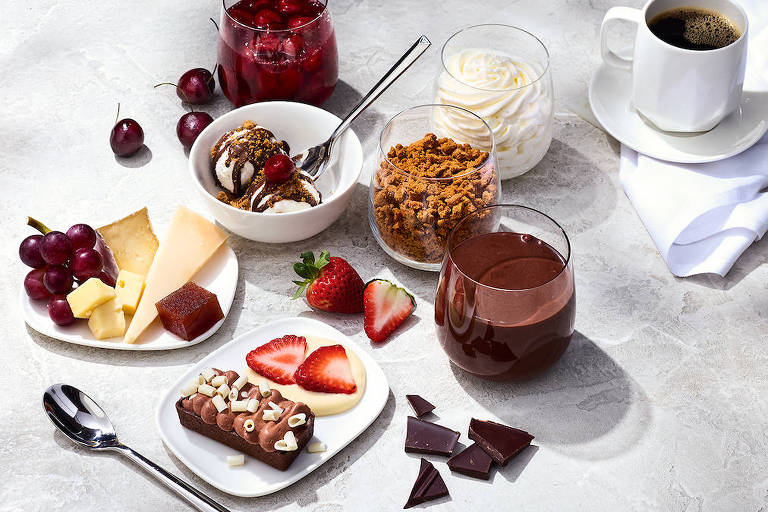 The idea of ​​sipping champagne on a plane can be symbolic of the experience of flying in business class. French sparkling wine is served, but some facilities (and treats) start before the flight and end after it.
Anyone who has ever stood in the long economy queue to check luggage on an international flight knows that there is a priority check-in accessible to business customers. Some airlines also extend this benefit to the intermediate class between business and economy – this is the case with Delta, which calls this sector DPS (Delta Premium Select).
The executive and DPS are available on a new route that the American company will operate from December connecting John F. Kennedy airports, in New York, and Galeão, in Rio de Janeiro. With direct and daily flights, it is expected to take place until the end of February next year.
To give you an idea, an intermediate class ticket for the first half of January 2024 on this route costs from US$2,770 (R$13,782); from the executive, US$6,270 (R$31,197). The simulation was carried out in early September.
Delta does not have its own VIP lounges in Brazil, but a partnership allows the American company's executive customers to use a Latam lounge — as a result, Latam also opened a direct route between Guarulhos and Los Angeles at the beginning of the year.
In Rio, Latam does not have a VIP lounge — so it is only possible to use the service on flights leaving Guarulhos airport. A Sheet traveled at the invitation of Delta on the stretch between São Paulo and Atlanta. The food area is the highlight with a buffet system, a favorite among Brazilians.
First-timers may be surprised by the abundance at the airport, where food prices are high. But it is possible to serve yourself, at no extra cost and as much as you like, from options including yogurt, fruit, sandwiches, salads, hot dishes and desserts. There are also unlimited non-alcoholic and alcoholic drinks included, as well as freshly prepared drinks. The area has a space with armchairs, Wi-Fi and a bathroom – including a shower area. You need to pay attention to the departure on the screen with information about the flight so as not to get lost in your food.
As you board beforehand, those with a business class ticket are welcomed inside the aircraft with a glass of champagne (the original drink, produced in the French region) while they choose their meal items from a menu.
Dinner, for example, includes shrimp ceviche with passion fruit (starter), spinach and ricotta tortellini with mascarpone sauce with feta cheese and pesto (main) and sundae (dessert). There are no disposable items: recipes are served on ceramic dishes with metal cutlery and drinks, such as wine, whiskey and juices, come in glass glasses.
A highlight of the experience is the armchair that can recline 180º and turns into a bed, allowing the traveler to stretch out their entire leg (or almost completely, if you are taller). The TV comes with headphones with noise silencing and, for those who want to watch a series, there are even slippers and a duvet.
The flight passenger receives a toiletry bag with hand moisturizer and mouthpiece (from the Grown Alchemist brand); toothpaste, brush and blindfold to rest your eyes. The kit seeks to be sustainable: the bag is handmade by artisans in Mexico and the brush has a bamboo handle.
At the end of the trip, those who disembark can no longer access the VIP lounge, but still have priority in the order in which their bags are placed on the conveyor belt, another benefit of the ticket.
Intermediate cabin class
Like other companies, Delta has an option for those looking for an intermediate seat between business and economy class.
Delta Premium Select, available on flights departing from São Paulo and Rio to Atlanta and New York, for example, has a wider seat, extra recline and foot and leg support. Tickets between Guarulhos (SP) and JFK (NY) airports priced at the beginning of October start at U$$ 1,806 (around R$ 8,880).
Despite not having access to the VIP lounge, those who have this ticket are also entitled to an amenities kit, a meal served with linen napkins, metal cutlery and glass glasses, as well as priority check-in and boarding.
Among the possibilities on the menu are roast beef ribs with potatoes in pepper sauce and chicken thighs with honey and harissa sauce; for dessert, mango mousse with mango and passion fruit compote. The menu also has vegan versions.
The journalist traveled at the invitation of Delta Air Lines