'We dated for 1 year and I have proof', says former advisor about romance with Bolsonaro's son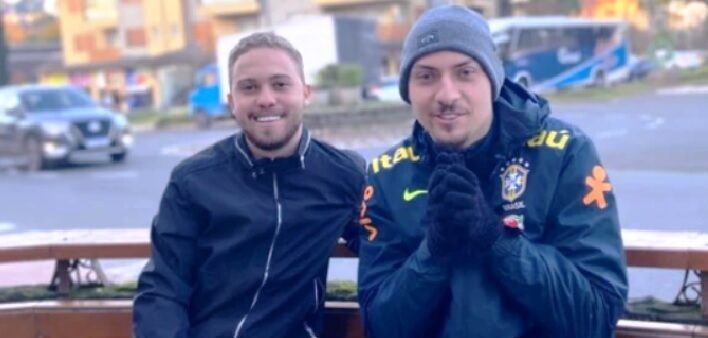 Romance
According to journalist Rogério Tomaz Jr, Jair Renan Bolsonaro was filmed several times in sexual acts with Pupe
Another controversy involving the Bolsonaro family! On Thursday (14), the testimony of influencer Diego Pupe, former advisor to Jair Renan Bolsonaro, son "04" of former president Jair Bolsonaro, went viral on social media. To the Civil Police of the Federal District, Diego spoke about the investigation to which the businessman was subjected and revealed that he had a romantic relationship with Renan.
"I had a relationship with Renan, which I haven't told anyone about yet. I was expecting all this "woah" from the police, but I'll talk about it soon, okay? I had an intimate, romantic relationship with him,"

Pupe told Metrópoles.
It is worth remembering that the son of the former chief executive was recently the target of a police investigation by the Police Station for the Repression of Crimes Against the Tax Order (Dot/Decor), a unit of the PCDF.
'We dated for 1 year and I have proof'
In an exclusive interview with IstoÉ Gente, Diego Pupe gave details about his romance with Renan Bolsonaro. Check it out in full!
THAT IS: Were you really an advisor to Jair Renan Bolsonaro? How was this work and how long did you advise him?
Diego Pupe: Advisor? (laughter). One year of "ASSISTANCE" without receiving any salary.
THAT IS: In your statement to the police, you said that you had a relationship with Renan. How was that relationship? Did you hook up or date?
DP: I did have a relationship with him, which is now exposed throughout Brazil.
THAT IS: Do you have proof that you had a relationship with Renan?
DP: I have proof, but I'm waiting for my lawyers to authorize me to disclose it.
THAT IS: Are you afraid that Renan will file a lawsuit against you for exposing his privacy?
DP: I'm not afraid of justice and being sued. I have several things to leave there (Justice) if necessary.
THAT IS: What did you think of Renan Bolsonaro's statement after you said you had a romantic relationship with him? He said the following: "If you ever see me making out with a male, you can be sure it's a fight."
DP: Obviously he will deny it, the important thing is that I can make it clear in every way.
Intimate video
According to journalist Rogério Tomaz Jr, Jair Renan Bolsonaro was filmed several times having sex with Pupe. "There are videos (many) of 04 having sex with the friend who told him about their relationship"wrote the professional on Twitter.
Asked by our report if these spicy videos really exist, the former advisor to Bolsonaro's son said: "I didn't send the video to anyone. My legal department did not authorize it. Who knows, maybe I'll release them later…"
Before a possible romance with a former advisor, Bolsonaro's son 4 dated a medical student
In August this year, Jair Renan Bolsonaro, who is living in Balneário Camboriú, Santa Catarina, made public appearances with his alleged girlfriend, Stephany Brenda Rosa, a medical student and also a resident of the city. They were seen together at a PL Mulher event, in Florianópolis. Bolsonaro's heir and his girlfriend were photographed in June at an ACII (Itajaí Business Association) event.
Jair Renan Bolsonaro speaks out about Diego Pupe's statements
On Friday (15), Bolsonaro's heir took to social media and shot: "If you ever see me making out with a male, you can be sure it's a fight.".
IstoÉ got in touch asking for another position from Renan Bolsonaro, but as of the closing of this article we have not yet heard back. We reinforce that the space is open for demonstrations and clarifications.
*With information from IstoÉ
Read more:
Bolsonaro's son denies romantic involvement with former advisor
Former advisor reveals that he had a romantic relationship with Bolsonaro's son 04