Taylor Swift fans fight in line hours before the last show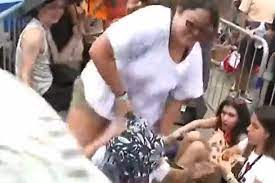 Confusion
The singer's passage through Brazil has been marked by tragedies, disorganization and disappointment among her admirers
American singer Taylor Swift's visit to Brazil has been marked by a series of negative events and a great tragedy, represented by the death of young Ana Clara Benevides during her show last Friday (17).
Last Saturday (19), the singer sparked outrage among her fans by canceling her performance an hour before the show due to the high temperature. Some people expressed outrage, even classifying Taylor Swift as a "miscreant".
The sequence of unfavorable events seems to have no end surrounding Taylor Swift's "Eras Tour". The show scheduled for last Saturday was rescheduled for this Monday (20), and thousands of fans are waiting in line to enter the Nilton Santos – Engenhão stadium. Although the temperature took a break, the weather warmed up for some people.
A group of girls were accused by a woman of jumping the queue. However, a witness reported that one of the girls went out to get food and returned to her place. The situation became tense and escalated into aggression. Check out all the details in the videos below:
🚨WATCH: Fan explains the reason for the confusion at the door of the Nilton Santos stadium. According to her, a woman was trying to jump the queue and the event's production team was notified, but did nothing. pic.twitter.com/RgYKFllMVJ

— CHOQUEI (@choquei) November 20, 2023
🚨WATCH: Brazilian fan who attacked young Colombian women was removed from the line and taken to give a statement at the police station. pic.twitter.com/ztd3OYiuhL

— CHOQUEI (@choquei) November 20, 2023
🚨WATCH: A diva from Rio with her green fan sums up the beef between the two Taylor Swift fans who were fighting for a place in line at the Nilton Santos Stadium. pic.twitter.com/jjvUeswlbv

— CHOQUEI (@choquei) November 20, 2023
*With information from Forum Magazine
read more
Who was the fan who died at Taylor Swift's concert in the heat?
Taylor Swift postpones this Saturday's show in Rio after fan's death
Family of fan who died at Taylor Swift concert crowdfunds for body transfer