OpenAI: Sam Altman's strength in the company that created ChatGPT – 11/21/2023 – Tech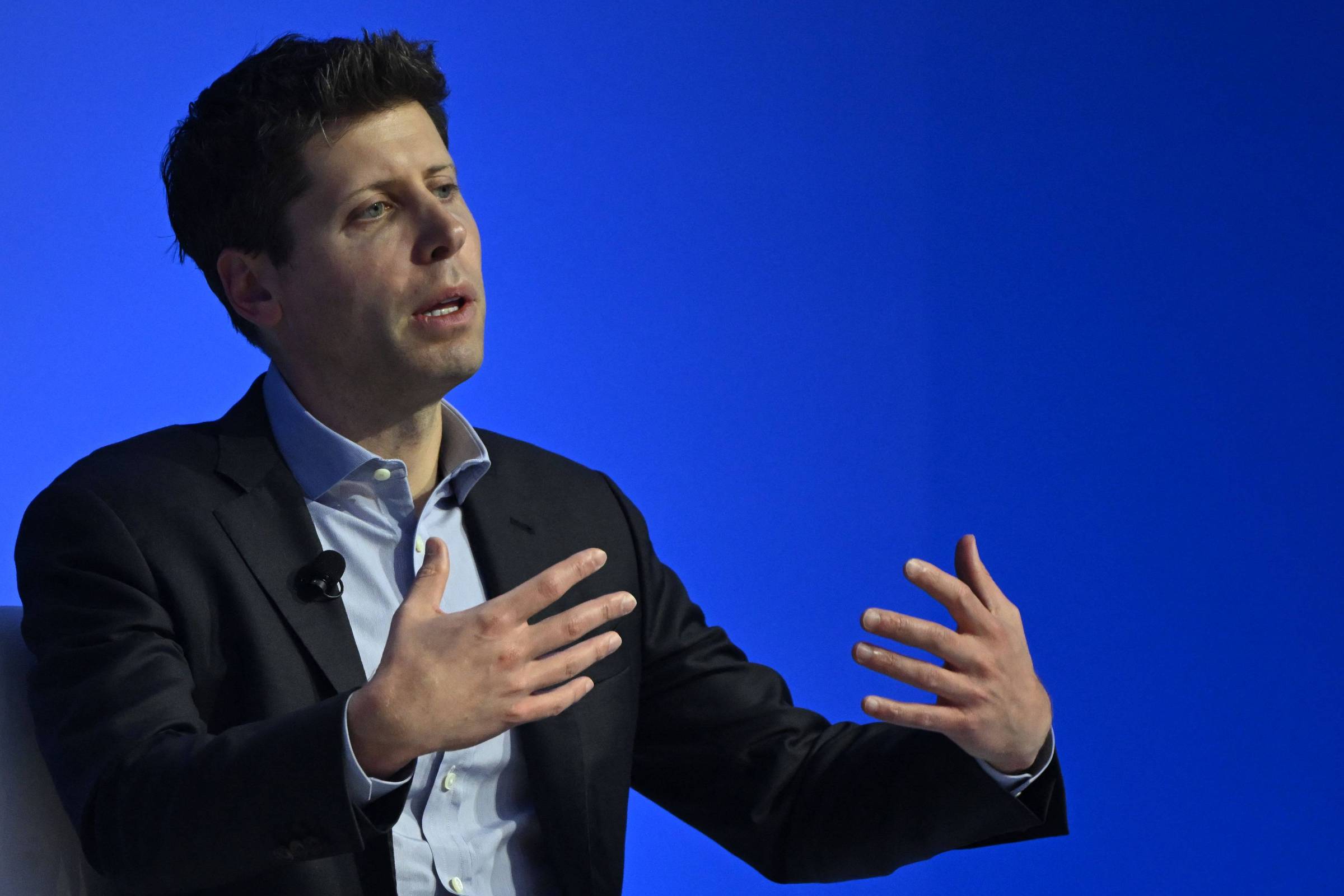 OpenAI boss Sam Altman took to the stage in San Francisco earlier this month to announce that ChatGPT, the startup project that ushered in a new era of artificial intelligence a year ago, had reached the milestone 100 million weekly users.
He also disclosed that the company would halve the price of its software and launch an AI app store, in moves designed to proliferate the use of this revolutionary technology. Altman paused after each sentence to let the applause die down.
His ability to inspire would also be seen weeks later when OpenAI's board abruptly fired him. The departure only served to trigger an internal revolt. According to people with knowledge of the matter, 747 of OpenAI's 770 employees had signed a letter threatening to leave and join Microsoft, which announced Altman's hiring in the early hours of Monday (20), if the board did not bring in the former CEO. back.
Investors supporting the startup went to check whether there would be legal measures to force the board to reverse OpenAI's option. A source who works at an investment fund with a stake in the artificial intelligence company said legal action could take place this week.
But according to a person with knowledge of the negotiations, as of Monday night, the board remained firm and was prepared to test whether employees would follow through on their threat to leave.
OpenAI executives circulated a memo to staff Monday night saying they were in intense negotiations with Altman, the board and new interim CEO Emmett Shear with the goal of ending the impasse and unifying the company.
In their letter, the employees said the directors "undermined our mission and our company" with the manner in which Altman and Greg Brockman, another OpenAI co-founder, left.
Ilya Sutskever, the last remaining co-founder on the board and chief scientist at OpenAI, signed the employee letter after apologizing on social media for his role in Altman's firing. However, he did not say whether he would also leave the board.
The 38-year-old entrepreneur who built OpenAI into a billion-dollar company can now determine its future.
A person with access to negotiations between Altman and the OpenAI board stated that his power is to win over people, shape narratives and seek the best situation that favors him, which would make it impossible for the company to supervise him.
Artificial intelligence ambassador
Altman's star has been shining over the past two years as OpenAI pushes the limits of generative AI — a technology that can create high-quality images, text and code that are largely indistinguishable from human production.
In November last year, OpenAI launched ChatGPT, a sophisticated Q&A chatbot. The product's popularity has resulted in corporate giants such as Microsoft, Google and Salesforce, as well as several technology startups, launching their own chatbots and AI software products, many of them built with OpenAI's underlying technology.
Under Altman's leadership, OpenAI was transformed in eight years from a nonprofit research organization into a company that reportedly generates $1 billion in annual revenue. Clients range from the Morgan Stanley bank to the Carlyle investment group, including PwC auditing.
The success made Altman the de facto ambassador of the AI ​​industry, despite his lack of scientific training. Earlier this year, he embarked on a global tour, meeting world leaders, startups and regulators in several countries. Altman spoke at the APEC Asia-Pacific regional summit in San Francisco the day before he was fired.



Sam Altman is a hero to me. He built a company from nothing to a value of $90 billion and changed our collective world forever. I and billions of others will benefit from his future work. It will be simply incredible
A Stanford University alumnus, Altman is a product of Silicon Valley. His first startup, location-based social media service Loopt, didn't take off. But it was enough to catch the attention of Paul Graham, founder of Y Combinator, who brought him out of relative obscurity, at just 28 years old, to lead the technology incubator.
Y Combinator's successes include Airbnb and payments company Stripe, and the work gave Altman an insider's view of some of the new investment trends and a taste for backing big, visionary projects.
"There were only a handful of people investing in these technologies," Alexandr Wang of Scale AI, a Y Combinator-backed company, said earlier this year. "He's willing to make big bets. It's one of the things that made him a great investor. He's willing to bet for the long term."
The defining quality that Altman possesses, according to those who have worked with him, is his fierce ambition and his ability to rally support.
He has been described as "deeply, deeply competitive" and a "genius", with one acquaintance saying there is no one better at knowing how to accumulate power.
Nuclear Fusion and Cryptocurrency Businesses
Altman's stated vision for AI is to create a powerful general technology that can be used safely to advance humanity.
"I don't think it makes sense to try to fit into a next-generation technology company, because that's just a different thing, right?" he told the Financial Times in an interview earlier this month. "Our product is intelligence as a service… super-capable intelligence. The kind of intelligence where you can say, 'go cure this disease.'"
However, AI was not Altman's only bet. He invested $375 million of his own money in nuclear fusion startup Helion and was on the verge of completing a $100 million funding round for his iris-scanning cryptocurrency startup, Worldcoin.
Altman was also trying to raise up to $100 billion from Middle Eastern investors and SoftBank founder Masayoshi Son to establish a new microchip development company that could compete with Nvidia and TSMC in training powerful AI models, according to a source close to the negotiation. Those efforts raised concerns among the board before his dismissal, this person said.
All of Altman's endeavors have contributed to his goal of building cheap, powerful artificial intelligence and making it accessible on a large scale. "I believe there is this loose network of companies coming together that are all going to work together in the same direction. OpenAI-Microsoft is an example of that. I have others that will do the same over time," he said.
For the past two years, Altman has struggled to find the best way to balance AI's enormous profit potential with OpenAI's original mission of ensuring the technology benefits humanity at large.
Although initially created as a nonprofit, Altman later revamped the group to attract a $1 billion investment from Microsoft. Its new model limited the returns that outside investors could get from a new commercial arm, directing any extra profits to a nonprofit fund.
It is important to highlight that Altman said he does not have any personal stake in OpenAI, which, in theory, keeps him aligned with the company's charter and mission. One person described the deal as a "supreme power move," helping Altman, who is financially independent, convince others of his credibility.
Altman proved to be a revered leader, capable of organizing the world's top researchers around his vision. According to the team, there was a kind of cult following when it came to OpenAI. This was evidenced in the threat of collective dismissal of 95% of employees.
Regardless of the board's concerns regarding his leadership style, including the assertion that Altman was "not consistently forthright in his communications" as described by OpenAI in the firing announcement, prominent investors continue to view him as key to the company success.
One described his company's position simply: "We want Sam back," posted Vinod Khosla, one of OpenAI's early investors who described Altman as "a once-in-a-generation CEO."
"The reason I was a founding donor to OpenAI in 2015 was not because I was interested in AI, but because I believed in Sam," said Jessica Livingston, co-founder of Y Combinator.
Competitors seek OpenAI employees
Uncertainty about the future of OpenAI has also created an opportunity for competing AI companies. On Monday, Anthropic and Cohere saw a surge in interest from OpenAI customers, according to people with direct knowledge of the matter.
Competitors were also "surrounding" the ChatGPT creator's team in an attempt to attract talented researchers, according to an investor in the startup. In a social media post on Monday, Marc Benioff, CEO of software company Salesforce, asked OpenAI researchers to submit their resumes and proposed equalizing salaries.
Mustafa Suleyman, founder of AI startup Inflection, described events at the competitor as "very sad" but added that his company was looking to expand its operations. "Come work with us!" he stated.
In addition to Sutskever, OpenAI's directors are Adam D'Angelo, CEO of question and answer service Quora; technology entrepreneur Tasha McCauley; and Helen Toner of Georgetown University's Center for Security and Emerging Technology.
On Sunday night, the board named Emmett Shear, co-founder of video streaming service Twitch, as interim CEO. He replaced Mira Murati, the technology director who had been promoted to the position last Friday (17).
In interviews on Monday, Microsoft CEO Satya Nadella commented that he could not say who would be CEO on Tuesday morning, but promised to continue supporting Altman whether he returned to OpenAI or worked internally at Microsoft.
Ibrahim Ajami, head of ventures at Mubadala Capital, part of Abu Dhabi's $284 billion sovereign wealth fund Mubadala Investment Company, said the chaos at OpenAI highlighted why "it's very difficult to insure these companies today." Mubadala has a partnership with Microsoft, but has not invested in OpenAI.
"As long-term investors, we value companies based on their customers, strong partnerships, talent and long-term competitive advantage," he said. "Where does all this fit in with OpenAI today?" he asked.