BRA and ARG challenge Pfizer and Moderna for mRNA vaccine – 09/19/2023 – Health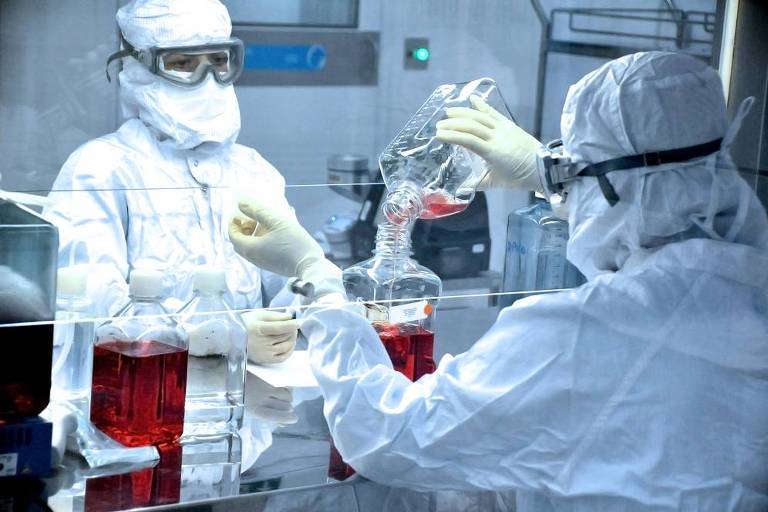 Laboratories in South America are challenging pharmaceutical companies Pfizer and Moderna in the race for a messenger RNA (mRNA) vaccine against Covid-19. Brazil and Argentina are leading efforts to form an independent regional production hub, with support from the WHO (World Health Organization). But the dispute over technology patents, waged by US companies, threatens the project.
mRNA vaccines use a part of the virus's genetic code to deliver a "recipe" to cells that teaches the immune system to produce antibodies against the infection. This technology is different from that adopted by traditional vaccines, which use the entire inactivated virus (like the flu vaccine) or attenuated virus (like measles and polio) to trigger the body's reaction.
The main South American research is led by Bio-Manguinhos, a Fiocruz laboratory (Fundação Oswaldo Cruz), linked to the Ministry of Health. Scientists had already been developing their own RNA vaccine before the pandemic, focusing on cancer treatment. The project was redesigned for Covid-19, but the numerous patent applications filed by Pfizer and Moderna make development difficult.
A patent is a title that protects the intellectual property of an invention, guaranteeing the inventor the exclusivity to produce and sell a product in a given country, generally for 15 or 20 years. However, even before a patent is granted, simply submitting the application already alienates other developers due to possible economic risks.
In the pharmaceutical segment, it is also possible to patent techniques and molecules necessary to manufacture a medicine or vaccine.
The mRNA vaccine for Covid is no different. Moderna has already submitted 21 patent applications worldwide, 13 of which in Latin America alone, according to Bio-Manguinhos to Repórter Brasil. Of these, one has already been granted in Brazil and another nine are under analysis in the country.
Pfizer has already applied for 13 patents in Brazil, according to the Fiocruz laboratory. One has already been granted, another has been refused and the remaining 11 are under analysis at the National Institute of Intellectual Property.
This high number of patent applications is seen by some experts as a way of preventing new producers from entering the market. This is what Peruvian researcher Ximena Benavides, from Yale University, says. She is part of a research group on the WHO initiative to spread the technology globally.
"It's a very clear strategy to block the hub", says Benavides in an interview with Repórter Brasil, Perfil and Red Palta (Latin American Network of Journalists for Transparency and Anti-Corruption).
The challenge for South American scientists is not exactly breaking patents, but rather circumventing them. In other words, it involves finding substances and techniques similar to those used by pharmaceutical giants in the United States, but not yet patented.
One case illustrates how Pfizer and Moderna's patents make Fiocruz's research difficult. These vaccines use several types of lipids in their formulas that allow messenger RNA to reach cells without disintegrating.
Pfizer and Moderna, however, have filed patents for some of the lipids used. Even the proportion of each lipid in the formulation is subject to patents. This led Bio-Manguinhos to look for equivalent particles to use in the Brazilian vaccine.
"We were paralyzed for at least six months because we couldn't find a place that could produce these lipids with good manufacturing practices for our clinical studies and free for use", explained Patrícia Neves, researcher at Bio-Manguinhos/Fiocruz, during a webinar held in August on the project.
Researcher Jorge Bermudez, from the National School of Public Health, also linked to Fiocruz, explains that Covid vaccines revealed an even more complex scenario in relation to intellectual property. For the same product, in addition to the companies' own patents, there are a series of patented nanoparticles and materials used in the vaccine that do not belong to the manufacturing company.
"Pfizer does not hold all the patents for its vaccine. It is a network of patents that allows Pfizer to manufacture the vaccine," he states.
For the deputy director of Innovation at Bio-Manguinhos, Sotiris Misailidis, who coordinates the development of the national immunizer, "these patent barriers are common in the development of vaccines and biopharmaceuticals", but the case of the mRNA vaccine is "special" because the number of patents submitted. "All companies try to close a part [da tecnologia] to ensure that they can advance, but also to block the advancement of others", he assesses.
When contacted, Pfizer declared that it does not register patents "with the aim of limiting competition" and that its applications reflect "genuine innovation". Moderna did not respond.
'Vaccine of the future'
Messenger RNA vaccines are considered a milestone in the history of science, due to their high efficacy and ease of adaptation to coronavirus variants — including versions closer to EG.5, monitored by health authorities and already circulating in the world. Brazil.
These vaccines dominated the Covid-19 market and became preferred in countries such as Brazil, Argentina, Chile and Peru, according to a survey by Red Palta. But updated versions of immunizers, such as bivalent ones, which began to be sold about a year ago, have reached few nations so far.
Of the 51 countries and territories in the Americas, only 6 purchased Pfizer's bivalent doses that protect against the original strain and the BA.4/BA.5 omicron variants, and only one received Moderna's, according to a PAHO survey.
To disseminate mRNA technology, the WHO launched a technology transfer model between laboratories in emerging countries in 2021.
Pfizer and Moderna did not agree to participate in the venture.
When consulted, Pfizer confirmed that it is not involved in the WHO "hub", but stated that it "welcomes voluntary initiatives" to promote equitable access to vaccines and therapies against Covid. Moderna made no statements.
Pfizer also stated that it has been committed to equitable access to its vaccine since the beginning of the pandemic and that it supports vaccine supply and donation programs, such as Covax. The company highlighted that it has already delivered 1.8 billion doses to 112 low- and middle-income countries, out of a total of 4.6 billion doses delivered in total.
South Africa leads the WHO initiative, through the Afrigen laboratory. The "hub" already has laboratories from 15 countries, including Brazil and Argentina.
Fiocruz was chosen to create a royalty-free vaccine whose technology can be shared with other regional producers. The plan includes the participation of the Argentine laboratory Sinergium, which began development "from scratch", as stated in a statement.
The South African and Brazilian projects are more advanced. Afrigen has already produced the first batches of the vaccine, which is based on Moderna's formula.
The Brazilian vaccine is currently in the pre-clinical study phase and tests will soon be carried out on hamsters and toxicological examinations. If the vaccine passes these phases, human testing should begin in early 2024. The manufacturing of the first batches of the national vaccine for clinical trials is expected to take place in 2023.
The lack of sharing between projects raises doubts as to whether there will be a real technology transfer, notes Benavides, from Yale. "It is unclear whether the technology transfer project will be successful as it has been modified more than once, redirecting its efforts as the pandemic developed."
Experts say that mastering this technology is essential for combating several other diseases, such as cancer treatment. "It will bring several new products to the market, which until now has not been possible with available technologies", says Misailidis, from Bio-Manguinhos.
"It is important to master production because it offers us advantages in terms of preparedness for epidemics or pandemics and the ability to quickly update vaccines such as Covid and influenza," he says.
Furthermore, he highlights that a Brazilian vaccine could cost up to 10 times less than the prices charged by Pfizer and Moderna.