South American football has 4 cases Vini Jr. this month only – 05/25/2023 – Sport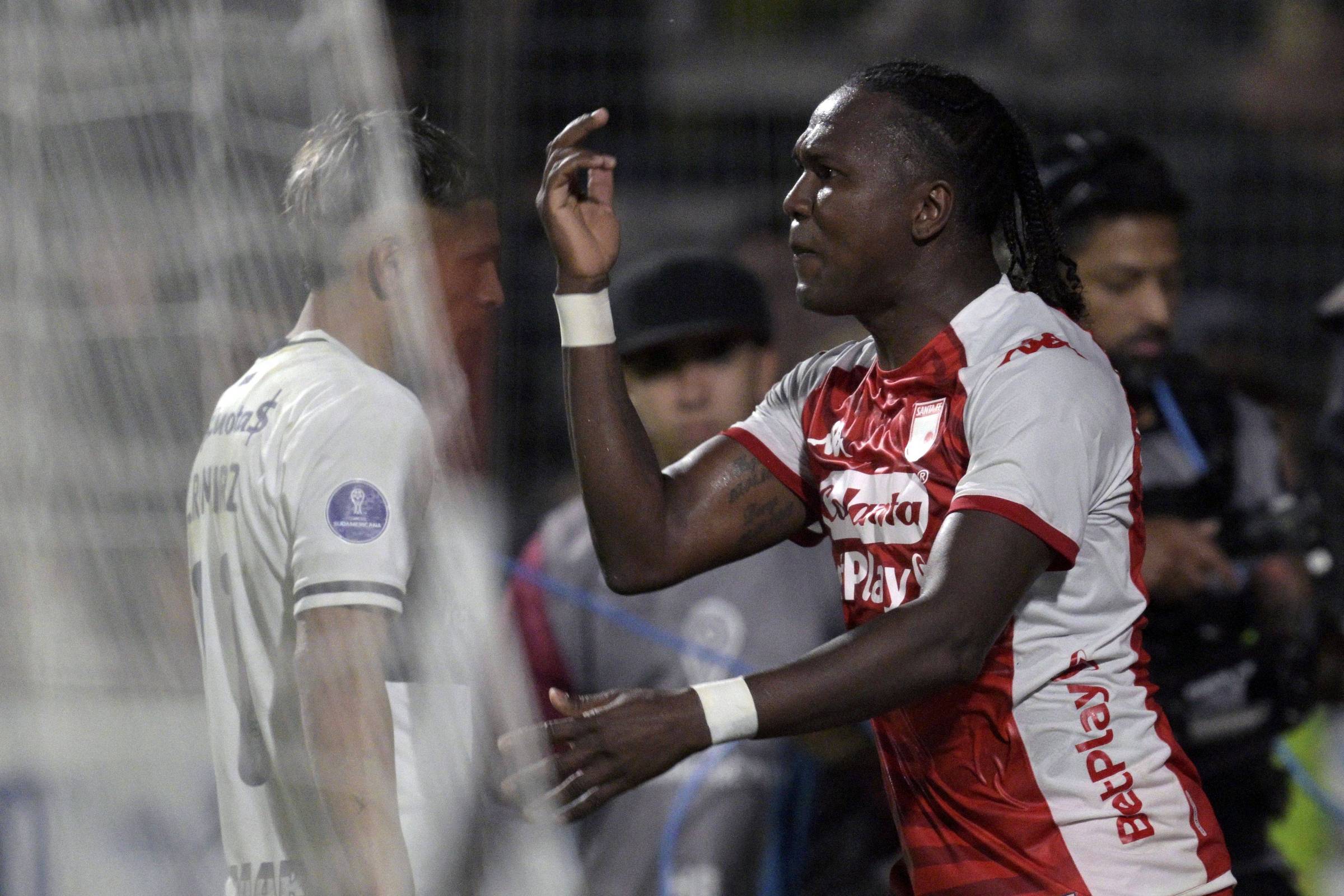 Just this month of May, Conmebol competitions had four cases of racism similar to that suffered by Vinicius Junior in Spain.
"We have not improved as humanity. What has happened is a disaster. Racism is tiring. Calling you a monkey and a black person is disrespectful," said Colombian striker Hugo Rodallega.
He complains of racial offenses suffered in the match of his team, Independiente Santa Fe-COL, against Gimnasia La Plata-ARG, for the Copa Sudamericana, last Tuesday (23).
There are five complaints of racist incidents this year in the two continental competitions organized by the confederation: Libertadores and Sul-Americana.
In February, Atlético Mineiro players were greeted with shouts of "monkeys" by Carabobo fans before a clash for the Libertadores.
After that, there were complaints in Racing-ARG x Flamengo, Internacional x Nacional-URU (both for Libertadores), Gimnasia x Independiente Santa Fe and Audax Italiano-CHI x Santos (both for Sul-Americana).
The last one happened this Wednesday (24). Santos Joaquim and Ângelo complained of racial insults suffered in the match played in Rancagua, Chile.
"We have already notified Conmebol and now we are waiting. Some solution will have to be taken. We want an urgent response. It is an alternative that hurts, but, if there is any manifestation, no matter where: 'bye'. The team needs to leave field," says team president Andres Rueda.
"I don't like the way things are going. Are they going to punish the club with a fine or loss of points? This is not a solution, it will not solve. Someone who is in charge of football – federations, Conmebol, CBF or FIFA – needs to find a real solution", he adds.
The South American Confederation opened an investigation to ascertain the facts.
In the cases of Racing and Carabobo, the entity had applied the maximum fine provided for in the regulation: US$ 100,000 (R$ 500,000 at current quotations).
A Sheet consulted Conmebol regarding these incidents and whether other measures are being studied by the entity, such as loss of points or closure of stadiums. There was no answer.
"For a long time now, the main international football organizations have been developing mechanisms to combat racism. But they follow a pattern that does not go to the roots of the problem. Commercial sport is not an example of democracy, but an institution that historically has passed over the horizons radically democratic. Punishments based on figures reflect a lack of creativity and the inability of sports and government institutions to offer concrete horizons for overcoming [sistêmica] of racism", says Neilton Ferreira Junior, PhD in Sciences from the School of Physical Education and Sport at USP (University of São Paulo).
Cases of racism came more into the focus of discussions because of Vinicius Junior. The Brazilian striker complained about being insulted and called a "monkey" during the game between Real Madrid and Valencia, which was interrupted by arbitration last Sunday (21).
These attacks led the Public Prosecutor's Office to open an investigation into "hate crime", a criminal category that, in Spain, includes racial crimes. It is the 10th time that the Brazilian has suffered racial attacks in the last two years.
After the case in Valencia, LaLiga, organizer of the Spanish Championship, received an avalanche of criticism and accusations. Unlike Conmebol, the Spanish entity has manifested itself. It released videos, campaigns and various official notes, and its president, Javier Tebas – the same one who, on Sunday, came to criticize Vinicius–, apologized to the player.
"Of course I'm worried [com a imagem]. If he wasn't, he'd be out of his mind. We will work to resolve this image. I'm worried and we have work to do. In life, sometimes we receive blows", said the top hat in an interview this Thursday.
Seven people were arrested by Spanish police. Three of them related to offenses in Valencia. After deposition or payment of bail, all were released.
"Everyone is talking about Vinicius Junior, but we need to look at South America. There were more than 12 cases last year. so big, we have to punish so that racists feel inhibited from going to the football stadium", opines Marcelo Carvalho, director of the Observatory of Racial Discrimination in Football.
In South America, a Racing supporter was filmed making gestures imitating a monkey towards Flamengo supporters. In Internacional and Nacional, Uruguayan was photographed showing a banana in the direction of a group of gauchos.
"Punishment is punishing the club The racist will feel the punishment in the club. It is difficult to punish the CPF, the individual. How are you going to punish a fan [em competição internacional]? How are you going to guarantee that Racing fans don't go to São Paulo to watch the game?", completes Carvalho.
"Athletes, in general, are easy targets for violence of all kinds because they don't find spaces for vocalizing and collectively claiming their interests. Sports institutions are recognized for the autocratic way of their deliberations, which prevents the main stakeholders from remain on the sidelines of any process of determining the destiny of sport. The abundant demonstrations that globalized sport is facing a crisis should encourage society to compete in sport based on values ​​other than more-profit", says Ferreira Júnior.