See recipe for rice and salmon made in one pot – 03/15/2023 – Food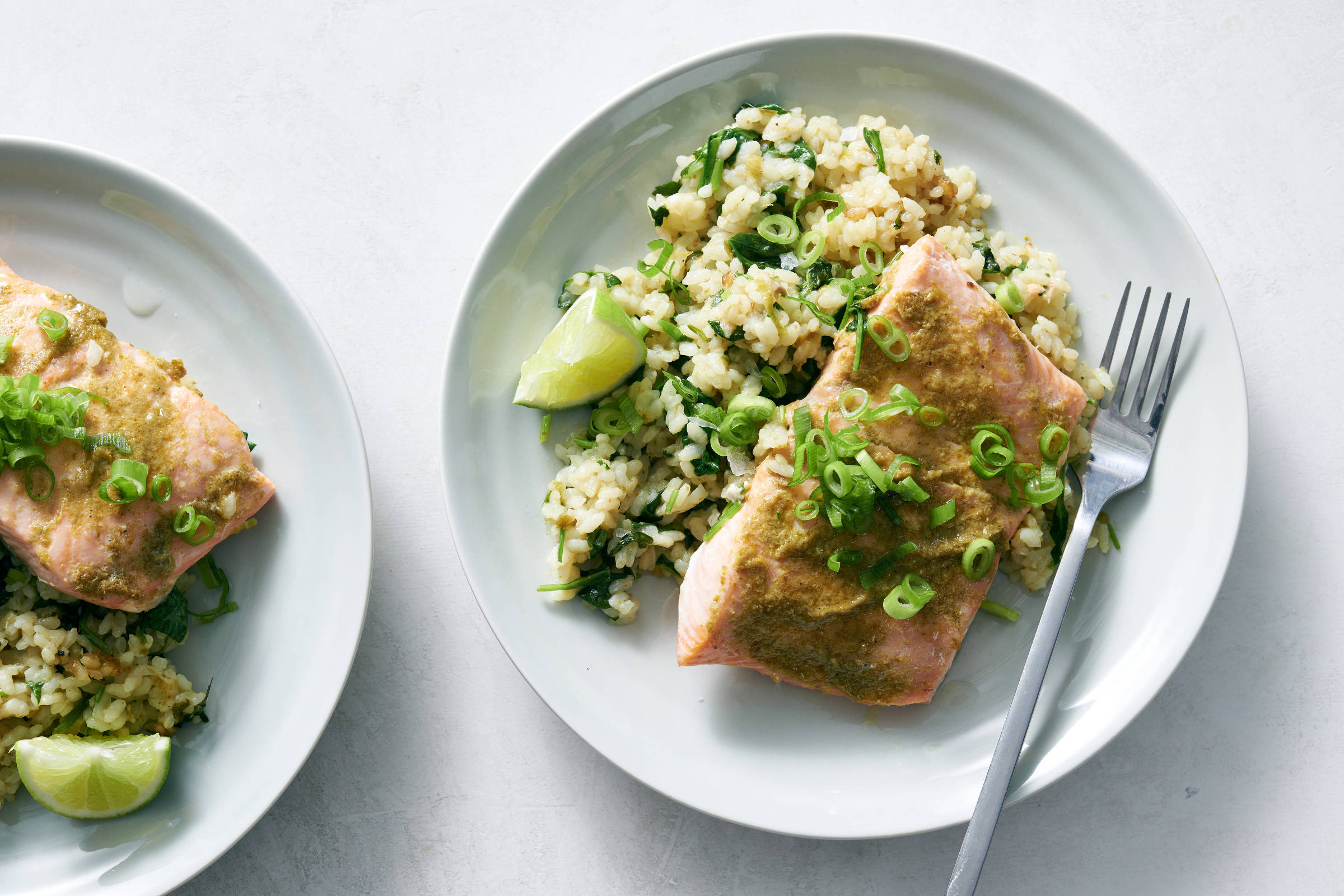 The sweet coconut milk helps balance the tangy flavor of the Thai green curry paste in an easy-to-prepare rice and salmon meal that can be made in one pot.
Fresh chives and cilantro add the herbal freshness, and chopped spinach makes everything even greener.
Keep in mind that different brands of rice absorb different amounts of water, so don't be afraid to add more water when needed.
---
Green curry salmon with coconut rice
Performance: four to six servings
Total time: one hour
Ingredients:
From 500 to 700 grams of skinless salmon fillets

Fine sea salt and freshly ground black pepper

Four tablespoons of green curry paste (can be purchased at Liberdade, in São Paulo, or at specialized emporiums)

Two tablespoons of virgin coconut oil (or use a neutral oil such as canola)

A bunch of spring onions, white and green, thinly sliced

Two garlic cloves, finely grated or minced

1 glass (430 ml) of unsweetened coconut milk

1.75 cups sushi rice or other short-grain rice, rinsed well

Two cups of chopped spinach

1 cup chopped cilantro leaves, including softer stems

Lemon slices to serve
Preparation:
1. Lightly season the salmon with salt and pepper, and spread a tablespoon of curry paste over all the fillets. Separate.
2. Heat the oil in an iron pan with a lid over medium heat. Stir in the white chives and most of the greens, but reserve two tablespoons of the green chives for garnish. Cook until browned, about three minutes. Add the garlic and a pinch of salt, stirring, and cook until fragrant, about 1 minute more.
3. Add the coconut milk, stirring, then add the remaining three tablespoons of green curry, 1.5 cups of water and 1.5 teaspoons of salt. Put the already rinsed rice and reduce the heat to low. Simmer, covered, stirring occasionally, for 20 minutes. Using a wooden spoon, gently fold in the spinach, cilantro and a pinch of salt. If the rice looks dry and threatens to stick to the bottom of the pan, add an additional two to four tablespoons of water.
4. Place the salmon fillets on top of the rice, increase the heat slightly (to medium-low) and cook, covered, until the salmon is cooked through, 12 to 20 minutes, depending on the thickness of the slices. fillets.
5. Take it off the heat and taste the rice to see if it's done. If the salmon is done before the rice, gently remove the fish from the pan using a metal spatula. Transfer to a plate and cover with an inverted plate or foil to keep warm, then continue to cook the rice until done, adding more water if it looks dry. Taste and season with salt as needed. Squeeze a slice of lemon over the salmon and serve immediately, garnished with the rice, reserved spring onions and more lemon wedges on the side.
translation by Paulo Migliacci