See 15 resorts to take the kids on the July holidays – 05/24/2023 – Tourism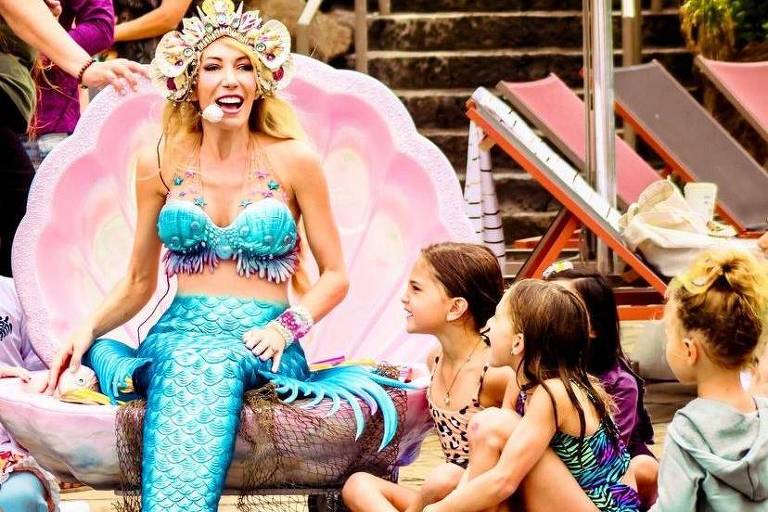 The June festivities, the world of the circus and movie successes, such as the movie "Diversão Mente", inspire the activities of some Brazilian resorts during the July holidays. Soccer school, TikTok workshop, mermaid class and even a baby race are also on the agenda.
Below, see 15 hotels with programming for various ages. There are options by the sea, in the countryside and in the city. It is possible to take advantage of the low winter temperatures or escape the cold, dive into the sea or the heated pool, enjoy the all-inclusive system or just breakfast, enjoy the resort alone or choose a destination that has attractions outside of it.
Barretos Country Park Resort, Barretos (SP)
The guest has free access to the water park, the mini zoo and the farm, where you can ride horses and bathe the animals. The July schedule includes a luau on the artificial beach and happy hour on Wednesdays and Fridays. The rustic theme is also present in the restaurant, which has a wood stove.
Av. Pedro Vicentini, 303, Bairro Aeroporto. Three-night package, with full board (drinks not included with meals), from BRL 3,284 per room with a couple and two children up to 12 years old. WhatsApp (17) 3321-2323; barretoscountry.com.br
---
Bourbon Atibaia Resort, Atibaia (SP)
The inauguration of an indoor water park on July 1st is the big news for this complex, located at the intersection of the Fernão Dias and Dom Pedro 1º highways. The fun continues with a photo session, presentation of children's plays, magic shows, pizza workshops, games with Turma da Mônica, among other attractions. The hotel has heated swimming pools, bowling, soccer fields, archery, tennis courts and beach tennis.
Rod. Fernão Dias, km 37.5, Jardim Boa Vista. Two-night package, with full board and non-alcoholic drinks with meals, from BRL 3,447 per room with a couple and two children up to 6 years old. Whatsapp (11) 95324-1148; bourbon.com.br
---
Carmel Cumbuco Resort, Caucaia (CE)
How about playing beach tennis by the sea, practicing kitesurfing, doing yoga or simply relaxing on the beach feeling the Ceará breeze? At this hotel on the beach in Cumbuco, 25 km from Fortaleza, you can enjoy all of this while the children participate in activities organized by the monitors, such as treasure hunts, cupcake decorating, cinema with popcorn and an art workshop. Music, with DJ or voice and guitar, enlivens the stay at the resort, which offers ATV, raft and horse riding.
Av. dos Coqueiros, s/n°, Cumbuco Beach. Rate, including breakfast, from BRL 1,839 per room with a couple and two children up to 12 years old. WhatsApp (85) 8124-3314; carmelhoteis.com.br
---
Casa Grande Hotel, Guaruja (SP)
The resort's children's club, which is located on Enseada beach, is open from 9 am to 10 pm. The July program offers activities inspired by the movie "Inside Out", such as a treasure hunt for Batman to regain his emotions, crossing the laughing bridge, a blindfolded memory game to decipher 3D objects and a competition for the funniest jokes .
Av. Miguel Stéfano, 1001, Enseada. Rate, including breakfast, from BRL 1,659 per room with a couple and a child up to 10 years old. Tel. (13) 3389-4000; casagrandehotel.com.br
---
Club Med Rio das Pedras, Mangaratiba (RJ)
Amateur or professional sportsmen don't stop at this hotel on the coast of Rio de Janeiro. Instructors from the Zico 10 Camp school, run by the former soccer player, teach ball tricks to girls and boys aged 6 to 15, from July 5 to 30. In addition, Mini Club Med has recreation for children separated by age group, including creative workshops, educational games and archery, water skiing and wakeboarding classes. And the whole family can enjoy kayaking, beach tennis, beach volleyball, basketball and other activities in the water, on the sand and on the courts.
Rod. BR-101 (Rio-Santos), km 441.5, Conceição de Jacareí. Five-night package, in the all-inclusive system, from BRL 10,384 per room with a couple and two children up to 3 years old. WhatsApp (21) 96782-0782; clubmed.com.br
---
Costa do Sauipe, Mata de São João (BA)
Arraiô is the name of the São João festival held daily until the month of July, with attractions such as square dancing, country weddings, June games, shows, typical food and workshops on flags, forró music and handicrafts. At night, there is the Quermesse da Vila, which is held throughout the year with a Ferris wheel, carousel and presentations. Costa do Sauípe is a tourist destination by the sea in the north of Bahia, with four resorts, sports courts, a spa and a center with restaurants. The children's club has swimming pools, a playroom, a theater and a playground.
Rod. BA-099 (Green Line), km 76, Sauípe. Four-night package, in the all-inclusive system, from BRL 5,246 per room with a couple and two children up to 11 years old. WhatsApp (11) 4200-0173; costadosauipe.com.br
---
Grande Hotel Senac, Campos do Jordao (SP)
The resort has a forest, children's tree climbing and a playground among the araucarias. In July, children learn scientific concepts playing and participate in culinary workshops. The adults discover Serra da Mantiqueira recipes in a clearing. The festival takes place every fourth of the month. On Sundays, each guest gets a t-shirt with their caricature.
Av. Friar Orestes Girardi, 3549, Capivari. Three-night package (from Thursday to Sunday), with full board (drinks not included with meals), from BRL 6,195 per room with a couple and a child up to 5 years old. Whatsapp (12) 3668-6267; grandehotelsenac.com.br
---
Malai Manso, Chapada dos Guimaraes (MT)
Flying trapeze classes are one of the differentials of the vacation program. In July, it will also be possible to see the hotel from the top of a balloon attached to the ground by ropes. The destination is ideal for those who want to escape the cold in winter, as the maximum temperatures in the Chapada dos Guimarães region are usually above 30ºC. In addition, guests can have fun with walking trails, a climbing wall, archery, thematic workshops, games, shows, night ballads and water sports on the lake.
Rod. MT-351, km 67, Lago do Manso. Two-night package, in the all-inclusive system, from BRL 3,775 per bungalow with a couple and two children up to 9 years old. WhatsApp (65) 98174-0141; malaimansoresort.com.br
---
Nannai Muro Alto, Ipojuca (PE)
The water bladder fight is one of the children's activities in July at the resort, located on Muro Alto beach, 9 km from Porto de Galinhas. There are also artistic and culinary workshops, film screenings, detective games and the Just Dance dance game. Meanwhile, parents have at their disposal sand courts, nautical center, golf course and collective swimming pools, in addition to the private ones in the bungalows.
Rod. PE-09, km 3, Muro Alto. Daily, with breakfast and dinner (drinks not included), from BRL 3,850 per bungalow with two people; the third person in the same room pays 30% of the daily rate, regardless of age. WhatsApp (81) 3552-0100; nannai.com.br
---
Novotel Itu Terras de Sao Jose Golf & Resort, Itu (SP)
Theme parties, scouting, bonfires with marshmallows and championships are part of the month's schedule. The place has a kids club, water park, games room and sports complex. Guests are entitled to a discount on the Terras de São José Golf Club course. The resort offers beach tennis and tennis courts, trapeze, climbing wall, spa and electric bikes for rent.
Al. São Paulo Golf, s/n°, Terras de São José I. Rate, with full board and afternoon tea (drinks not included), from R$2,543 per room with a couple and two children up to 12 years old. Those who book three nights get the fourth. WhatsApp (11) 2118-1400; novotelitu.com.br
---
Praia Bonita Resort, Nisia Floresta (RN)
Ecological walks, beach volleyball, minigolf, beach soccer and live music make your holidays more enjoyable at this resort located on Camurupim beach, 70 km from Natal airport. Parents can relax in the jacuzzi, sauna or spa while the kids play in the pool or in the kids area. The activities are diverse: marbles, rubber bands, face painting, board games and movies. In addition to the sea, the region has more than 20 lakes, some of which are available for water sports.
Av. Monsignor Antônio Barros, 13, Praia de Camurupim. Rate, including breakfast, from BRL 430 per room with a couple and two children up to 8 years old. WhatsApp (84) 98823-9090; praiabonita.com
---
Royal Palm Plaza, Campinas (SP)
In July, different sports activities take place at the same time —for example, yoga, beach tennis, dancing and spinning. Anyone who wants to can try the Kata Kuka Game (R$80 per person), a labyrinth with a climbing wall, tree climbing and zip lines. In addition, there is a mini village for children from 3 to 6 years old with a house, castle, spaceship and ship. Other resort attractions are the seven pools, including four heated, tennis courts, archery, spa and cinema.
Av. 277 Royal Palm Plaza, Jardim Nova California. Daily, with full board and non-alcoholic drinks included in the meals, with a value from R$ 2,378 per room with a couple and a small child, up to 6 years old. WhatsApp (19) 99634-7315; royalpalm.com.br
---
Salinas Maragogi Resort, Maragogi (AL)
Here, even babies have a special program in July, with musicalization activities and crawling competitions. The children participate in thematic hunts, sports competitions, float races inside the pool and craft workshops. Teenagers, on the other hand, enjoy the teen club, the TikTok workshop and Escape Out, with themed rooms that challenge logical reasoning to decipher riddles. And adults sing karaoke, take dance classes and participate in a beer competition. Country nights and walks during sunset to the sound of an accordion also pack the season. There is also tree climbing, zip lining, kayaking, trails and, to relax, a spa.
Rod. AL-101 North, km 124, Praia da Vila. Daily, in the all-inclusive system, from R$ 1,799 per room with a couple and a child up to 12 years old. Tel. (82) 4042-1352; salinas.com.br
---
Tivoli Ecoresort Praia do Forte, Mata de Sao Joao (BA)
The kids can become a mermaid and a soccer star at this beachfront hotel in northern Bahia. Every Thursday in July, in the afternoon, the mermaid Aurora puts on a show in the kids' club pool and then swims with the children, who learn to be a mermaid or a merman with flippers and special costumes. Soccer fans aged 4 to 16 have classes at the French club Paris Saint-Germain's clinic on Mondays, Tuesdays, Thursdays and Fridays. Other than that, the little ones can have coffee with the Jornaleco Group, which makes a presentation on sustainability; teens enjoy activities like the neon party; and adventurers can try the climbing wall and tree climbing.
Av. do Farol, s/n°, Praia do Forte. Rate, with breakfast and dinner with non-alcoholic drinks, from BRL 2,140 per room with a couple and a child up to 11 years old (price valid for reservations made up to 30 days before the stay). Tel. (71) 3676-4000; tivolihotels.com
---
Wish Serrano, Gramado (RS)
In July, the circus universe invades the hotel in Rio Grande do Sul, which will promote games with juggling, acrobatics, magic tricks, face painting and a slime workshop, all in a circus setting. Guests can play tennis, practice archery or have a picnic in the Araucaria forest. The resort has five restaurants, including an Italian one and a steakhouse specializing in prime cuts. Kids space, spa, theater and chapel are other facilities.
Av. das Hydrangeas, 1480, Center. Four-night package, with breakfast, from BRL 5,000 per room with a couple and two children up to 12 years old. WhatsApp (11) 98814-8884; wishhotels.com.br