Santos suggests abandoning games with racist acts – 05/25/2023 – Sport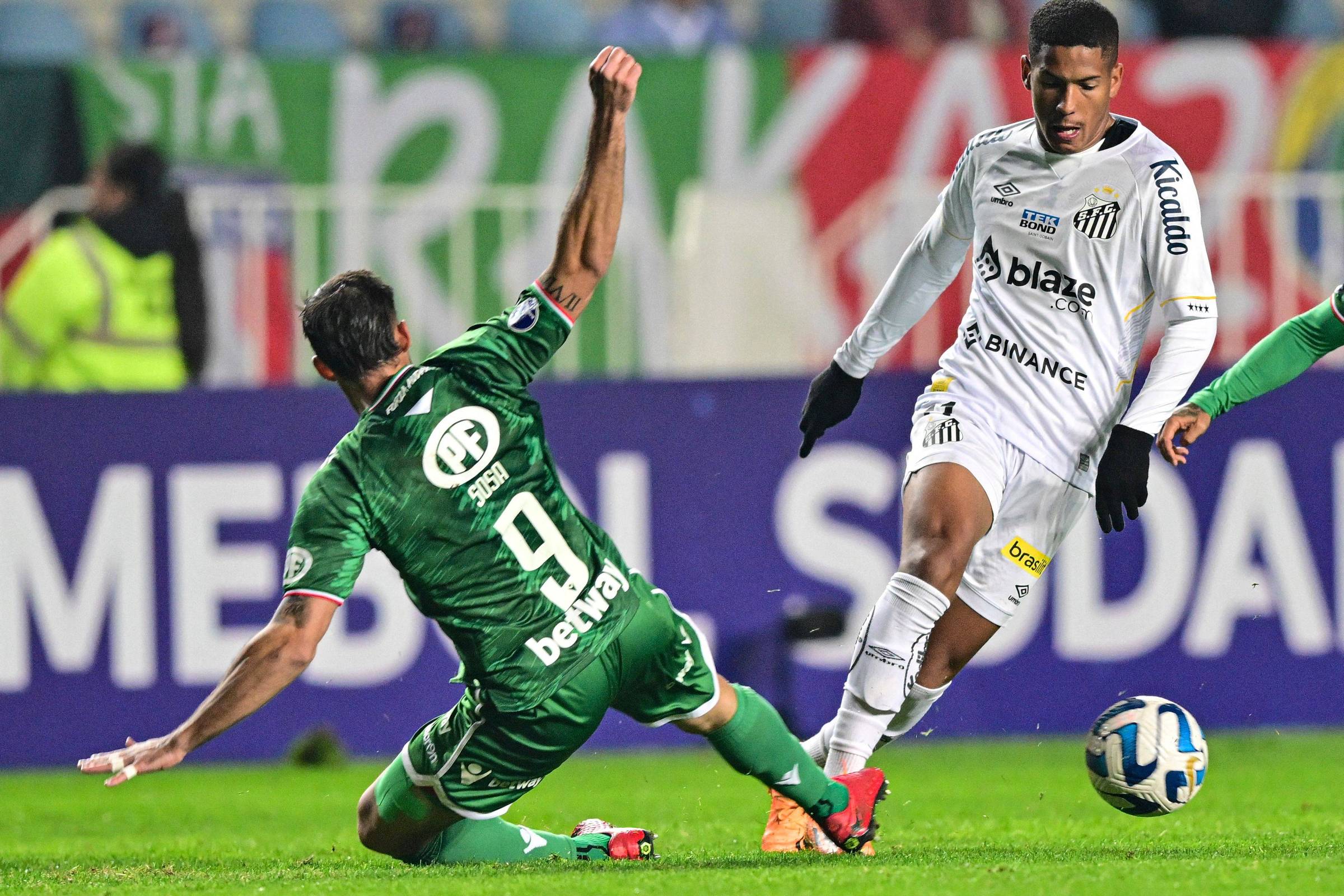 The president of Santos, Andres Rueda, said this Thursday (25) that he is considering asking other clubs for help to form a kind of task force in an attempt to promote a revolution in punitive measures in the fight against racism.
The move would be accompanied by encouraging associations to adopt an unusual attitude in the field of football: the abandonment of games with crimes of this type, causing a kind of culture shock in the sport.
Rueda said to Sheet who fears what he classifies as "soft measures" on the part of Conmebol, such as a fine and the loss of field men, after the denunciation of racial offenses directed at Ângelo and Joaquim during the 2-1 defeat by Audax last Wednesday- fair (24), in Rancagua, Chile, for the Copa Sudamericana.
"We have already notified Conmebol and now we are waiting. Some solution will have to be taken. We want an urgent response. My particular position and which I hope to take forward is to set up a task force with the help of other clubs. an alternative that hurts, but, if there is any manifestation, it doesn't matter where: 'bye'. The team needs to leave the field. But one swallow doesn't make a summer", he explains to Sheet.
"I don't like the way things are going. Are they going to punish the club with a fine or loss of points? This is not a solution, it will not solve. Someone who is in charge of football – federations, Conmebol, CBF or FIFA – needs to find a real solution. If it does not come, the attitude will have to come from the bottom up. Everything in time. For now, we await the movement of the competent bodies", he completes.
The Santos leader was born in Spain, the country that hosts LaLiga, a competition that has become the epicenter of discussions for more severe measures involving racial insults in football, after the acts committed by Valencia fans last Sunday (21), in a match against Real Madrid.
"This is not the problem of a single country. It exists in Argentina, here in Brazil… and it will not stop with mild measures. There are several cases here, too. We need to stop trying to cover the sun with a sieve. We have to resolve," he argues.
For the case involving Vinicius Júnior, the Spanish Football Federation announced the partial closure of the south stand of the Mestalla stadium, from Valencia, where three men were identified who gave testimony to the local police. The club was punished with a fine of 45,000 euros (R$ 242,000, at current prices).
"More needs to be done in cases like this. End the show, leave both teams. If the pseudo-fan lacks civility, it needs to be like this. This broke out with the case of Vinicius Júnior, but it is a problem worldwide. Santos, now, he felt it. I, particularly, consider it disrespectful to everyone: Ângelo, Joaquim and the greatest in football that is Pelé. Football needs to contribute with the share they expect from it, not only to say that it is against racism, but to show be in fact," he concluded.
According to the club, the two athletes mentioned were attacked verbally and with gestures imitating monkeys by fans of the opposing team.
"Santos Futebol Clube, once again, goes public to denounce and vehemently repudiate yet another case of racism in football. This time, the targets of racial slurs were our players Ângelo and Joaquim. The two athletes were attacked verbally and with gestures imitating monkeys by opposing fans present at today's match", brings an excerpt from a publication by Santos on Twitter.
Santos stated that the crime was reported while still inside the stadium, to Conmebol representatives. With the two cases officially registered, the club awaits the entity's position on this "unacceptable" situation.
Paulo Roberto Falcão, Football coordinator for Santos demanded serious measures. "Things don't stop if you don't have serious measures, severe punishments, because it's not difficult to identify. We're talking about this a few days after what happened to Vinicius Junior at Real Madrid. Someone has to stop this. That depends a lot on the institutions ", he declared to the De Olho no Peixe channel.
According to Falcão, the clubs complain, regret, but have a limit of action in these cases.
"We complain, we regret and that is at our limit. It is a sad manifestation of racism and that has to be seriously fought. It is not possible that Vinicius Junior had an impact in the world and people repeat it today here a few days later. It means that it's not enough for us to just keep talking, there has to be punishment".
Ângelo also expressed himself to the De Olho no Peixe channel demanding an attitude and asked that the case not end "only in the statement or hashtag", alluding to the criticism used by Vinicius Júnior of Javier Tebas, president of La Liga, hours after what happened in Valence.
The Spanish manager insinuated on Twitter that the player was being manipulated and that he would not let the Brazilian tarnish the image of the competition. Days later, he apologized for the lines.
On Tuesday (23), Colombian Hugo Rodallega, from Independiente Santa Fe, said he was called a "monkey" in a discussion during the game against Gimnasia y Esgrima, from La Plata, Argentina, also for the Copa Sul- American.
"We don't improve as humanity, it's a disaster what happens all over the world, it's sad that we come here and this happens. I'm not saying that we lost the game because of the people, but the issue of racism is tiring", lamented Rodallega in statements to the official broadcast of the match, which ended with the victory of Gimnasia by 1 to 0.