Santos players accuse Chilean fans of racism – 05/25/2023 – Sport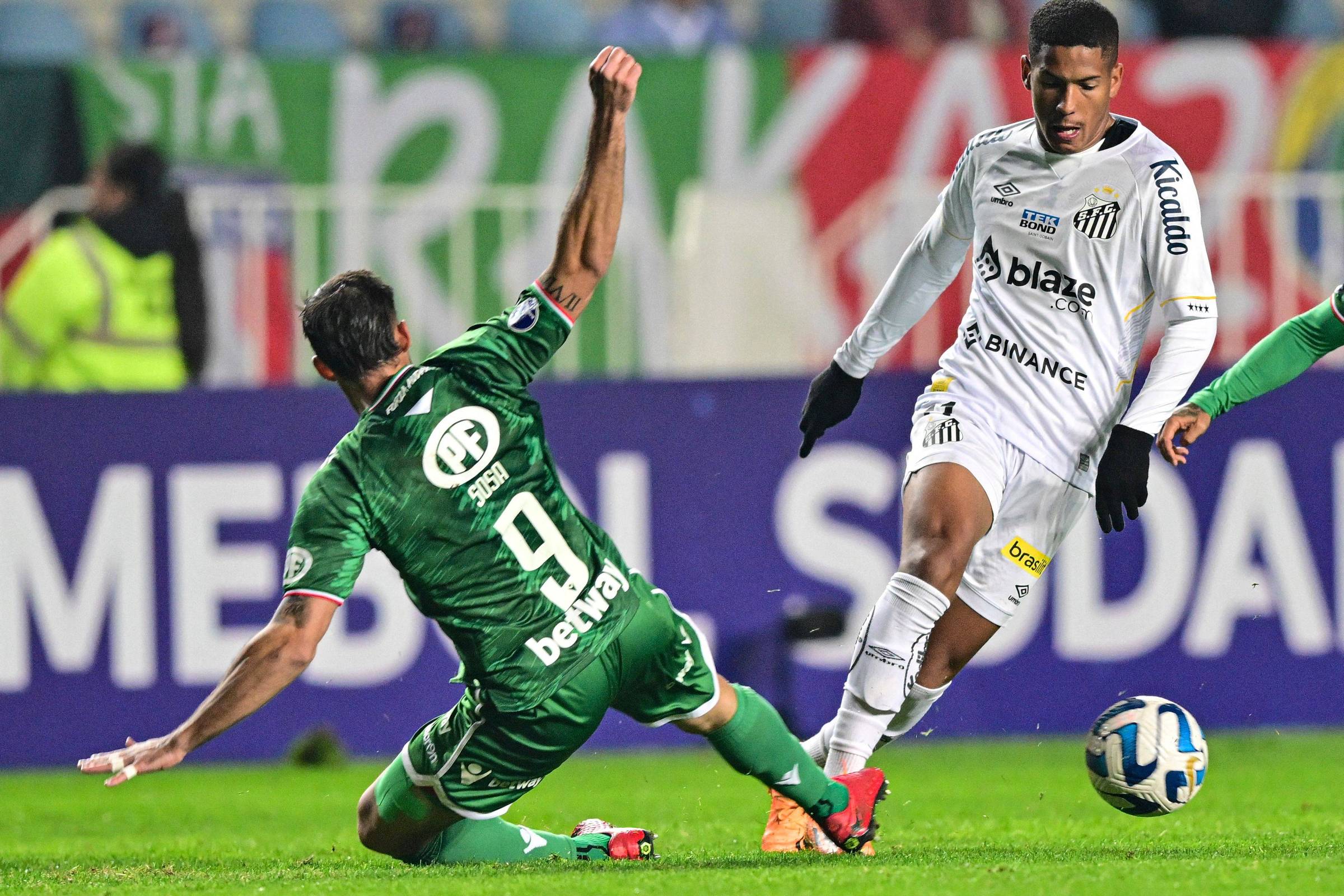 Santos denounced racist attacks that would have been directed at two of its athletes in the Copa Sudamericana match, played on Wednesday night (24), in Rancagua, Chile, against Audax Italiano. The targets were the players Ângelo and Joaquim.
The two, according to the club, were attacked verbally and with gestures imitating monkeys by fans of the opposing team.
"Santos Futebol Clube, once again, goes public to denounce and vehemently repudiate yet another case of racism in football. This time, the targets of racial slurs were our players Ângelo and Joaquim. The two athletes were attacked verbally and with gestures imitating monkeys by opposing fans present at today's match", brings an excerpt from a publication by Santos on Twitter.
Santos stated that the crime was reported while still inside the stadium, to Conmebol representatives. With the two cases officially registered, the club awaits the entity's position on this "unacceptable" situation.
"As has already been said, racism must not only be combated, but also severely punished," the club said.
Paulo Roberto Falcão, Football coordinator for Santos demanded serious measures. "Things don't stop if you don't have serious measures, severe punishments, because it's not difficult to identify. We're talking about this a few days after what happened to Vinicius Junior at Real Madrid. Someone has to stop this. That depends a lot on the institutions ", he declared to Eye on the Fish channel.
According to Falcão, the clubs complain, regret, but have a limit of action in these cases.
"We complain, we regret and that is at our limit. It is a sad manifestation of racism and that has to be seriously fought. It is not possible that Vinicius Junior had an impact in the world and people repeat it today here a few days later. It means that it is not enough for us to just keep talking, there has to be punishment", he concluded.
The attack against Santos players takes place in the same week that the world mobilized to demand effective actions against racism in football, after Brazilian player Vinicius Junior was targeted by Valencia fans, on Sunday (21).
On Tuesday (23), Colombian Hugo Rodallega, from Independiente Santa Fe, said he was called a "monkey" in a discussion during the game against Gimnasia y Esgrima, from La Plata, Argentina, also for the Copa Sul- American on Tuesday.
"We don't improve as humanity, it's a disaster what happens all over the world, it's sad that we come here and this happens. I'm not saying that we lost the game because of the people, but the issue of racism is tiring", lamented Rodallega in statements to the official broadcast of the match, which ended with the victory of Gimnasia by 1 to 0.