Popular car: 28 models that could be cheaper – 05/26/2023 – Market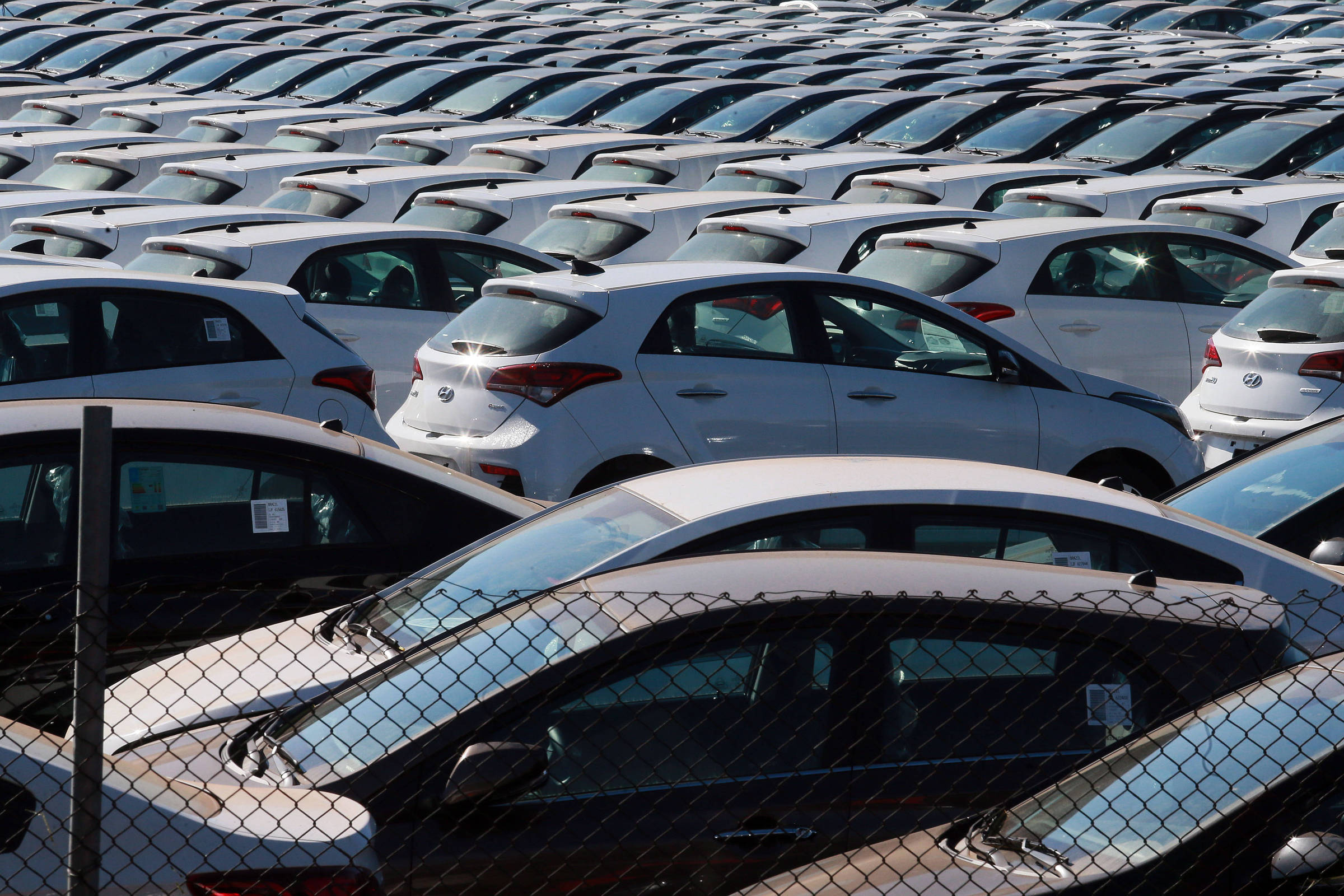 Fiat, Hyundai and Chevrolet are among the automakers that can offer cheaper cars after vice president Geraldo Alckmin (PSB) announced, this Thursday (25), that the government will reduce the IPI and PIS/Cofins for vehicles up to BRL 120 thousand.
The report shows 28 models and 79 versions of cars from ten automakers that should have a reduction with the new government package. The current values ​​of each of them were provided by the companies. Only in the case of Chevrolet were the prices obtained from its official website.
The objective is to reduce the initial prices of compact models with a 1.0-liter engine to a range between R$50,000 and R$60,000. The discount will be higher for cheaper cars. Today, the cheapest cars sold in Brazil are the Renault Kwid, in the Zen version, and the Fiat Mobi, which cost almost R$69,000.
The high prices of popular cars have become a frequent complaint by President Lula. "The car factory is not selling well, but what poor person can buy a R$90,000 popular car?", questioned the president during the inaugural session of the Development, Economic and Social Council, at the beginning of the month.
According to the new plan, the drop in final vehicle prices will vary from 1.5% to 10.96%. The rates for each reduction range will still be announced by the government.
---
See which car models can get cheaper with government measure
fiat
Mobi Like 1.0 Flex 4P 2023: BRL 68,990

Mobi Trekking 1.0 Flex 4P 2023: BRL 72,290

Argo 1.0 Flex 4P 2023: BRL 79,790

Argo Drive 1.0 Flex 4P 2023: BRL 83,190

Argo Trekking 1.3 Flex 4P 2023: BRL 91,990

Argo Drive 1.3 Automatic Flex 4P 2023: BRL 92,990

Argo Trekking 1.3 Automatic Flex 4P 2023: BRL 97,990

Cronos 1.0 Flex 4P 2023: BRL 84,790

Cronos Drive 1.0 Flex 4P 2023: BRL 88,890

Cronos Drive 1.3 Flex 4P 2023: BRL 95,990

Cronos Drive 1.3 AT Flex 4P 2023: BRL 97,990

Cronos Precision 1.3 AT Flex 4P 2023: BRL 109,890

Pulse Drive 1.3 MT Flex 4P 2023: BRL 100,990

Pulse Drive 1.3 AT Flex 4P 2023: BRL 107,990

Pulse Audace Turbo 200 Flex AT 4P 2023: BRL 119,990

Strada Endurance Cab Plus 1.4 EVO Flex 2023: BRL 99,990

Strada Freedom Cabine Plus 1.3 8V Flex 2023: BRL 105,990

Strada Freedom Double Cab 1.3 8V Flex 2023: BRL 111,990

Strada Volcano Double Cab 1.3 8V Flex 2023: BRL 112,990

Strada Volcano Double Cab 1.3 8V AT Flex 2023: BRL 118,990

Fiorino Endurance 1.4 Flex MY'24: BRL 111,990
Peugeot
New 208 Like 1.0 MT 2023: BRL 90,190

New 208 Style 1.0 MT 2023: BRL 99,990

New 208 Active 1.6 AT 2023: BRL 108,990

New 208 Allure 1.6 AT 2023: BRL 112,990

New 208 Roadtrip 1.6 AT 2023: BRL 114,990

2008 Allure 1.6 AT 2023: BRL 107,990

2008 Style 1.6 AT 2023: BRL 113,990

2008 Roadtrip 1.6 AT 2023: BRL 114,490

Partner Rapid 2023: R$110,990
citroen
C3 Live 1.0 MT: BRL 72,990

C3 Live Pack 1.0 MT: BRL 80,990

C3 Feel 1.0 MT: BRL 83,990

C3 Feel 1.6 MT: BRL 91,990

C3 Feel Pack 1.6 AT: BRL 97,790

C3 First Edition Edition 1.0 MT: BRL 88,990

C3 First Edition Edition 1.6 AT: BRL 102,490

C4 Cactus 1.6 Live AT: BRL 108,990
Nissan
New Versa Sense CVT: BRL 101,190

New Versa Advance CVT: BRL 110,490

Kicks 1.6 Active CVT: BRL 112,990

Kicks 1.6 Active CVT with multimedia: BRL 114,990
hyundai
HB20 2023/2024 1.0 12V Flex Sense MT5 blueAudio: BRL 82,290

HB20 2023/2024 1.0 12V Flex Comfort MT5 blueMedia: BRL 85,590

HB20 2023/2024 1.0 12V Flex Limited MT5 blueMedia: BRL 90,690

HB20 2023/2024 1.0 TGDI 12V Flex Comfort MT6 blueMedia: BRL 98,990

HB20 2023/2024 1.0 TGDI 12V Flex Comfort AT6 blueMedia: BRL 104,590

HB20 2023/2024 1.0 TGDI 12V Flex Platinum AT6 blueMedia: BRL 110,590

HB20 2023/2024 1.0 TGDI 12V Flex Platinum Plus AT6 blueMedia: BRL 119,590

HB20S 2023/2024 1.0 12V Flex Comfort MT5 blueMedia: BRL 91,890

HB20S 2023/2024 1.0 12V Flex Limited MT5 blueMedia: BRL 97,090

HB20S 2023/2024 1.0 TGDI 12V Flex Comfort AT6 blueMedia: BRL 110,890

HB20S 2023/2024 1.0 TGDI 12V Flex Platinum AT6 blueMedia: BRL 117,390

Creta 2023/2024 1.6 16V Flex Action AT6 blueAudio: BRL 116,590
honda
New City Sedan EX CVT solid paintwork: BRL 118,700
toyota
Yaris XL Hatch: BRL 97,990

Yaris XL Sedan: BRL 97,990
Renault
Kwid 2023/2024 Zen 1.0: BRL 68,990

Kwid 2023/2024 Intense 1.0: BRL 71,590

Kwid 2023/2024 Outsider 1.0: BRL 74,990

Stepway 2023/2024 Zen 1.0: BRL 79,990

Stepway 2023/2024 Zen 1.6: BRL 101,890

Stepway 2023/2024 Iconic CVT 1.6: BRL 113,340

Duster 2023/2024 Intense 1.6 MT: BRL 112,590
volkswagen
New Polo Track 1.0 MPI: BRL 82,290

New Polo 1.0 MPI: BRL 86,390

New Polo TSI: BRL 95,990

New Polo Confortline TSI: BRL 106,290

New Polo Highline TSI: BRL 113,290

Virtus TSI: BRL 104,390

Virtus TSI AT: BRL 115,390

Sloop Cabin Simple Robust: BRL 94,490

Saveiro Cabine Simple Trendline: BRL 99,380

Sloop Robust Double Cabin: BRL 108,780

T-Cross Sense: BRL 116,550
Chevrolet*
Onix 2023: BRL 84,390

Onix Plus 2023: BRL 96,390

Spin: BRL 103,990

Montana: BRL 118,690
*prices from