Pavlova dessert recipe combines strawberry and sigh – 03/18/2023 – Food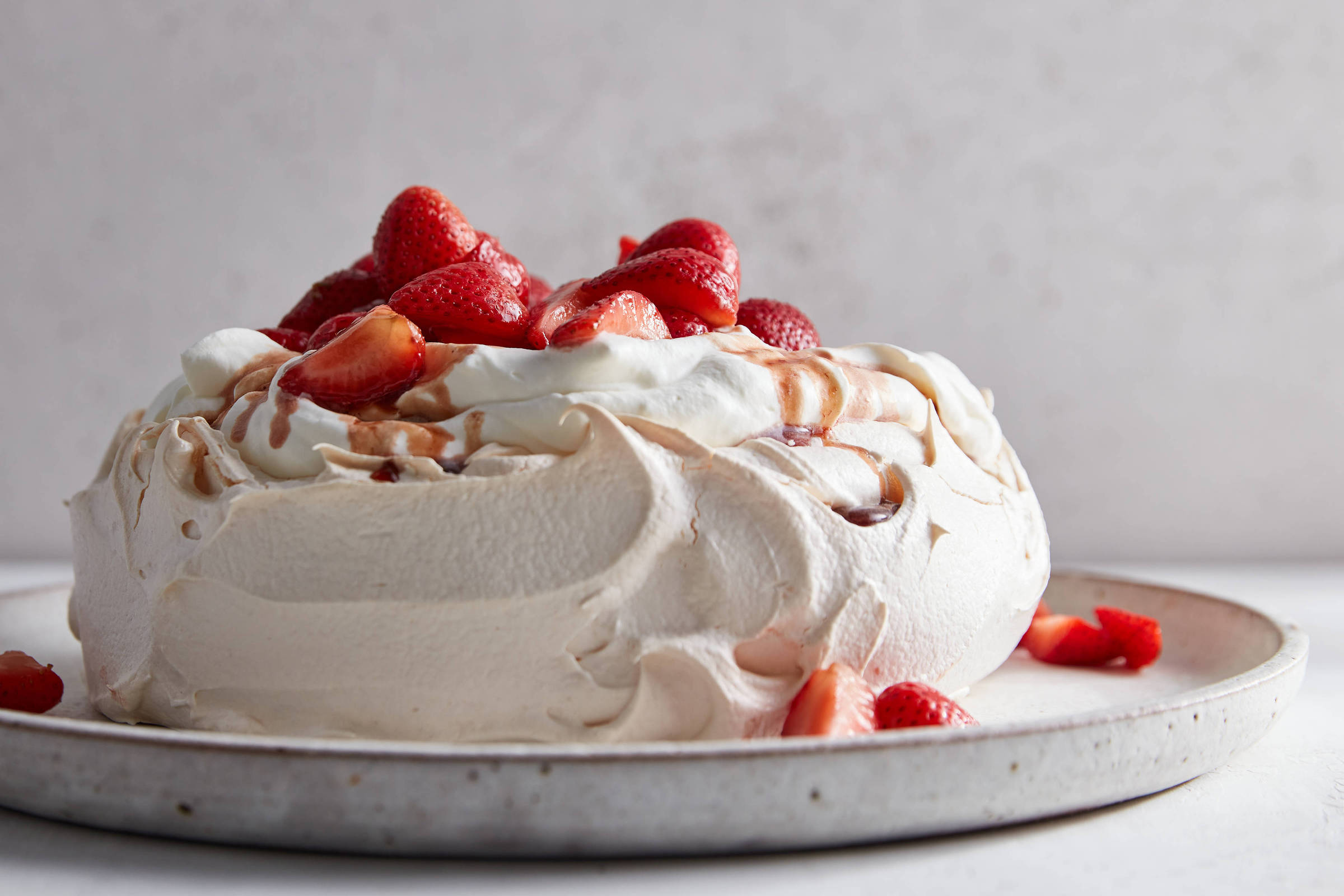 An advantage of this delicate and delicious dessert, named after the Russian ballerina Anna Pavlova, is that the meringue base can be made in advance.
To serve the pavlova, drizzle the strawberries with a little balsamic vinegar and vanilla (this combination brings out the essential flavor of the fruit as much as possible), whip the cream into whipped cream and arrange on a plate. It is magnificent and very easy to make.
strawberry pavlova
Performance 6 servings
Preparation 2 hours
INGREDIENTS
for the meringue

4 egg whites

A bit of salt

1 and ¼ cup icing sugar

2 teaspoons of corn starch

1 teaspoon white wine vinegar

A few drops of vanilla extract

To the roof

450 grams of strawberries, halved or quartered

½ teaspoon vanilla extract

1 teaspoon balsamic vinegar

2 teaspoons icing sugar

2 cups of sour cream
PREPARATION
1.For prepare the meringue
Preheat the oven to 180º C. Line a baking sheet with parchment paper and draw a circle on the paper, using a 20 to 22 cm cake tin as a guide. Turn the parchment paper over so that the pencil marking is on the underside (to prevent the pencil from transferring into the meringue). In the bowl of an electric mixer, combine the egg whites and salt. Start hitting at low speed and gradually increase. Continue until satiny peaks form (sigh point). Add the sugar one spoonful at a time until the meringue is firm and glossy.
2.Add cornstarch, white wine vinegar and vanilla and stir gently. Place on parchment paper, inside the circle, and shape to form a disc, flattening the top and smoothing the sides. Place in the oven and immediately reduce the temperature to 150ºC. Bake for one hour and 15 minutes. Turn off the oven and let the meringue cool completely inside the oven.
3. For the coverage
In a bowl, combine the strawberries, vanilla, balsamic vinegar and sugar. Cover with plastic wrap. Leave at room temperature for at least 15 minutes and up to two hours.
4. For serve
Carefully remove the meringue from the parchment paper and place on a cake platter. Using the back of a tablespoon, gently break the top to create a shallow space for the whipped cream and strawberries. Whip the cream until thick enough to create peaks and spread over the baked meringue. Cover the whipped cream with strawberries, letting some of their liquid run over the whipped cream. Serve immediately.