Musk brought internet to the Amazon; 'Criminals love it', says AP – 03/16/2023 – Nelson de Sá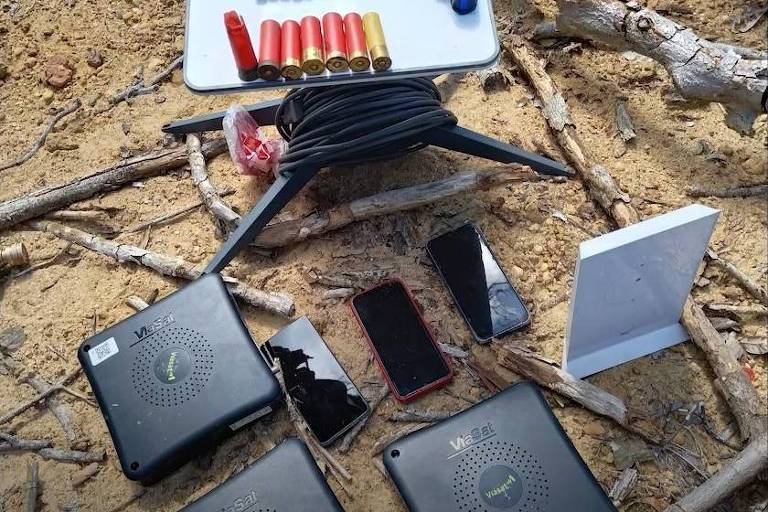 The Associated Press agency dispatched a photo obtained from Ibama, showing the Starlink antenna and router, part of Elon Musk's SpaceX, found by the Federal Police in an area of ​​illegal gold exploration in Yanomami territory.
Reproduced by the Washington Post, Bloomberg and others, the report is titled "Musk brought the internet to the Brazilian Amazon. Criminals love it" and has a video version on YouTube:
Opening the text, "Federal agents aboard three helicopters descended on an illegal mining site in the Amazon rainforest. They were met with gunfire and the gunmen escaped, leaving behind a find that authorities are increasingly familiar with: Starlink units."
According to the AP, Starlink "has long seen the Amazon as an opportunity, which was underlined by Musk's visit to Brazil in May, when he met with Jair Bolsonaro", then campaigning.
Brasil de Fato published about a month ago that the equipment was being sold to miners in the Yanomami territory, with photos and WhatsApp group messages. In one of them, "I sell Starlink internet. 7,800. Monthly fee, 1,500 reais. Ready to ship!".
The site also reported seeing ads for Viasat, also American, operating in the civil and military areas. "In addition to the internet, various services are offered through WhatsApp and Facebook groups, from transportation in mining areas to the sale of mercury."

PRESENT LINK: Did you like this text? Subscriber can release five free hits of any link per day. Just click the blue F below.