Marina's departure would be an international disaster for Lula – 05/26/2023 – Environment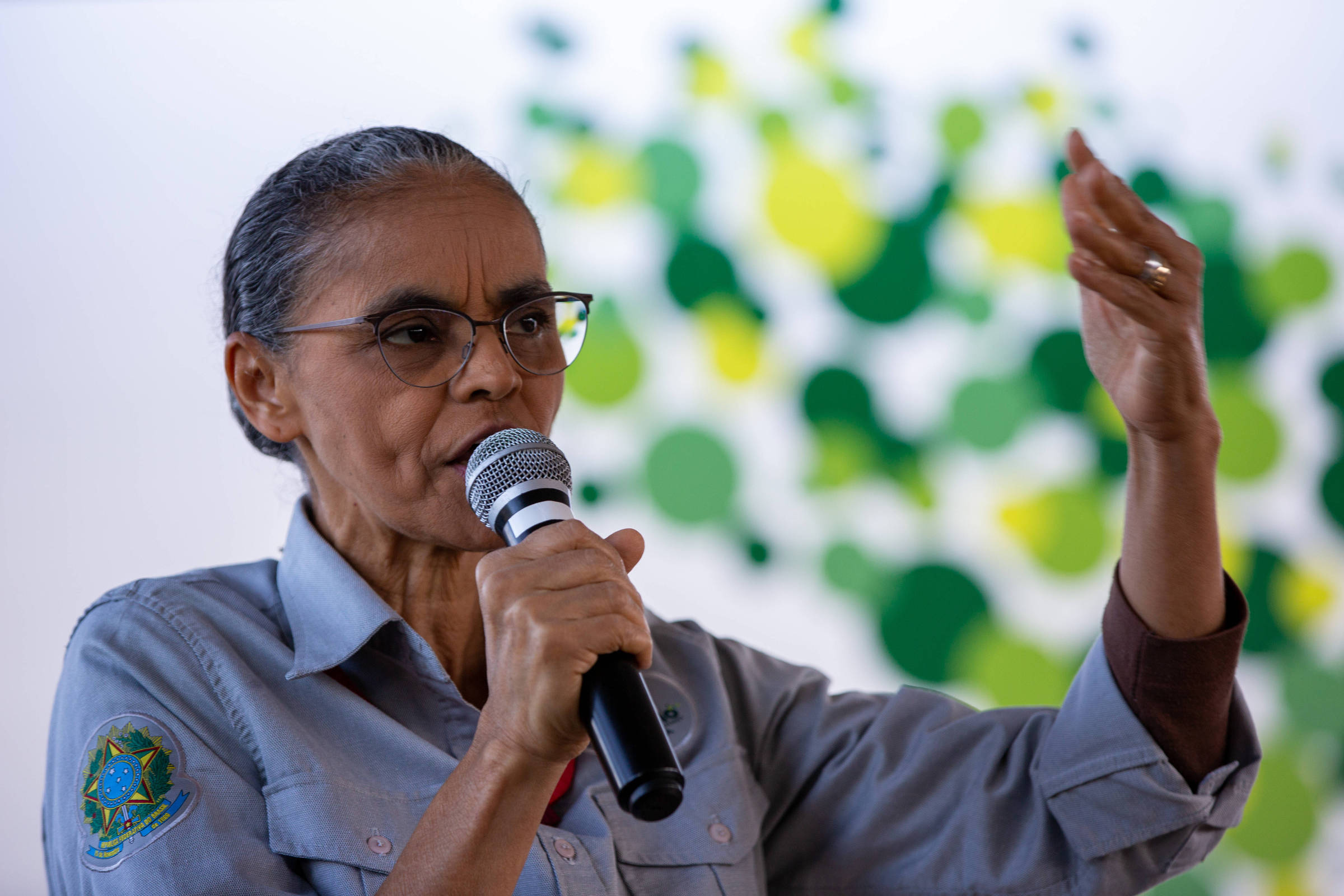 Congress imposed yet another defeat on the environmental agenda of the government of Luiz Inácio Lula da Silva (PT) this Wednesday (24/05). In the appreciation of the MP (Provisional Measure) 1.154/23, which reorganizes the ministerial structure, the parliamentarians weakened the Ministry of the Environment and Climate Change (MMA), removing from the portfolio headed by the environmentalist Marina Silva important inspection attributions, such as the CAR (Rural Environmental Registry) and the National Water Agency (ANA).
In addition, the text also transferred the demarcation of indigenous lands from the Ministry of Indigenous Peoples, of Sônia Guajajara (PSOL), to the Ministry of Justice.
The article adds to others that have been criticized by environmentalists, such as the new sanitation framework and, more recently, the clash between Ibama (Brazilian Institute for the Environment and Renewable Natural Resources) and the Ministry of Mines and Energy over the oil extraction by Petrobras at the mouth of the Amazon River, in Amapá.
In an interview with DW, environmentalist Pedro Roberto Jacobi, a researcher at the Institute of Advanced Studies at the University of São Paulo (IEA/USP) and president of the South America council of the institution Local Governments for Sustainability (ICLEI), considers that the changes could compromise important instruments of government environmental inspection.
Jacobi, however, says that the Lula government is walled in by a "conservative" and "denial" Congress, which is trying to maintain the emptying of the mechanism to combat deforestation that occurred in previous administrations.
The environmentalist also sees the need for President Lula to negotiate the climate issue internationally, as he has done with peace attempts in Ukraine.
According to Jacobi, disputes in the environmental area are currently different from the issue of Belo Monte, which caused the departure of Marina Silva in Lula's second administration, in 2008, and which does not see a possible repetition of the political consequences within the government as at that time.
"I cannot believe that Lula would invite Marina and, in a little while, Marina will go and say 'bye'", he points out, adding that, if that happened, it would be an "international disaster" for the PT's third administration.
Read the interview in full.
What would these proposed changes in the MP represent in terms of combating deforestation? There are several questions. In the case of the Rural Environmental Registry (CAR), which goes to the Ministry of Management and Innovation, it is a fundamental tool for combating deforestation. But it is a very challenging issue that requires scrutiny, because it is self-reporting. And what is posed there is that there is a risk that this change will directly affect the policy for monitoring and controlling deforestation.
As for the issue of the demarcation of indigenous lands, which goes to the Ministry of Justice, the minister herself, Sônia Guajajara, said that it is not something very problematic, because the Minister of Justice, Flávio Dino, is concerned about this issue. But, in any case, a real question arises: if a Ministry of Indigenous Peoples is created and then power is taken away from it.
We also have the National Water Agency (ANA), which is under the Ministry of Integration and Regional Development. It is an organ that is very fragile, it has been very weakened. There is a considerable portion of people without access to water and without access to sanitation.
MMA was totally weakened by the disastrous management of the last few years and, with that, it will lose some of its potency. One of the biggest issues in MMA is that you don't have a lot of financial resources, which are now going to other portfolios.
It's an amount of problems that accumulate. When we talk about the MMA, we are again considering the issue of not having resources, and that makes the pressure from economic agents speak louder — and they are represented in Congress, that's the reality.
What economic interests would these be? The rural sector, for example? Undoubtedly, the rural sector. But there are also economic interests behind the privatization of sanitation. And I don't think it's possible to disregard this economicist view that is present in a more classic developmentalist view.
The word we have to use today is sustainable development, however generic it may be. This is what the United Nations proposes, which is to reach more sustainable goals. I haven't even touched on the climate issue because the climate authority within the ministries is still undefined.
These economic interests are present in city councils, in state assemblies, in Congress. And, regrettably, society has increasingly chosen worse representatives for democracy, who are people who have a false, denialist discourse, and are not seeing very concrete issues.
It is necessary to adapt to a reality that is placed today. The climate theme cuts across all other themes, because we are talking about non-renewable energies, impacts on the climate. We are talking about water, the impact on the climate of excess water and lack of water.
To what extent is Congress imposing this reality on the Lula government? We have to deal with the political reality, which is not at all favorable to the government that was elected. He is highly walled in by a Congress that is made up of a group of political parties that are part of this very problematic coalition that the government managed to organize, within its extreme precariousness, to guarantee approvals in Congress, as in the recent case of the economic area.
It is always good to remember that in any government, there is no exception on the planet, what speaks louder is the economy and, later, the social.
It is clear that, from an international point of view, for the image of Brazil, the environmental theme and the Amazon are extremely important. What will you see after all the fuss, after all Lula's speech at the G7 and at other times abroad. There is a question that can bring enormous risks, including for support and funding.
But we have to deal with it concretely. Of course there is concern. But there is a key word which is governance, and we cannot ignore this reality.
To what extent does this show a certain disregard on the part of Lula for environmental issues, given that Ibama recently prohibited, without the government's consent, oil exploration in Amapá? Is Brazil's international discourse as an environmental power just a theory?
If it's just theory, it's going to be very bad for us. It's the only thing I can say. Lula got involved in negotiating the issue of peace in Ukraine, but he also has to negotiate the climate, he has to be on top of this issue. The president was a negotiator his entire life, even due to his history as a unionist.
I think that, at this moment, Lula is being a little careful, at the same time that he is signaling to veto a predatory legislation for the Atlantic Forest. Then he says "that, no". But, at the time, a reorganization of ministries based on a proposal by Congress is being discussed, because that is how it is seen – the government was not going to propose a ministry and dismantle it.
This is a heritage of all these years, which comes from Michel Temer, those actors who lost space want to win again. I understand a little that way.
Lula's own internal negotiators, the [ministro da Articulação] Alexandre Padilha and the [ministro das Cidades] Rui Costa does not come from an environmental background. Even Rui Costa's record in Bahia, as governor, is not the best. Himself [ministro da Fazenda] Fernando Haddad was not a great defender of the environment, just look at his municipal administration in São Paulo.
I would say that we have to wait for concrete facts, which will be vetoed when the matter is approved. I see it that way a bit. I cannot believe that Lula would invite Marina and, in a little while, Marina would go and say "bye".
Would it be a catastrophe in the government's environmental area if Marina Silva left the command of the Ministry of the Environment?
It would be a disaster, not from the Brazilian point of view, because we are not very concerned about the environment. But internationally it would be a disaster. I have no doubts, because there were all these environmental promises, and she is a person who is anchoring, legitimizing this.
Who is Alexandre Silveira? [ministro de Minas e Energia] in international terms? But who is Marina, we already know. He is someone who has a history that goes back to the time of Chico Mendes. He has a lot of recognition, he is a person of integrity, who I know well.
In national terms, [uma possível saída dela] it would not be a heavy issue, but in international terms, it would have an impact. And I think Lula must be measuring this very well and talking to her.
Congress has this face, in addition there is a terrible liability in all areas [deixado do governo de Jair Bolsonaro]. I think of a perspective in which Marina knew what trouble she was getting into. I think she's going to have to get used to negotiating, to winning spaces somehow.
Now, it is not an internal government issue, as it was in the case of Belo Monte. It's a different dispute. The government is walled up, and Marina is part of the government.