Lula accumulates gaffes, from slavery to Covid; see – 03/16/2023 – Power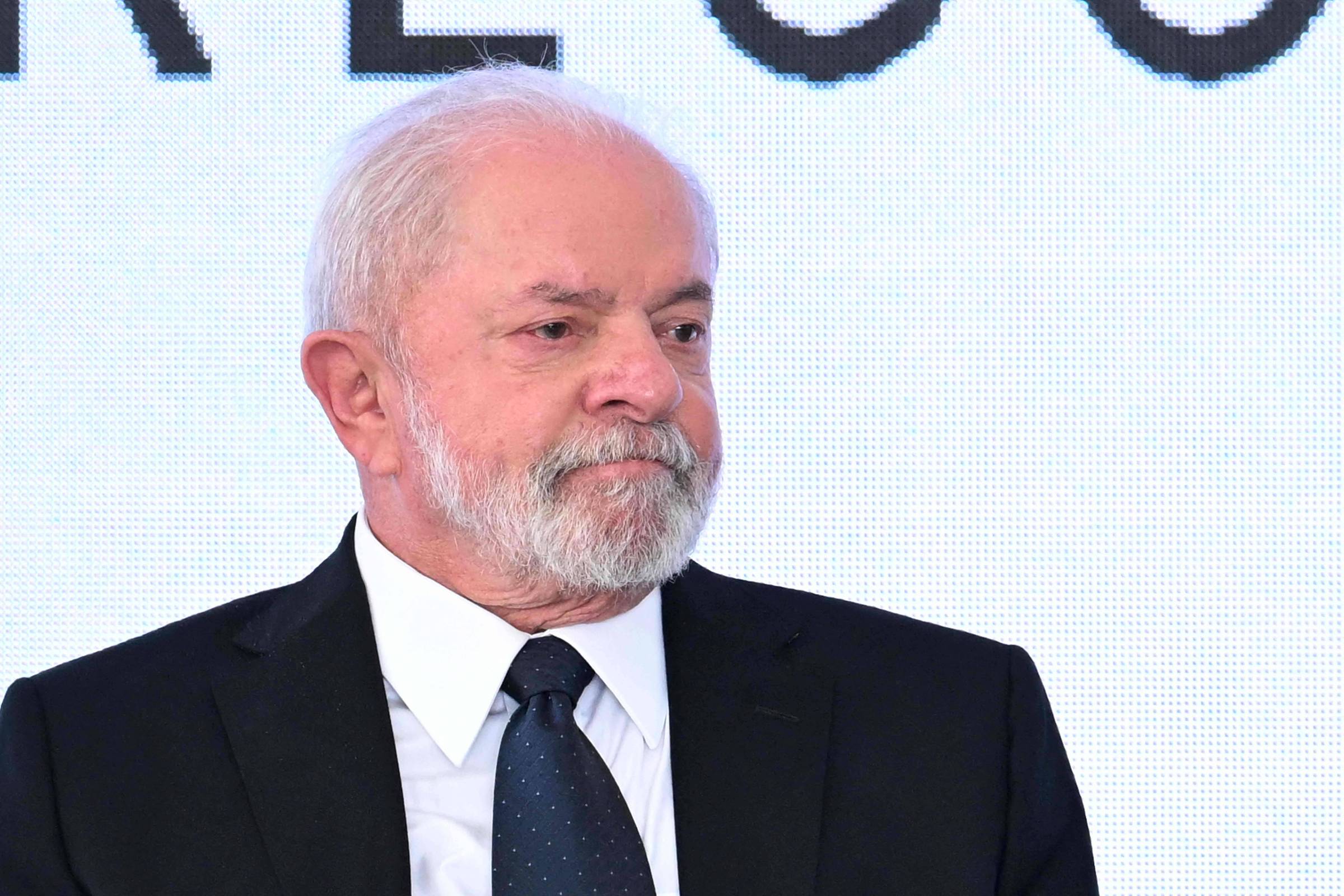 President Luiz Inácio Lula da Silva (PT) has become the target of criticism from opponents on social media for statements made this week about slavery and obesity. Gaffes, however, accumulate since the campaign, last year.
In a public event this Wednesday (15), the PT spoke about the obesity of the Minister of Justice, Flávio Dino (PSB), in a public event. The president classified obesity as a disease that causes as much harm as hunger and said that the minister would now be riding a bicycle, for being overweight.
The statement provoked reactions from opponents. Federal deputy Kim Kataguiri (União Brasil-SP), for example, wrote: "Hello, boring people who think obesity is beautiful: Lula said the obvious here. Are you going to call him fatphobic too? Or are you going to stop glamorizing a disease?"
Lula's statement came two days after another, also controversial. On Monday (13), the president was targeted for romanticizing Brazilian miscegenation.
"They decided to tell the story that the Indians were lazy and, therefore, it was necessary to bring the black people from Africa to produce in that country. Now, all the disgrace that this caused the country caused a good thing, which was the mixture, the miscegenation" , said Roraima.
Among the critics, the former mayor of Manaus Arthur Virgílio (PSDB) stated that nothing justifies the servitude process established in Brazil for centuries. "So, you think that the 'laziness of the Indians' led to the slavery of blacks, Africans, and that this was good, because it provoked miscegenation? President, nothing justifies slavery. The dictatorship, which you did not fight, subjected the Brazilians to a specific type of slavery," he wrote.
Already during the election campaign, Lula was charged by supporters after slips in inclusive language. Complaints, usually made in private, revolved around the use of words such as "indian" (instead of indigenous) and "slave" (instead of enslaved) and references that contradict, for example, vegans, with repeated allusions the barbecue and picanha.
Remember gaffes committed by Lula:
Advantage of the coronavirus (May 20, 2020)
In 2020, Lula stated that the emergence of the coronavirus pandemic was positive to alert the Bolsonaro government about the importance of a strong State to contain the advance of the economic crisis.
The petista spoke about the subject in an interview to Carta Capital magazine.
"What do I see? When I see these people think that they have to sell everything that is public and that everything that is public is useless… I am glad that nature, against the will of humanity, created this monster called the coronavirus, because this monster is allowing the blind to see, the blind to begin to see, that only the state is capable of solving certain crises."
Policeman x people (30.Apr.2022)
In April 2022, Lula made a gaffe about police officers during a speech in which he made a series of criticisms of Jair Bolsonaro (PL).
"Today we have a president who has not shed a tear for the victims of Covid or the catastrophe that happened in Petrópolis, in Rio de Janeiro. He has no feelings. He doesn't like people, he likes police. He doesn't like books, he likes guns", said the petista at the time, at an event with women in the north zone of São Paulo.
The following day, Lula apologized for the speech.
That week, Lula stated that the world "is boring as hell" and heavy because all the jokes turned politically wrong. "Then it's not funny anymore. If you want to laugh, it's on these boring as hell humor programs on television", said the PT candidate.
Calls kidnappers 'boys' (Jun 17, 2022)
A speech by Lula about his action for the extradition of the kidnappers of businessman Abílio Diniz, which took place more than 23 years ago, became new ammunition for Bolsonaro and his allies against the PT in the electoral race for the Planalto Palace.
During a political event in Maceió, Lula recalled in a speech how he interceded with then-president Fernando Henrique Cardoso, in December 1998, for him to meet the claims of eight prisoners for that crime.
At the time, the group of kidnappers had been on hunger strike for 46 days and threatened to start a dry strike, with the interruption of water intake. Seven foreigners asked for extradition to their respective countries (Chile and Argentina), and the Brazilian, transfer to his home state (Ceará).
The episode was already known, and the speech was made by the PT to illustrate his former relationship with Senator Renan Calheiros (MDB-AL), FHC's Minister of Justice at the time.
"After a long conversation with Renan, he said: 'Lula, go talk to Fernando Henrique Cardoso, I have every disposition to have the people released'. I went to Fernando Henrique Cardoso: 'Fernando, you have the chance to pass for history as a democrat or as a president who allowed ten young people who made a mistake to die in jail'", reported the petista at the time.
"He said: 'If you talk to them, and they end the hunger strike, I'll let them go'. I went to jail on December 31st and spoke to the boys: 'You're going to have to give me the floor and guarantee that they will end the hunger strike now and you will be released'. They respected the proposal, they stopped the hunger strike, they were released and I don't know where they are now."
Orders militancy to pressure families of deputies (06.Apr.2022)
In April 2022, Lula was criticized for defending, at a CUT (Central Única dos Trabalhadores) event, that union militancy seek out deputies and their families in their homes to press for proposals that would be of interest to the sector in an eventual PT government to from 2023.
"If we mapped the address of each deputy and there were 50 people in the house, it's not to curse, it's to talk to him, with his wife, with his son, to disturb his peace of mind, it has much more effect than demonstrate in Brasilia," he said at the time.
Violence against women (20.Aug.2022)
At a rally held in Vale do Anhangabaú, in São Paulo, the PT member committed a gaffe by condemning violence against women. "Do you want to hit a woman? Go hit somewhere else, but not inside your house or in Brazil, because we can't accept that anymore."
This excerpt from the speech was taken to television by Bolsonaro's campaign in electoral propaganda to attack the PT.
In April, during a pre-campaign act, Lula even claimed that Bolsonaro "doesn't like people, he likes the police" – and apologized to the police for his statement the next day.
Associates capiau do interior with ignorant person (23.set.2022)
In September 2022, Lula referred to Bolsonaro as "ignorant" and associated this term with the "capiau from the interior of São Paulo", which can be considered yet another slip by the petista in the electoral campaign.
The statements were given on Saturday with presenter Ratinho, on SBT, at a time when Lula was criticizing the Bolsonaro government's delay in purchasing Covid-19 vaccines.
"It's stupid for someone who's a little ignorant, that's what he really is, a little ignorant. That rough way of him, of the capiau from the interior of São Paulo, that capiau of Registro [no Vale do Ribeira]very tough like that, very ignorant", said Lula.
"Because there are people who think that being ignorant is beautiful and it is not. What is beautiful is you being educated, being a refined guy like me", he continued.
Slavery x Brazilian miscegenation (13.Mar.2023)
President Lula was the target of criticism for linking slavery with Brazilian miscegenation.
"They decided to tell the story that the Indians were lazy and, therefore, it was necessary to bring black people from Africa to produce in that country. Now, all the disgrace that this caused the country caused a good thing, which was the mixture, the miscegenation. The mixture between indigenous people, blacks and Europeans allowed these beautiful people to be born here", said the PT candidate while visiting the Raposa Serra do Sol indigenous land, in Roraima.
Obesity of Flávio Dino (15.Mar.2023)
Lula spoke about the obesity of Justice Minister Flávio Dino (PSB) at a public event and was the target of criticism from opponents on social networks.
Lula classified obesity as a disease that causes as much harm as hunger, requiring State care for this problem, and said that Dino would now be exercising, riding a bicycle, for being overweight.
"Nobody here is too thin, except for our poet. The rest are all a bit obese, which is also a disease that we need to take care of. Our doctor who is Minister of Health knows perfectly well that obesity it causes as much harm as hunger. And that's why Flávio Dino is riding a bicycle, because he knows that this will require the State to take care of this evil with great affection", he said.
WORDS OF DISCORD IN LULA'S CAMPAIGN
Lust
It appears in a reasoning that has become a kind of catchphrase, when Lula says that, despite being 76 years old, he has "the horn of a 20". He used the analogy to highlight his political will to transform the country. Activists were bothered by considering the term derogatory for all women, with the perpetuation of stigmas such as female submission
Indian
The term is seen as disrespectful. The most recommended thing is to say "indigenous" (or "indigenous peoples", when referring to this population as a whole). Lula started using the words indicated after advice, but he still makes slips. In April, when promising to create a ministry for the area if he was elected, he said he "will have to be [assumido por] an indian or an indian"
Slave
Activists of the racial cause claim that the expression reduces the victims of slavery to a perennial condition and ignores their subjectivity, softening the fact that they were forcibly subjected to this process. Therefore, they recommend replacing it with "enslaved". Lula said in 2021 that, in the view of the elite after abolition in Brazil, black people "stopped being slaves to become vagabonds"
darkening
The word was used by the presenter of the event who made the ticket official with Alckmin, on the last 7th. When giving an explanation to the microphone, the singer Lika Rosa announced: "I want to make a darkening here, or clarification". She, who is brown, says that the change was her initiative, as a manifestation for more representativeness. Bolsonaristas ridiculed the speech and attacked the PT
Rump steak
Meat is used by Lula as an example of prosperity that he promises to return to the poorest Brazilians. Although he continued in his speeches, the reference began to be accompanied by mentions of the consumption of vegetables and organic agriculture, after complaints from supporters who militate for veganism and animal rights.



I improved my speech. I'm not just talking about people eating barbecue again, but also vegetarian people, who don't eat meat, being able to eat a good organic salad, encouraging healthier agriculture in our country
black as victim
Lula's speech, on Mano Brown's podcast in 2021, that "there is a political evolution of blacks […] acquiring the awareness that it is not enough to think that one is a victim", was repudiated by members of the anti-racist movement.