"I believe that AM seeks another development model", says Thiago Abrahim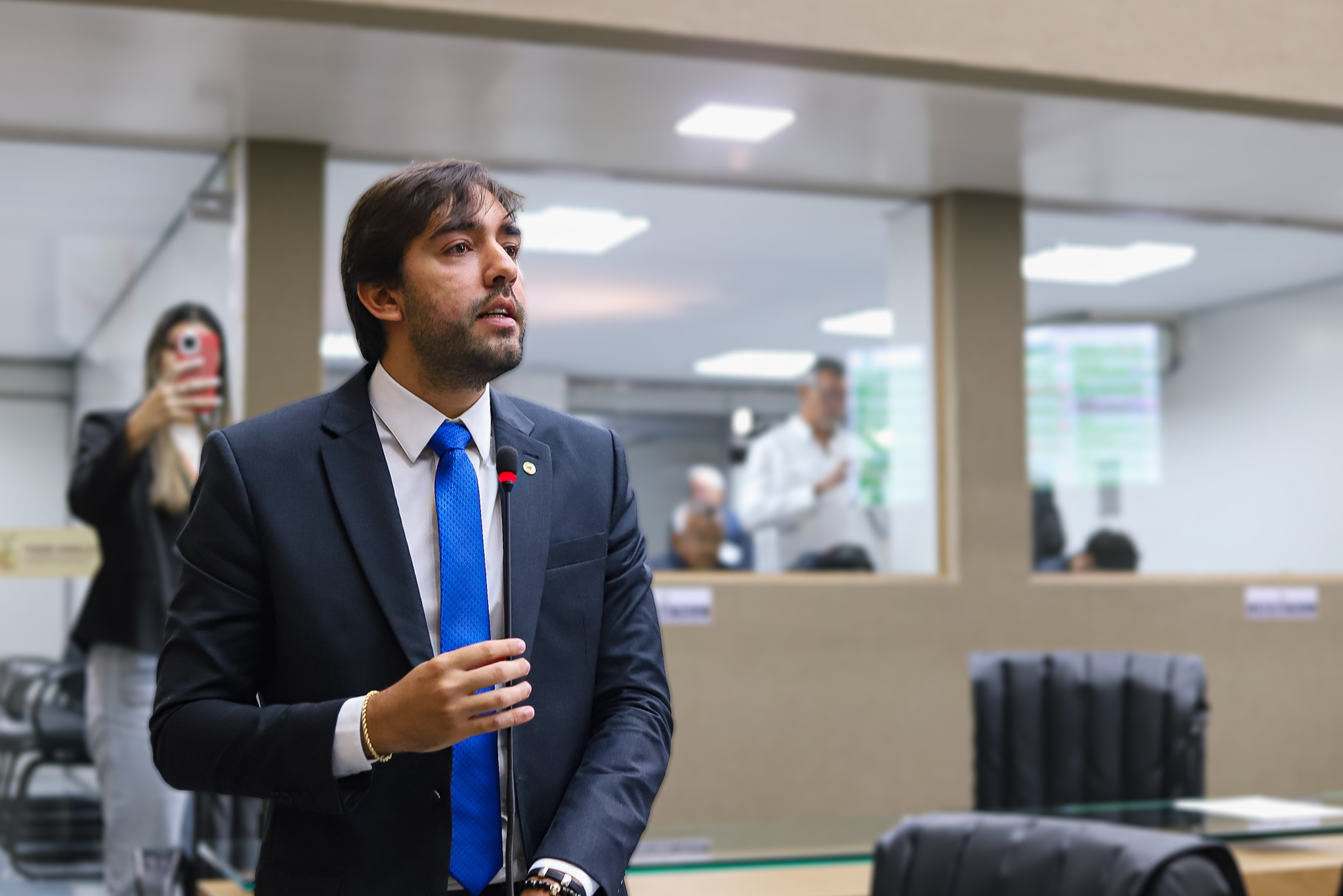 Manaus (AM) – First-term parliamentarian, Jorge Thiago Carvalho Abrahim, better known as Thiago Abrahim, was elected in 2022 as state deputy of Amazonas with 31,731 votes. In an exclusive interview with Em Tempo, he highlighted that his first year in the Legislative Assembly of Amazonas (Aleam) will be guided by the demands of the interior of the state. For this, he intends to work towards the creation of a new economic model centered on the municipalities of Amazonas. A member of the largest group in the Legislative House, União Brasil, Abrahim highlighted that his work, along with other parliamentarians on the group, is harmonious and independent with the Government of Amazonas. "We are giving support in this sense to the government base so that we can have improvements and have the services attended and well executed with quality".
Thiago Abrahim graduated in Law at Martha Falcão University. Born in Manaus, he worked at the Court of Auditors of the State of Amazonas (TCE-AM), and has served as a state and municipal public servant.
In time – You were the author of Bill No. 265/2023 which allocates part of the wood seized by the inspection bodies for the construction of bridges in municipalities in the Amazon affected by the flood. Do you consider that the use of this material would be a way to circumvent the losses and damage caused to the environment? Do you have other projects against environmental crimes in the Amazon?
Thiago Abrahim – It is a way that we have to reuse the seized wood. It is the wood that was taken illegally from the forest, and that often spoils and rots in the yards of inspection bodies, of control bodies. So, we want this wood to be used for the benefit of the population so that we can serve the people in the construction of bridges, marombas that are, above all, for those populations that are affected during periods of flooding in our rivers.
So, it's a way of compensating and not wasting wood, since it can't be returned to the forest anymore, and we have other projects. We are carrying out studies to combat environmental crimes. The Amazon is our greatest asset and we need to protect it. As a member of the municipal affairs and regional development commission, we cannot think of development without going through the sustainability and maintenance of our Amazon Forest, creating means and conditions to bring progress to our people.
ET – This is the first time you have held elected office. What will be your priorities in the first months of your term?
Thiago Abrahim – It is the first time that I am occupying an elected position and one of our priorities is to bring benefits and policies that can really change and effectively affect the lives of the population. We are seeking to present projects that bring solutions, that bring less bureaucracy and that bring effective results to our people and, above all, to the people of the interior, who are suffering people and who deserve special attention and attention.
ET – How did your interest in entering the political space come about? Now in office, what are your main guidelines?
Thiago Abrahim – I have always been interested in fighting for our people, fighting for the rights, above all, of the people of the interior, which is one of my main agendas, which is the municipalist cause. Fight mainly for the interior of our state. I believe that the state of Amazonas is looking for another model of economic development and this model passes through the interior of our state and is one of the agendas, it is one of our struggles. It is working on this, working on this advancement, working on building a new economic matrix for the state through our interior, exploring our riches, exploring tourism, exploring sustainable development to bring about the necessary improvements.
ET – You were elected to chair the Municipal Affairs and Regional Development Commission in the Legislative Assembly of Amazonas (Aleam). In this sense, how will the commission work to ensure safe housing for the population and avoid tragedies such as the landslide that killed eight people in the Jorge Teixeira neighborhood on March 13?
Thiago Abrahim – As a member and president of the Commission for Municipal Affairs and Regional Development, which has housing as one of its themes, we visited Suhab and Civil Defense where we selected some information. First, we present a request for the creation of a housing program for families, victims of flooding, victims of these natural disasters, and we also present a Bill that gives priority to these low-income or vulnerable families, who were affected by these disasters, so that they have priority in housing programs in our state, in the capital and inland.
ET – In your opinion, what are the main challenges that Aleam's 20th Legislature currently faces?
Thiago Abrahim – One of our main challenges is to meet the demands and needs of the population. We politicians need to be present and bring effective solutions to our people. This is what is expected: a proactive mandate, a mandate that brings results and provides solutions to our demands.
ET – You are part of the largest group in the Legislative House, União Brasil, Governor Wilson Lima's party. How has the bench's performance and role been in the articulations of the Legislative House?
Thiago Abrahim – We are working harmoniously, logically, independently. The powers are harmonious, but independent and seeking to provide conditions for the governor to carry out his work, do what the population expects and the legislative power to supervise, charge and make indications. So, we are giving support in this sense to the government base so that we can have improvements and have the services attended and well executed with quality.
ET – How do you plan your future in politics? Do you intend to run for other positions in the next elections?
Thiago Abrahim – It is necessary that we can first think about this mandate. We are starting a political career and that we can make a mandate aimed at meeting solutions so that our people recognize and that we can leave our name, our contribution to the state of Amazonas, leaving a legacy, a contribution that really improve and bring effectiveness in public policies. As for our future, we need to be cautious. We are going to let things go, let them happen, and let the people decide up front what will be better, if we should continue, if we should change jobs or if we should stop here.
Read more:
Thiago Abrahim presents an application for the construction of a school in Nhamundá (AM)
Thiago Abrahim presents PL that grants automatic IPVA discount to good drivers
Roberto Cidade installs the Special Prosecutor's Office and the Women's Commission at Aleam