Former player arrested for betting wants to give lecture in Brazil – 05/26/2023 – Sport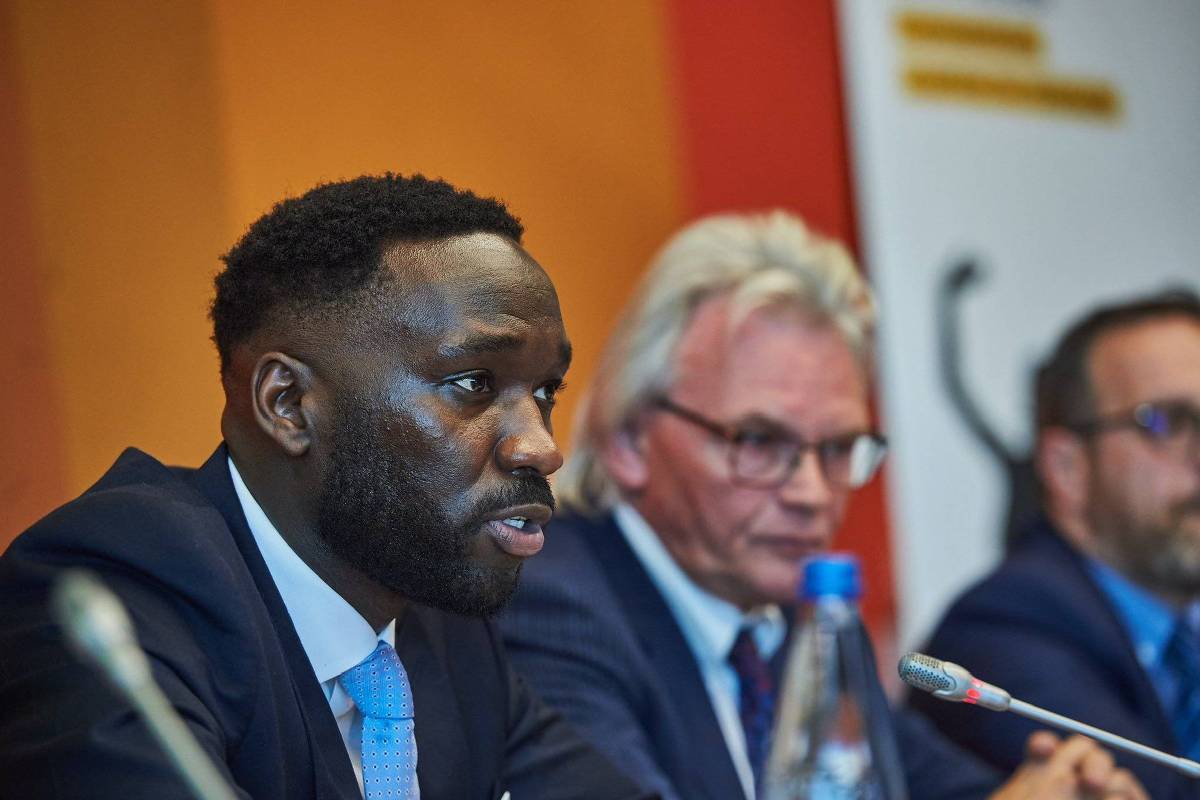 Moses Swaibu, 33, remembers the first time his daughter visited him in prison. He wore an orange uniform, had stubble and long hair, what he describes as the most vulnerable version of himself. A version he would never want to present to his daughter, two years old at the time.
"Although she doesn't remember those moments, I'll have to live with them for the rest of my life," he tells Sheet the former English player, who played for Crystal Palace.
Swaibu had been convicted in a match-fixing trial in 2015, described by judge Mary Stacey as something that "reached the heart of football fans".
His sentence was 16 months in prison, during which time he shared a cell with Delroy Facey, the former teammate at Lincoln City who introduced him to the underworld of sports betting – the former striker had been sentenced to two and a half years for participating in the scheme to bribe players.
Confinement alongside Facey made the former defender reflect every day on the mistake he had made during the period he played for Bromley, between 2011 and 2013, in lower divisions in England.
It was that first visit from his daughter, however, that made him decide to use his experience to prevent other young athletes from making the same mistakes he did.
"I can't even describe the pain and heartbreak of seeing my daughter there. It triggered something in me to help solve the problem that I already knew was bigger and broader than I imagined", she says.
The Englishman was just 19 when he was first offered a bribe. He was taking the first steps in his professional career playing in League Two, the English third division, with Lincoln, when he and two other athletes received an offer from another player from the club itself.
"On the day my teammate introduced me to the matchmakers, he was the oldest professional the club had", he recalls. "He offered 60,000 euros for us to lose a game", which, according to him, everyone denied. "My gut told me never to talk about that night with anyone at the club."
"I remember being confused as to why he contacted us, three athletes from the same community. I found out many years later that he was in debt, addicted to gambling and gambling."
Swaibu was born in the London Borough of Islington, "a place where I wasn't allowed to have any feelings about what I was offered that night," he says. As a child, he fell in love with football watching the great Brazilian players. "The greatest of all, in my opinion, Ronaldo, the original."
On the field, his references were his older brother, also an athlete, and French midfielder Patrick Vieira, an Arsenal idol. "It was who I wanted to be in football," he says.
He was 16 when he started chasing his dream. At the time, he joined the Crystal Palace team. Most of the boys his age had been in the club since elementary school. To give himself more chances, he trained every day to show his potential to coach Peter Taylor.
The former defender, however, did not have a chance in the professional. Instead, he ended up on loan to smaller teams, starting a trajectory that would lead him to have contacts with bettors — the mafias of manipulators, in general, concentrate their activities in smaller leagues, as they are less watched by both authorities and the media.
Before that night at Lincoln's hotel, the former defender claims that he had never heard of schemes to manipulate games, nor received any guidance from the clubs he went through to know how to deal with this type of situation. Years later, faced with a new offer of bettors, he found himself in a slightly more difficult moment to resist, he claims.
"The club I signed for stopped paying players' salaries. We were not paid for three months. My girlfriend was pregnant and my agent at the time threatened to fine me for unpaid wages. That's when I was reintroduced to new handlers", something that would shorten his career, which ended at the age of 24.
Swaibu describes a situation that many athletes around the world, including in Brazil, can identify with. Despite being often associated with a universe of riches, football does not always guarantee decent remuneration for athletes, especially in lower leagues, where it is common for players to have financial problems. They are the main targets of gang recruiters.
No country is immune to this, as Operation Maximum Penalty, launched in Brazil a few weeks ago, has shown.
That's why the former English player decided to share his story traveling as a speaker, in addition to having created the company MS5 Solutions, specialized in combating match-fixing and promoting the integrity of the sport.
Swaibu says that he even intends to talk to young Brazilian athletes to give them advice that he himself did not receive during his sports training.
"Brazil is the home of football, of Ronaldinho, Ronaldo, Rivaldo, Cafu, Roberto Carlos, Adriano. It is because of the Brazilians that we all fell in love with football. forefront of the sport, especially those who have the power to do so."