Entourage pasta is a tradition of tropeiros – 17/03/2023 – Nação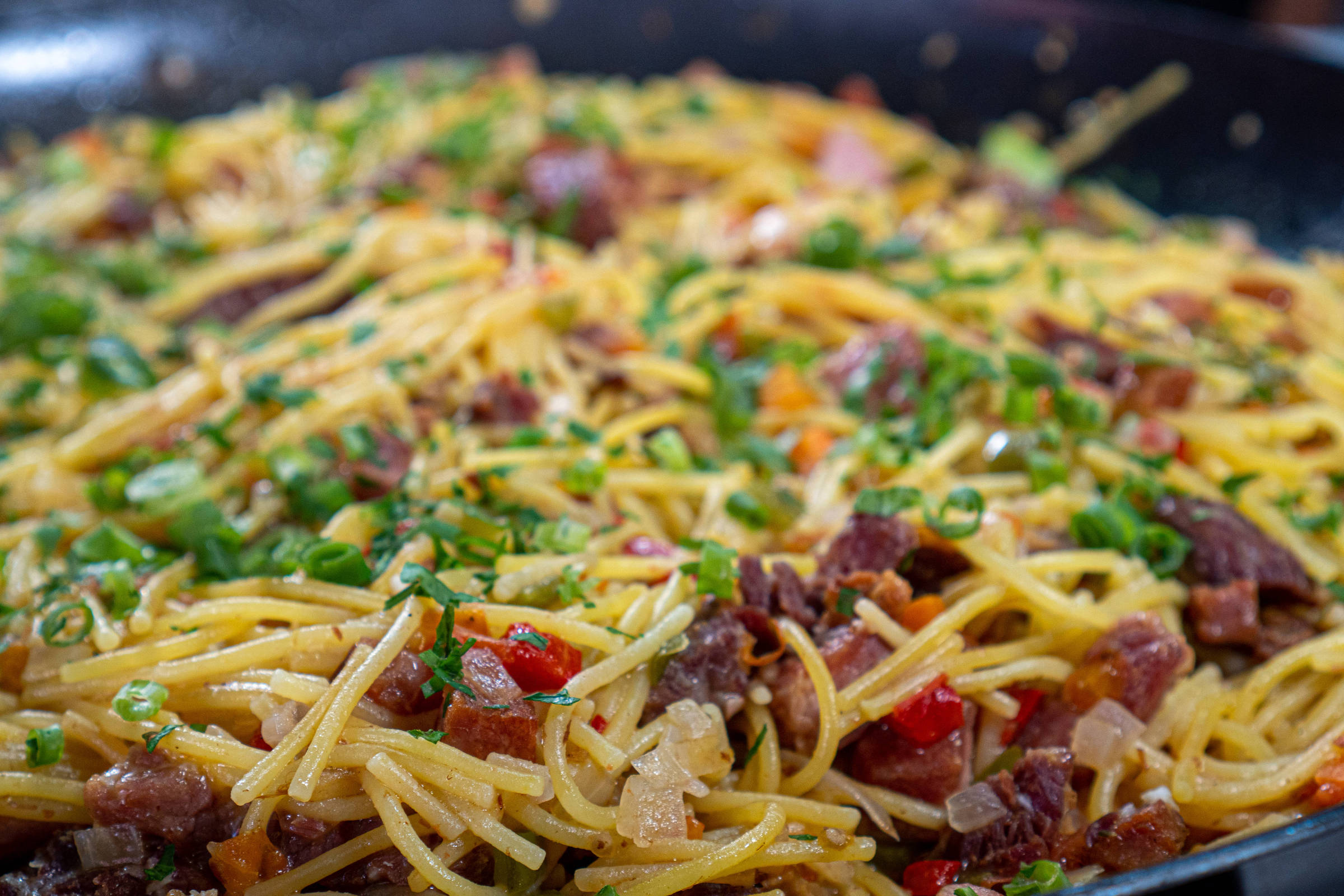 Entourage noodles emerged as a practical and tasty option, which could be prepared in a single pot and with simple ingredients.
A traditional dish that dates back to the times when drovers and cowboys crossed the interior of Brazil, transporting cattle and supplies from one region to another. These workers faced long journeys, often traveling hundreds of kilometers on dirt roads and facing the challenges of climate and nature.
The dish was prepared with ingredients found in the region that could be stored for long periods of time, making it ideal for long-distance travel.
Nowadays, entourage pasta is a dish that represents the simplicity and rusticity of the interior of Brazil. It is very popular at festivals and regional events, where it is possible to taste the original recipe or local variations that have emerged over the years.
It can be prepared on the grill or on the stove and you need a very large or deep frying pan of approximately 30 cm or a saucepan.
---
ENTOURAGE MACARONI
Ingredients
500 grams of spaghetti
400 grams of desalted and cooked sun-dried meat, cut into cubes of approximately 1 centimeter
200 grams of desalted pork loin, cut into approximately 1 centimeter cubes
200 grams of bacon, cut into approximately 1 cm cubes
4 tablespoons bottle butter
1 onion cut into half moons
1 diced green pepper
1 diced red bell pepper
2 diced tomatoes
green smell to taste
minced garlic to taste
1 liter of beef or vegetable broth
Salt and black pepper to taste
aluminum foil to cover
Preparation
In a pan or frying pan, place the bottled butter, the bacon, the desalted and cooked sun-dried meat and the desalted pork loin and let it brown well.
Add the onion and minced garlic to taste and saute together with the meats.
Break the spaghetti into four parts, add to the pan and fry until golden.
Add the peppers, tomatoes, adjust the salt and vegetable broth until covered.
Stir gently, cover and leave over low heat until dry and pasta is cooked al dente, about 10 minutes.
Turn off the heat and add the green smell and freshly ground black pepper.

PRESENT LINK: Did you like this text? Subscriber can release five free hits of any link per day. Just click the blue F below.