Biden's climate law redirects investments in the US – 09/14/2023 – Market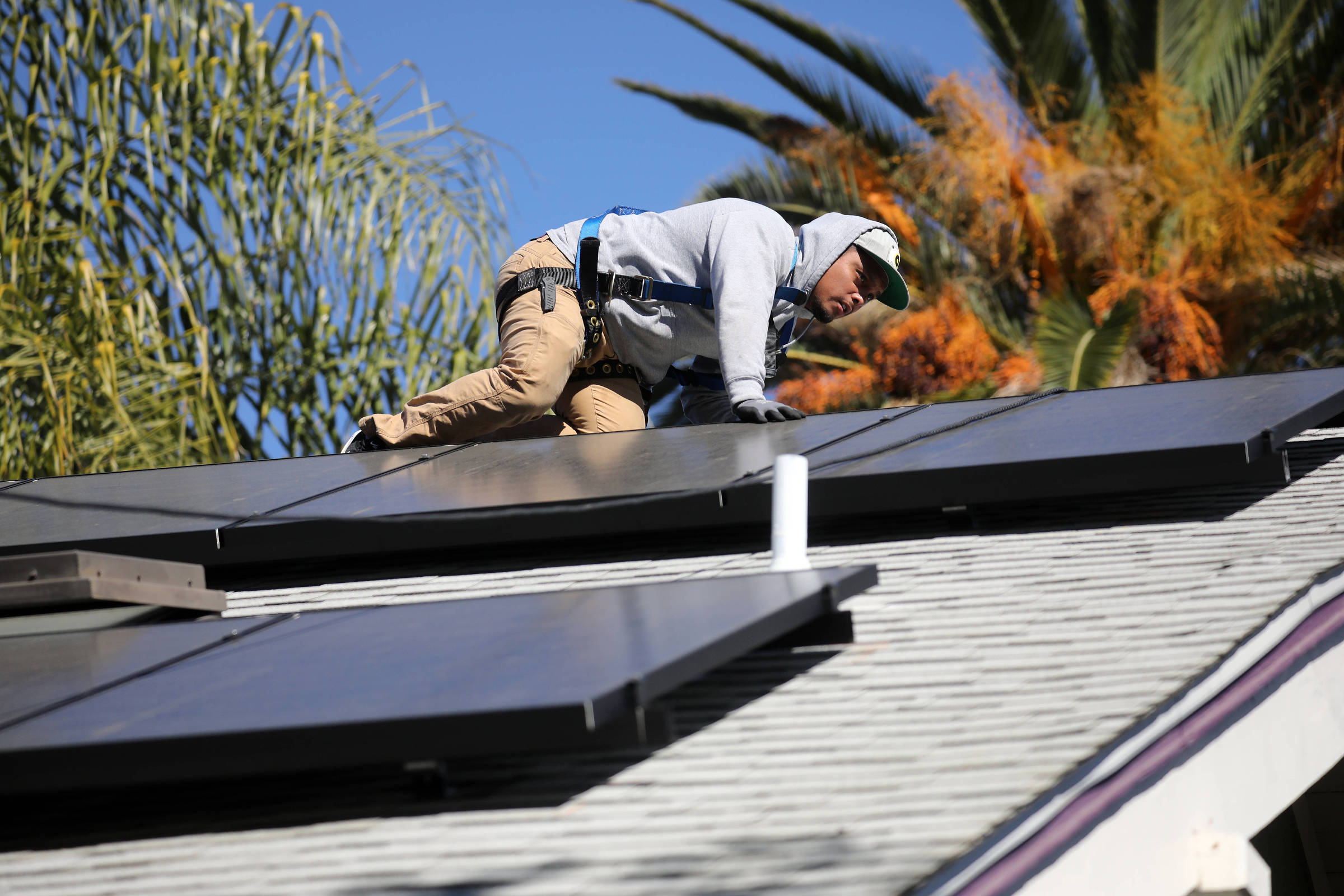 Private investment in clean energy projects such as solar panels, hydrogen power and electric vehicles surged after President Joe Biden signed a sweeping climate bill into law last year, a development that shows how tax incentives and Federal subsidies have helped redirect some spending by U.S. consumers and businesses.
New data released Wednesday suggests that the climate bill and other parts of Biden's economic agenda have helped accelerate the development of automotive supply chains in the southwestern United States, generating additional support for traditional automotive manufacturing hubs. automobiles in the industrial regions of the center-west and southeast.
The 2022 law, which was approved with support only from the Democratic Party, helped investment in factories in conservative strongholds such as Tennessee and the states of Michigan and Nevada, which will be heavily contested in next year's presidential election. The law also helped support a surge in spending on electric cars and residential solar panels in California, Arizona and Florida.
The data shows that, in the year following the approval of the climate law, spending on clean energy technologies represented 4% of the country's total investment in structures, equipment and durable consumer goods — more than double the share recorded four years ago. back.
The law was unsuccessful in stimulating an important sector in the transition away from fossil fuels that Biden is trying to accelerate: wind energy. American investment in wind production declined last year, despite the climate law's big incentives for producers. And the law did not change the trajectory of consumer spending on certain energy-saving technologies, such as high-efficiency heat pumps.
But the report, which assesses the situation down to the state level, provides the first detailed look at how Biden's industrial policies are affecting private sector clean energy investment decisions.
The data comes from Clean Investment Monitor, a new initiative from consultancy Rhodium Group and the Center for Energy and Environmental Policy Research at the Massachusetts Institute of Technology (MIT). Their findings go beyond simpler estimates, from the White House and other sources, and offer the most comprehensive look yet at the effects of Biden's economic agenda on America's emerging clean energy economy.
The researchers leading this first data analysis include Trevor Houser, a former Obama administration official who is a partner at Rhodium; and Brian Deese, former director of Biden's National Economic Council, who researches innovation at MIT.
The Reducing Inflation Act, which Biden signed in August 2022, includes a wide range of incentives to encourage domestic manufacturing and accelerate the country's transition away from fossil fuels.
This includes expanded tax incentives for the production of advanced batteries, installing solar panels, purchasing electric vehicles and other initiatives. Many of these tax breaks are unlimited for all practical purposes, meaning they could end up costing taxpayers hundreds of billions of dollars — or even more than $1 trillion — if they succeed in generating a sufficient level of new investment.
Biden administration officials have attempted to quantify the effects of this law, and of bipartisan infrastructure and semiconductor legislation signed by the president at the beginning of his term, by counting corporate announcements of new spending tied to the legislation.
A White House website estimates that companies have so far announced $511 billion in new spending commitments tied to these laws, including $240 billion for electric vehicles and clean energy technology.
Rhodium and MIT's analysis draws on data from federal agencies, industry organizations, company announcements and financial records, news reports and other sources to try to build a real-time estimate of how much investment has already been made in emissions reduction technologies. targeted by Biden's agenda. For comparison purposes, the data goes back to 2018, when President Donald Trump was still in power.
The numbers show that real investment — and not the announced one — by companies and consumers in clean energy technologies reached US$213 billion in the second half of 2022 and the first half of 2023, after Biden signed the climate law. This value was higher than the US$155 billion in the previous year and the US$81 billion in the first year of data, under Trump.
Trends in the data suggest that the impact of Biden's agenda on clean energy investment varied depending on the economic conditions that existed for each targeted technology.
Biden's greatest successes have come in spurring increased industrial investment in the United States and catalyzing investment in technologies that remain relatively new to the market.
Fueled in part by foreign investment, for example in battery factories in Georgia, real investment in clean energy manufacturing more than doubled last year from the year before, the data shows, totaling $39 billion. This investment was almost non-existent in 2018.
Most of the spending has focused on the electric vehicle supply chain, which includes the new automotive hub of southwestern California, Nevada and Arizona. The Inflation Reduction Act includes several tax incentives for this type of investment, with national content requirements designed to encourage the production of critical minerals and batteries, and the assembly of automobiles in the United States.
However, the big beneficiaries in terms of manufacturing investments as a percentage of state economies continue to be the traditional auto states: Tennessee, Kentucky, Michigan and South Carolina.
The climate law also appears to have boosted investment in so-called green hydrogen, which splits water atoms to create an industrial fuel. The same applies to carbon management – which seeks to capture and store greenhouse gas emissions from existing power plants, or remove carbon from the atmosphere. All of these technologies struggled to gain traction in the United States before the law gave them tax incentives.
Hydrogen and much of the investment in carbon capture is concentrated along the Gulf of Mexico coast, a region full of fossil fuel companies that have begun to dabble in these technologies. Another hub of investment in carbon capture is concentrated in states in the Midwest region, such as Illinois and Iowa, where companies that produce corn ethanol and other biofuels are beginning to invest in efforts to capture their emissions.
The incentives for these technologies in the Reducing Inflation Act, along with other supportive measures contained in the bipartisan infrastructure law, "fundamentally change the economics of these two technologies, and for the first time make them broadly cost-competitive," Houser said. in an interview.
Other incentives have not yet changed the economic situation of essential technologies, especially wind energy, which has grown a lot in recent years but is now facing global setbacks as project financing is increasingly expensive.
Investment in wind energy was lower in the first half of this year than at any time since the database was started.
In the United States, wind projects are facing difficulties navigating government licensing, power transmission and site selection processes, including opposition from some state and local lawmakers.
Solar projects and related investments in solar energy storage, Houser noted, can be built closer to energy consumers and have fewer hurdles to overcome, and investment in them grew 50% in the second quarter of 2023, year-over-year. .
Some consumer markets have not yet been swayed by the promise of tax incentives for new energy technologies. Americans have not increased their spending on heat pumps, even though the law covers spending up to $2,000 to buy a new pump. And last year, the states with the highest spending on heat pumps, in proportion to the size of their economies, were all concentrated in the Southeast — where, according to Houser, consumers are most likely to already have heat pumps of this type, and need to replace them.
Translation by Paulo Migliacci