Banks and Swiss BC want merger between UBS and Credit Suisse – 03/18/2023 – Market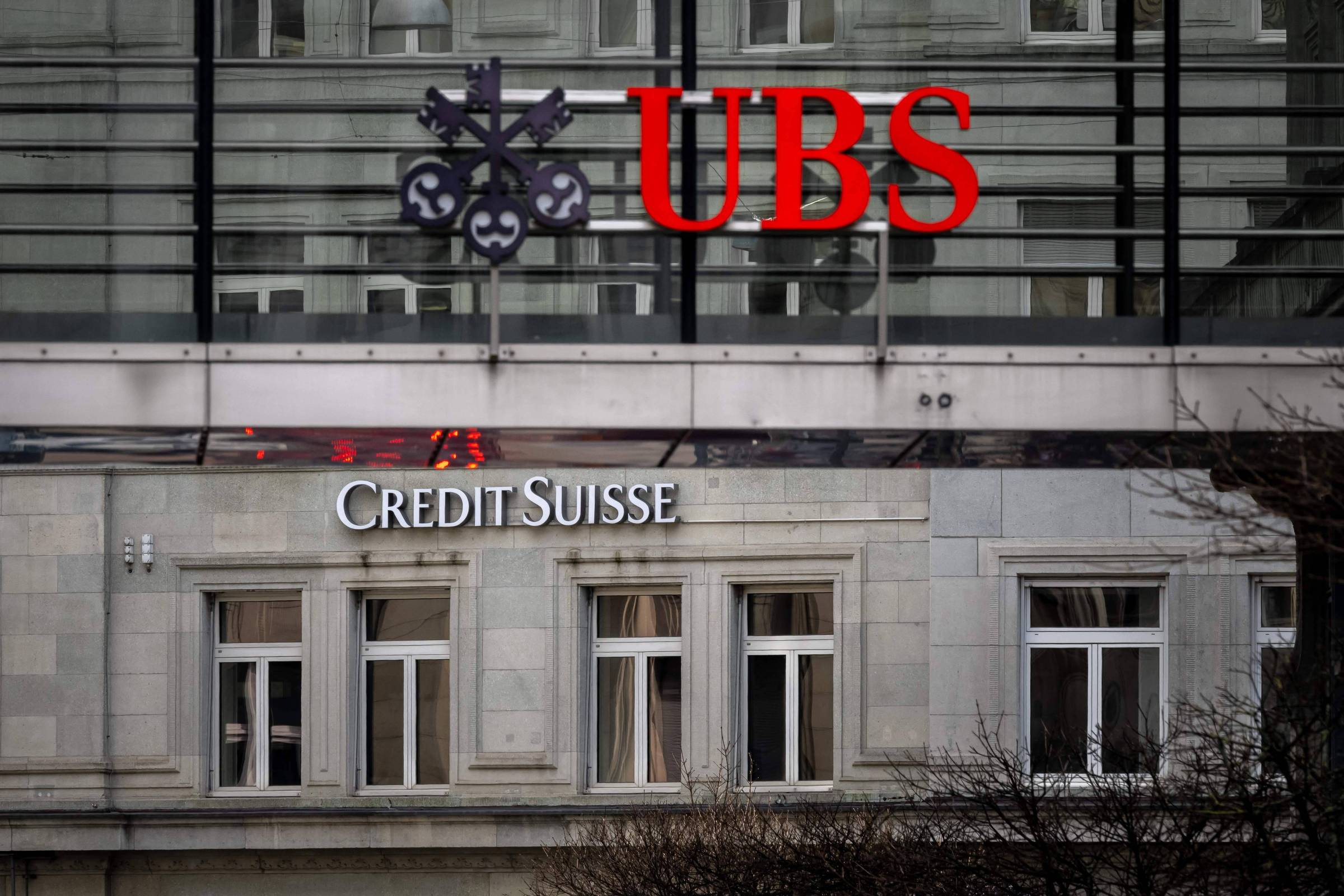 Swiss banks Credit Suisse and UBS, along with the country's financial system regulators, want to quickly close a deal that would make a merger between the two major competitors possible later on Saturday night, people familiar with the situation told the Financial Times.
The SNB (Swiss National Bank) and Finma (National Financial Market Surveillance Authority) have told some of their international counterparts that they consider the UBS deal to be the only option to prevent a collapse of confidence in Credit Suisse.
Two people said withdrawals made by customers at the bank reached 10 billion Swiss francs ($10.8 billion) in just one day this week, as fears mounted over Credit Suisse's financial standing.
The boards of the two banks have scheduled meetings for this weekend. Regulatory authorities in the United States, United Kingdom and Switzerland are trying to put together the legal structure of the agreement and evaluate the various conditions imposed by UBS to close the deal.
UBS wants to be immune from any eventual punishment caused by violation of global capital structure rules for large banks. In addition, the bank has requested some form of severance or government settlement to cover future legal costs, one of the people said.
Credit Suisse has set aside 1.2 billion Swiss francs ($1.3 billion) in provisions for lawsuits in 2022, and has warned that the amount needed could double with unresolved regulatory actions and investigations.
UBS, Credit Suisse, SNB and Fed (Federal Reserve, the US central bank) declined to comment. Finma and the Bank of England did not immediately respond to requests for comment.
The rush for a deal comes days after the Swiss central bank was forced to provide a CHF50 billion ($54 billion) emergency credit line to Credit Suisse.
That didn't stop Credit Suisse's share price from falling more than 25% for the week to record lows after the bank's biggest investor ruled out providing more capital, and the chairman admitted the rush to customers to withdraw money continues.
Shares in other European banks were also hit hard by the crisis of confidence triggered by the collapse of SVB (Silicon Valley Bank) last weekend.
The possible acquisition reflects the images that the two big Swiss banks currently have in the market. Over the past three years, UBS shares have risen by about 120%, while Credit Suisse have fallen by about 70%.
The former has a market capitalization of US$ 56.6 billion, while Credit Suisse closed the trading session on Friday (17) with a value of US$ 8 billion. In 2022, UBS generated $7.6 billion in profit, while Credit Suisse had a loss of $7.9 billion, wiping out all accumulated gains in a decade.
Swiss regulators told their US and UK counterparts late on Friday that merging the two banks was "plan A" to prevent a collapse in investor confidence in Credit Suisse, one of the sources said. There is no guarantee that a deal, which would need to be approved by UBS shareholders, will be reached.
With the SNB and Finma working towards an all-Swiss solution to the case, the acquisition of Credit Suisse by other potential stakeholders is far away.
US investment giant BlackRock has drawn up a plan for a hostile bid, evaluated a range of options and talked to other potential investors, according to people familiar with the matter.
A complete merger between UBS and Credit Suisse would create one of the largest global financial institutions. UBS has $1.1 trillion in total assets on its balance sheet, and Credit Suisse has $575 billion. However, such a huge business can be very difficult to run.
The Financial Times previously reported other alternatives are being considered, such as splitting Credit Suisse and raising funds through a public share offering of just the Swiss operations, with the wealth and asset management units being sold to UBS or others. bidders.
UBS is watching for an eventual call by the Swiss government to carry out an emergency bailout, following the cautious investor reaction to the latest restructuring by Credit Suisse.
Last year, Credit Suisse chairman Ulrich Körner announced a plan to cut 9,000 jobs and turn much of his investment bank into a new entity called First Boston, run by former bank board member Michael Klein. .
Translation: Renato Carvalho