Alesp: Meet the 94 state deputies of São Paulo – 03/15/2023 – Politics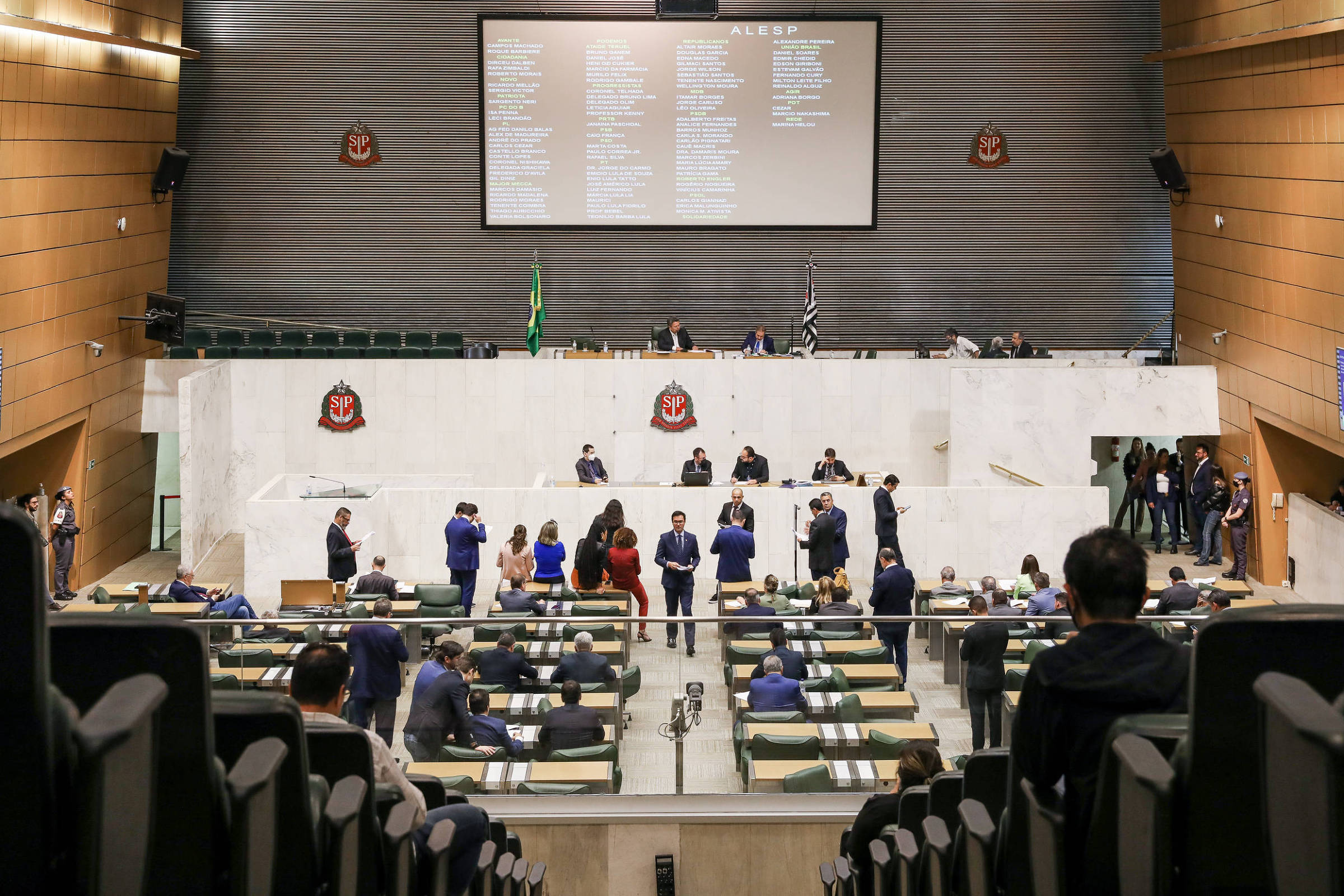 The 94 state deputies elected in 2022 took office this Wednesday afternoon (15) in a solemn session at the Legislative Assembly of São Paulo.
For the last time, the inauguration in the state takes place with a delay in relation to the rest of the country – from 2027, the new legislature begins with the other Legislative Houses, on February 1st.
In 2022, the Assembly renewal rate, of 41.5%, was below previous years – 55 deputies were re-elected and 39 do not have a mandate in the House. The 2018 election elected 50 new deputies, for example.
As shown to Sheet, the 20th legislature will have a new establishment, numerous opposition and record numbers of women and blacks. After 30 years of dominance by the PSDB in charge of Alesp, the presidency of the House must go to André do Prado, from the PL, the party that elected the most deputies.
The alignment between the Assembly and the Palácio dos Bandeirantes, however, should remain, since Governor Tarcísio de Freitas (Republicans) has more than 60 deputies in his support base. The government's main flag, the privatization of Sabesp, needs approval from the plenary to move forward.
During the inauguration event, Tarcísio de Freitas made a short and formal speech defending that the relationship with Alesp will be based on dialogue. He cited social challenges such as the population living on the streets and in risk areas, in addition to the recovery of the state's competitiveness.
"I am sure that this house will be an instrument for the conquest and construction of public policy", he said.
Like Jair Bolsonaro's PL, Lula's PT also had a good result and formed the second largest group, which strengthened the opposition. In total, the left-wing bench, which includes PSOL, Rede and PC do B, has 25 deputies – it did not reach 20 in the last legislature.
After a legislature marked by gender violence and the case of harassment of Isa Penna (PC do B), the Assembly will have a record number of women – there will be 25 deputies (26.6% of the House). In 2018, 18 were elected.
The new Alesp also has the highest number of black and brown people elected since the TSE (Superior Electoral Court) began collecting data on ethnic-racial self-declaration: there were 7 in 2014, 10 in 2018 and 18 in 2022.
The most voted deputy in the legislature that begins is veteran Eduardo Suplicy (PT), who returns to the House where he held his first term in 1979. With 807,000 voters, he will have the minimum income as an obsession and promises civilized opposition to Tarcísio.
Until now, the position was occupied by the record holder Janaina Paschoal (PRTB), who had more than 2 million voters and now leaves Alesp sullied by left and right. Defeated in the Senate election, the professor does not rule out running again.
Tarcísio went to the ceremony accompanied by deputy Felício Ramuth (PSD), and secretaries, including the Government secretary, Gilberto Kassab (PSD), who will be responsible for articulating with Alesp. Federal deputy Ricardo Salles (PL) and mayors were also present.
Federal deputy Capitão Augusto (PL-SP), representing the mayor Arthur Lira (PL-AL), also attended.
Accompanied by family members, the deputies filled the plenary in an atmosphere of fraternization, with the exchange of hugs and smiles —regardless of the parties.
At the inauguration, each deputy was called to the microphone to answer "I promise" to the oath. One of the most applauded was André do Prado, who should then be elected the next President of the House. Another who was among the most applauded was Suplicy.
Ediane Maria (PSOL), upon taking office, added "for the struggle of domestic workers, that's what I promise". Mônica Seixas, from the same party, included a protest by public Sabesp, in front of Governor Tarcísio, who intends to privatize the state company.
Tomé Abduch (Republicans), on the other hand, honored the governor in his oath.
Some deputies used their time at the microphone to make protests. Ediane Maria (PSOL) mentioned domestic servants and Mônica Seixas (PSOL) took office for "the black people, for women, for public Sabesp, for indigenous people, for LGBTQIA+".
Tomé Abduch (Republicans) took the oath "for the family, for principles and values ​​and for support for our governor", mentioning Tarcísio. Letícia Aguiar (PL) mentioned God.
In the audience, after the oaths, there was a shout questioning "who ordered Marielle killed". Paula from Bancada Feminista (PSOL) also mentioned Marielle Franco and declared "no peace for the extreme right".
---
Who are the 94 state deputies
Eduardo Suplicy (PT) – 807,015 votes

Carlos Giannazi (PSOL) – 276,811 votes

Paula from Bancada Feminista (PSOL) – 259,771 votes

Bruno Zambelli (PL) – 235,305 votes

Major Mecca (PL) – 224,462 votes

Tomé Abduch (Republicans) – 221,656 votes

André do Prado (PL) – 216,268 votes

Lieutenant Coimbra (PL) – 209,705 votes

Delegate Olim (Progressives) – 201,348 votes

Ana Carolina Serra (Citizenship) – 198,698 votes

Milton Leite Filho (União Brasil) – 198,429 votes

Gil Diniz (PL) – 196,215 votes

Bruna Furlan (PSDB) – 195,436 votes

Captain Conte Lopes (PL) – 192,454 votes

Itamar Borges (MDB) – 183,480 votes

Marcos Damasio (PL) – 183,219 votes

Carlos Cezar (PL) – 180,690 votes

Carla Morando (PSDB) – 177,773 votes

Jorge Wilson Sheriff Consumer (Republicans) – 177,614 votes

Ediane Maria (PSOL) – 175,617 votes

Marta Costa (PSD) – 170,541 votes

Emídio de Souza (PT) – 157,834 votes

Teacher Bebel (PT) – 155,983 votes

Guto Zacarias (União Brasil) – 152,481 votes

Gerson Pessoa (Podemos) – 143,704 votes

Enio Tatto (PT) – 142,785 votes

Luiz Fernando (PT) – 141,017 votes

Rogério Nogueira (PSDB) – 139,756 votes

Oseias de Madureira (PSD) – 137,205 votes

Valeria Bolsonaro (PL) – 131,557 votes

Lucas Bove (PL) – 130,451 votes

Edmir Chedid (União Brasil) – 129,097 votes

Thiago Auricchio (PL) – 123,483 votes

Vinicius Camarinha (PSDB) – 123,316 votes

Maurici (PT) – 121,455 votes

Rafael Silva (PSD) – 118,182 votes

Paulo Fiorilo (PT) – 110,251 votes

Reis (PT) – 108,726 votes

Marcia Lia (PT) – 108,587 votes

Beard (PT) 108.07 votes

Monica from Movimento Pretas (PSOL) – 106,781 votes

Carlão Pignatari (PSDB) – 105,245 votes

Caio França (PSB) – 105,173 votes

Sebastião Santos (Republicans) – 104,374 votes

Altair Moraes (Republicans) – 98,515 votes

Rafael Saraiva (União Brasil) – 98,070 votes

Gilmaci Santos (Republicans) – 96,361 votes

Federal Agent Danilo Balas (PL) – 94,552 votes

Rui Alves (Republicans) – 91,717 votes

Thainara Faria (PT) – 91,388 votes

Leo Siqueira (NEW) – 90,688 votes

Ricardo Madalena (PL) – 90,630 votes

Leci Brandão (PCdoB) – 90,496 votes

Felipe Franco (União Brasil) – 90,440 votes

Analice Fernandes (PSDB) – 90,135 votes

Andréa Werner (PSB) – 88,820 votes

Donato (PT) – 88,022 votes

Barros Munhoz (PSDB) – 86,372 votes

Paulo Mansur (PL) – 86,201 votes

Marina Helou (Rede) – 85,517 votes

Marcio Nakashima (PDT) – 85,195 votes

Captain Telhada (Progressives) – 83,438 votes

Edna Macedo (Republicans) – 82,932 votes

Caruso (MDB) – 82,209 votes

Leo Oliveira (MDB) – 82,145 votes

doctor Jorge do Carmo (PT) – 82,054 votes

Solange Freitas (União Brasil) – 81,870 votes

Daniel Soares (União Brasil) – 81,753 votes

Dani Alonso (PL) – 80,337 votes

Ana Perugini (PT) – 79,061 votes

Mauro Bragato (PSDB) – 78,142 votes

Helinho Zanatta (PSC) – 77,550 votes

Rafa Zimbaldi (CID) – 76,910 votes

Rogério Santos (MDB) – 76,602 votes

Rodrigo Moraes (PL) – 75,094 votes

Rômulo Fernandes (PT) – 75,033 votes

Alex de Madureira (PL) – 74,340 votes

Luiz Claudio Marcolino (PT) – 70,487 votes

Delegate Graciela (PL) – 68,955 votes

Letícia Aguiar (Progressives) – 68,556 votes

Maria Lucia Amary (PSDB) – 66,956 votes

Fabiana B. (PL) – 65,497 votes

Beth Sahão (PT) – 65,407 votes

Ricardo França (Podemos) – 64,175 votes

Paulo Corrêa Jr (PSD) – 62,239 votes

Simão Pedro (PT) – 59,785 votes

Clarice Ganem (Podemos) – 59,342 votes

Edson Giriboni (União Brasil) – 59,087 votes

Atila Jacomussi (Solidarity) – 58,707 votes

Vitão do Cachorrão (Republicans) – 56,729 votes

Dr Eduardo Nóbrega (Podemos) – 53,607 votes

Dr Valdomiro Lopes (PSB) – 50,824 votes

doctor Elton (PSC) – 46,042 votes

Guilherme Cortez (PSOL) – 45,094 votes
---
What is Alesp used for?
In addition to hosting a Poupatempo, hosting the wake of personalities in its monumental hall –such as Ayrton Senna (1994), Gugu Liberato (2019) and Gal Costa (2022)— and offering its parking lot of more than 700 spaces to Ibirapuera park visitors to On weekends, the House is responsible for determining the state's annual budget, overseeing the executive branch, and judging the governor's accounts.
What is the attribution of the Legislative Assembly of São Paulo
Determine the annual budget

Judge the accounts of the governor, of Alesp itself and of the São Paulo Judiciary

Approve privatizations and concessions of state assets and companies

Supervise the Executive Power

Create, repeal, and modify state laws, such as those governing state taxes

Increase the salaries of deputies and the governor
Second largest Parliament in the country in number of deputies, the Assembly has a budget of R$ 1.5 billion. With a salary of R$31,200 as of April, state deputies are entitled to housing, car and office expenses of up to R$43,700 per month. Alesp's structure already has 3,300 servers – mostly political indications.